Azojozo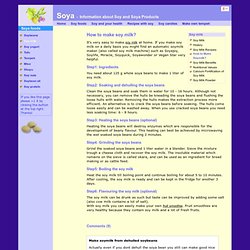 It's very easy to make soy milk at home. If you make soy milk on a daily basis you might find an automatic soymilk maker (also called soy milk machine) such as Soyajoy, Soylife, Miracle, Soyquick, Soyawonder or Vegan Star very helpful. Step1: Ingredients You need about 125 g whole soya beans to make 1 liter of soy milk.
How to make soy milk at home.
Guest Author - Lili Pintea-Reed Some of the easiest things you can do in the kitchen is make simple cheeses like yogurt, ricotta, and farm cheese both soft and firm. They take no special equipment and if you buy mik when it is on sale as the grocery store loss leader (sold below cost to bring in customers) you can really save money on cheese! Materials: 1 and a Half gallon pot 1 gallon whole milk 1/4 cup of vinegar colaner Fine cotton cloth (well washed old pillow case) Directions: The easiest cheese fo all to make is a ricotta.
Make Your Own Cheese - Frugal Living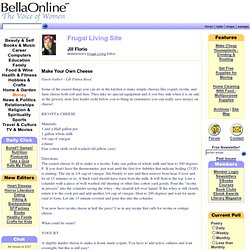 Orgone and Wilhelm Reich‬‏
Full List - The 2011 TIME 100
Problem loading page
Capital Venture (A) - Business