Artitsts' Sites
Michal Lisowski. Minjae Lee. Blow at life. Grzegorz Wrobel. Leonid Afremov. Bao Pham. Sylvia Ji. Stella Im Hultberg. Mark Ryden. Daniela Uhlig. Lois van Baarle. Linda Huber. Kris Kuksi. Ken Wong. Kay Ruane. Kay Nielsen. Jason Chan. Cromm Cruach. Charmaine Olivia. Marta Dahlig. Beatriz Martin Vidal. Felicia Atanasiu. Aubrey Beardsley. I started this project about 3 years ago, when I took a razor blade to an already falling apart copy of "The Early Works of Aubrey Beardsley" (Dover Edition 1967) and scanned in all of the images.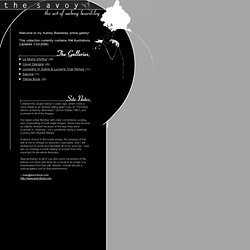 I've taken a few liberties with color corrections, scaling, and compositing of multi-page images. Some may be ever so slightly skewed because of the way they were scanned in, meaning - very primitively using a relatively crummy $40 Plustek flatbed. A labour of love in the truest sense, the purpose of this site is not to infringe on anyone's copyrights, and I will endeavour to quote and annotate all of my sources.
Cyril Rolando. Andrea Joseph. Audrey Kawasaki.
---