Design - Interior
This laid-back wood-clad bungalow on Cape Town's Bakoven beach oozes seaside style. The lucky owners are Cathy, Mike and their three children. A lover of bargain finds, the resourceful Cathy did the interiors herself. 'A well-known interior designer once came up from the beach and had a look, and his advice has always stuck with me – he said that the painting was outside the window and that whatever happened inside shouldn't compete with it,' she recalls. Continue reading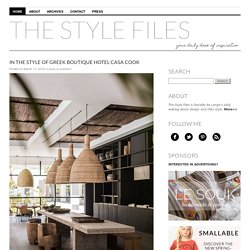 the style files
Remodelista: Sourcebook for the Considered Home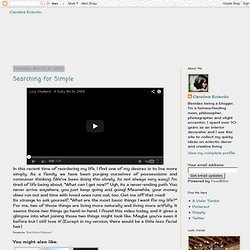 Carolina Eclectic
Apparently, not!! Did anyone watch "Esquire's Bachelor Pad" this past weekend? It was amazing, but a little too "bachelor" for me.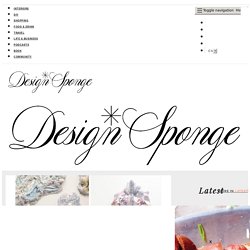 One of my biggest goals on the site this year, as well as Kristina's, was to expand the type of kitchen and food related content we offer. Kristina has posted over 300 delicious recipes on Design*Sponge so far, but we wanted to dig deeper and learn more about the people behind those recipes. From what their daily lives are like and what tools they swear by to what inspires them and the work they create, this year we're adding a few new columns in the food section that are devoted to bringing you the same sort of practical information, tips and tools that our new design columns do. With that in mind, we're thrilled to kick off a new series that celebrates cooking tools that chefs and bakers swear by- and tips for using them. Two of my favorite people (and bakers) in the whole world, Cheryl and Griff Day, are starting us off this week.
Design*Sponge | Your home for all things Design. Home Tours, DIY Project, City Guides, Shopping Guides, Before & Afters and much more
If you're a mom-to-be like me, or a newish mom still shopping for baby gear, I hope this post is somewhat helpful to you! My blog friend, Lesley Myrick, who just had her baby boy a few days ago (congrats, Lesley!), asked me what my baby registry essentials are and shared a link to her blog where she documented all the stuff on her wish list for feeding, sleeping, baby care and travel. Inspired by her post, I thought I'd do the same. Just as Lesley disclosed on her blog, we too haven't yet tested these things (our son will arrive in about 10 days!), but after a ton of research and advice from friends and readers, we've decided to go with what's shown and linked below.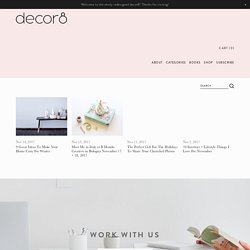 decor8
Interior Design Ideas, Home Design Ideas, Interior Decorating & Architecture Inspiration
Inside Out
Design You Trust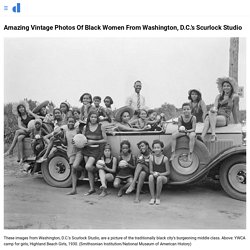 If you think Star Wars was fiction, then think again, because the characters are alive, right under our nose. This is exactly what Zahir Batin portraits in this photo series, he used his Star Wars figures and placed them in nature or recreated backgrounds to seem as if they have a life of their own. Continue reading "Minature Star Wars Adventures" » It's been just over a month since KTM took an outstanding 1-2 finish in the notorious Dakar rally and the Austrian manufacturer is excited to announce that the all-new KTM 450 Rally Replica machine will be available very soon for customers to purchase. Continue reading "KTM 450 Dakar Rally Replica Bike" » Lifta was designed with three goals in mind: lift your computer to the proper ergonomic height, offer a place to store peripherals, and keep your desk tidy.
Apartment Therapy Ohdeedoh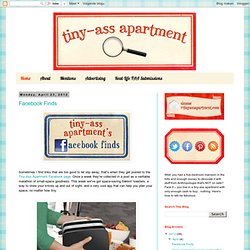 Tiny-Ass Apartment
Crime and punishment meant something quite different as a kid. Common infractions were things like Refusal to Eat Green Beans, "Not Touching" Your Younger Brother, and Giving Yourself a Haircut. Your parents were judge, jury, and jailer, and your bedroom became your jail cell. The sentence: Until After Dinner.
COCOCOZY
Nice modern living room - with an organized open floor plan. From one angle it is stark white with white epoxy painted concrete floors, white walls and white cabinetry in the kitchen. A few black and color accents in the furnishings. Flip around in the room and all of sudden - COLOR!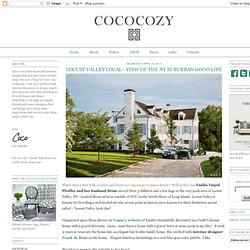 desire to inspire - desiretoinspire.net