Fitness
▶ Best Abs Workout - Billy Blanks
AMANDA RUSSELL - All Things Fitness and Lifestyle
NEW YEAR, NEW BODY: HOT WORKOUT FOR 2012!!
HOT BODY HOLIDAY WORKOUT AT THE PIERRE HOTEL
8 Minute Abs + 2 Minute Abs (Beep Only)
Zen My Fitness - Linking Muscle and Mind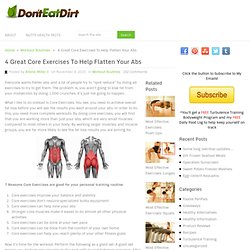 Everyone wants flatter abs, and a lot of people try to "spot reduce" by doing ab exercises to try to get them. The problem is, you aren't going to lose fat from your midsection by doing 1,000 crunches. It's just not going to happen. What I like to do instead is Core Exercises. You see, you need to achieve overall fat loss before you will see the results you want around your abs. In order to do this, you need more complete workouts.
Check out Greatist's other Infographics and ADD this Infographic to your Website/Blog: Simply copy the code below and paste it into the HTML of your blog or website: