Download Fonts
How To Use @font-face In CSS And 21 Great Typefaces. The 2 most popular typefaces used on the web today are surely Verdana and Georgia.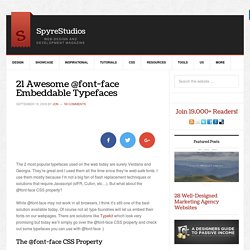 They're great and I used them all the time since they're web-safe fonts. I use them mostly because I'm not a big fan of flash replacement techniques or solutions that require Javascript (sIFR, Cufon, etc…). But what about the @font-face CSS property? 50 Extraordinary Creative Free Fonts for Designers  View All Fonts. Source Sans Pro - Browse Files. 29 Beautiful Fonts For Designers. Using the correct typeface for your design project is absolutely crucial in conveying the message and feel of the overall design, it is necessary to keep an awesome collection of both paid and free fonts in your font collection to allow you to have the font resources at hand to test drive a design with varying fonts.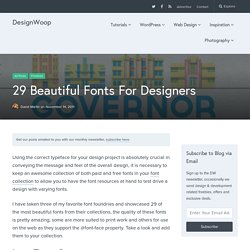 I have taken three of my favorite font foundries and showcased 29 of the most beautiful fonts from their collections, the quality of these fonts is pretty amazing, some are more suited to print work and others for use on the web as they support the @font-face property. Take a look and add them to your collection. Lost Type Co-op Lost Type Co-op is an indispensable one of a kind type foundry, founded by Riley Cran and Tyler Galpin. Lost Type distributes high quality fonts from designers all over the world with a unique twist allowing you to pay anything you like for the fonts you download. Browse Fonts. Beautiful High-Quality Free Fonts For Your Designs. Advertisement Every now and again we take a look around, select "fresh" high-quality free fonts and present them to you in a brief overview.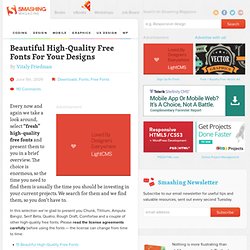 The choice is enormous, so the time you need to find them is usually the time you should be investing in your current projects. 26 Must-Have Free Fonts. Fonts are one of the essential parts of graphic design.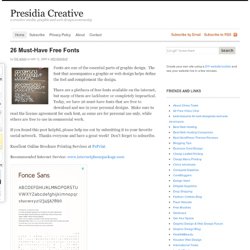 The font that accompanies a graphic or web design helps define the feel and complement the design. There are a plethora of free fonts available on the internet, but many of them are lackluster or completely impractical. Today, we have 26 must-have fonts that are free to download and use in your personal designs. Make sure to read the license agreement for each font, as some are for personal use only, while others are free to use in commercial work. If you found this post helpful, please help me out by submitting it to your favorite social network. 20 Free Fonts Ideal For Logos And Headings. 20 Free Elegant Handwritten Fonts « Web Templates Blog.
28Feb 20 Free Elegant Handwritten Fonts Hello folks, it is Monday today and we are glad to welcome you with superb collection of free handwritten fonts that we've gathered for you.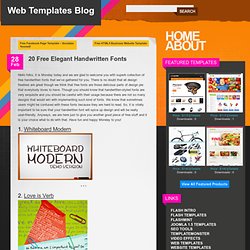 There is no doubt that all design freebies are great though we think that free fonts are those delicious parts of design pie that everybody loves to have. Though you should know that handwritten-styled fonts are very exquisite and you should be careful with their usage because there are not so many designs that would win with implementing such kind of fonts.
We know that sometimes users might be confused with these fonts because they are hard to read. 25 Fresh Free Minimalistic Fonts. Minimalism has taken over the design community; everyone is looking for neat and clean designing.
Clean designing need simple and elegant typography. So today we have collected 25 fresh free minimalistic fonts for you people. We haven't included the fonts like Walkway, Delicious and other popular fonts which are being featured everywhere. This collection consists of fresh fonts which can be used in minimal designing. Enjoy. 30 Professional Free Fonts for Excellent Typography. In this article we want to present 30 Professional Free Fonts for Excellent Typography you should consider using for your designs or typography works.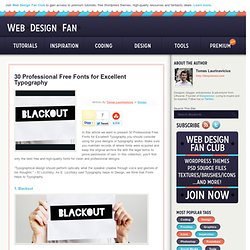 Make sure you maintain records of where fonts were acquired and keep the original archive file with the legal terms to prove permission of use. In this collection, you'll find only the best free and high-quality fonts for clean and professional designs. "Typographical design should perform optically what the speaker creates through voice and gesture of his thoughts." – El Lizzitsky. As E. Lizzitsky said Typography helps to Design, we think that Fonts helps to Typography. Best Free Handwritten Fonts on the Web  Often in order to underline the informal nature of the project, where the text is involved, designers use handwritten fonts.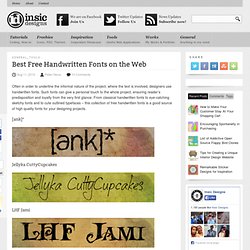 Such fonts can give a personal touch to the whole project, ensuring reader's predisposition and loyalty from the very first glance. From classical handwritten fonts to eye-catching sketchy fonts and to cute outlined typefaces – this collection of free handwritten fonts is a good source of high quality fonts for your designing projects. 65+ Free Handwritten Fonts for Elegant Designs. Story of handwritten fonts (or we can say only fonts) starts from very old ages, when people was just realizing the need of communication between one and other.
People learned to convey their message by using signs and symbols , this process continued and entered different stages of development until the languages and letters were formed. People used to communicate through letters and telegrams, then with the advancement in technology we started using Emails with formal fonts, leaving handwritten letters behind. Friday Fresh Free Fonts #35. 9 New High-Quality Free Fonts. We're always trying to find new high-quality freebies.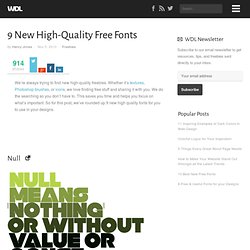 Whether it's textures, Photoshop brushes, or icons, we love finding free stuff and sharing it with you. We do the searching so you don't have to. This saves you time and helps you focus on what's important. So for this post, we've rounded up 9 new high quality fonts for you to use in your designs. 15 Fresh Free Fonts for Your Next Design. Microsoft Windows users Click Start, Settings, Control Panel. Open the Fonts icon by double clicking the icon. Within the Fonts window you will be able to view each of the currently installed fonts as well as install new fonts. To install a font, click the File menu and select Install New Font. Locate the directory of the fonts you wish to install. New & Fresh Fonts @ 1001 Fonts. 100 Free Fonts You Should Have in Your Library.
Fonts have already been among the essential materials used by designers. Whether it is a web design project or a logo design – font is the element, capable of attracting people's attention, rendering the key idea, and communicating the necessary message. That is why, thousands of free fonts reside today in multiple online font repositories. 20 Beautiful Fonts for Big and Effective Headlines. Typography is one of the most important design element. Design with good typography looks better and is easier to read or scan the content.
Headlines are important typography design element. It help users to find out what is most important in content. Headlines must be big, attractive and effective to attract users for more reading and browsing. 10 Free Fonts We Use & Love. Free Free Free Fonts! We love fonts here at Attitude Design! We especially love fonts which are free to use and download. As it's the bank holiday we thought we'd share some of our favourite fonts which the Attitude team have used recently – and give some well earned exposure to the creators of these amazing pieces of work.
Abstract Fonts - 13,440 Free Fonts. 30 Fonts Perfect for Vintage and Retro Style Design. 23 amazing free modern clean sans serif fonts for designers on studiowhiz.com.
26 Beautiful Free Retro Fonts. 25 Free Fonts for Your Creative Projects. 20 Free Fonts Just Perfect for Retro and Vintage Designs. 14 Brand New Fonts for Your Designs. 20 Best Free Calligraphy Fonts for Download - OurTuts.com. Fonts O - the best free fonts found Online.
New High-Quality Free Fonts - Smashing Magazine. 42 High Quality Free Fonts For Graphic Designers. Lost Type Co-op | Browse Fonts. 40 Free Fonts Ideal For Retro And Vintage Designs. 48 Brilliant Free Fonts For Logo And Web Designers In 2010. 8 New Free Fonts for Your Designs. 8 New Free Fonts for Your Designs. 10 New Free Fonts for Your Delight. 20 Elegant Fonts for Clean Design. 10 New Free Fonts for Your Inspiration. 10 Free Vintage Fonts. 40 Handpicked Free Fonts For Graphic Designers. 36 High-Quality Latest Free Fonts To Enhance Your Designs | Fonts.
50 Free Fonts For Web Designers. 40 Beautiful Free Fonts For Creating Attractive Typography Headlines. Typography - 46 Cool & Useful Dingbat Fonts. Download Free Fonts.
---