Exploration Of Space
Top Secret NASA Alien UFO Video Discovered [Video]
(((LEAKED!))) Russian Cosmonaut Reveals UFO, Alien and 2012 Crop Circle SECRETS
Seven Minutes of Terror: Landing NASA's Curiosity Rover on Mars
If you have not seen the NASA JPL video that has been circulating the interwebz over the weekend, take five minutes and DO IT NOW. The stunning video details the unique, never-before-tested landing system being used to slow the Mars Curiosity rover and land it safely on the surface of Mars. You can read up on NASA's car-sized mobile laboratory on a previous post and see Curiosity made of Lego! Tim Bailey is a space tweep, husband to a brilliant engineer, father of an adventurous preschooler, and proficient at zero gravity flips in multiple axes.
Technology - Rebecca J. Rosen - Everything You Wanted to Know About the So-Called 'God Particle' but Were Afraid to Ask
We stand today on the eve of one of the most highly anticipated scientific announcements of all time: an "update in the search for the Higgs boson" (a delightfully understated description if there ever were one). Has the world ever been so excited about a particle before? No. But why?
X-37B: Secret space plane 1 year on mystery mission
The X-37B Orbital Test Vehicle is an unmanned space test vehicle for the USAF. The X-37B is based on NASA's original X-37 design, the secretive plane's launch test flight was in April 2010. A second test flight, using a second vehicle - the Orbital Test Vehicle 2 - launched in March 2011. Take a look at the basic facts of the X-37B robotic space plane in the SPACE.com infographic above. Embed: Paste the code below into your site.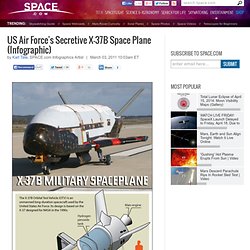 X-37B Orbital Test Vehicle, Secretive Space Plane | Unmanned Space Test Vehicle
Saturn's F Ring Bashed By 1/2-Mile-Sized Objects | Video
Hubble's Greatest Snaps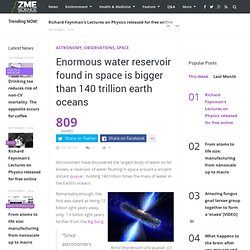 Astronomers have discovered the largest body of water so far known, a reservoir of water floating in space around a ancient distant quasar, holding 140 trillion times the mass of water in the Earth's oceans. Artist impression of a quasar. (c) NASA/ESA Remarkably enough, the find was dated as being 12 billion light years away, only 1.6 billion light years farther from the Big Bang. "Since astronomers expected water vapor to be present even in the early universe, the discovery of water is not itself a surprise," said the Carnegie Institution in statement, one of the groups behind the findings, said. The water cloud was found to be in the central regions of a faraway quasar.
Enormous water reservoir found in space is bigger than 140 trillion earth oceans
Thunderbolts the Electric Universe and Plasma Physics
The Planets ( Full Documentary ) - PART 1