Le cooking
Follow Your Heart. Parsley Soup - Cherry's Vegan Recipes. Baked Parmesan Tomatoes -EW. VeganYumYum. Vegan Village. ...World Vegetarian Day - NAVS. Meatless Monday | one day a week, cut out meat. Vegetarian Restaurants, Vegan Restaurant, Natural Health Food Stores Guide by HappyCow. Vegan Health Home Page. Vegan recipes and vegetarian recipes - living and raw - uncooked! The Vegan Chef - Vegan Recipes - Beverly Lynn Bennett.
Vegetarian Living. Icings Recipes at Bake Decorate Celebrate! The Vegetarian Resource Group (VRG) The Vegetarian Resource Group (VRG)
Vegan and Vegetarian Recipes For more VRG recipes, see Food, Cooking, and Recipes in the Vegetarian Journal index, as well as back issues of Vegetarian Journal and Foodservice Update.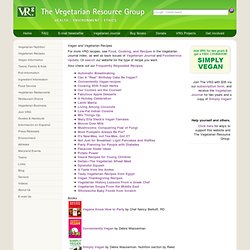 Or search our website for the type of recipe you want.
---