Gift ideas
Fruit Balloons DIY
May 3 by Brittany Watson Jepsen We've been planning a "fruit party" for a few years now, the gist is that everyone brings an exotic fruit and we, the hosts, provide a batch of the more common kinds. Who doesn't want to feast on a smorgasboard of Mother Earth's natural sweets? These balloon garlands were a cinch to make and provide maximum effect.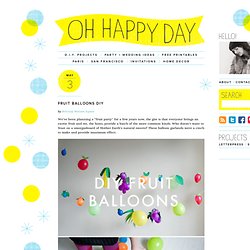 If your gift list is long and your budget is small here are some great Handmade Gifts that you can make. Keep in mind that handmade items are not just beautiful but special… I love to give them and I love to receive them. In my opinion they are the best! Jersey Knit Bracelet
Talkcraftytome / Pinterest
Gift Giving
Jenny Steffens Hobick
I hope you all had a wonderful and festive Christmas. December is an especially nutty month for us (and I'm sure all of you, too). We have Mike's birthday on the 7th, Emma's on the 15th + all of the holiday events packed in + a last minute work trip to New York for me... not to mention all of the holiday orders for the store I worked on around the clock to do my best to get everything out on time. It went by in a whirl, but we made a conscious effort to slow down this last week to really enjoy each other. When I got back from New York at midnight on the 19th, I put myself on an official break from all but fun time with my family - it was fantastic.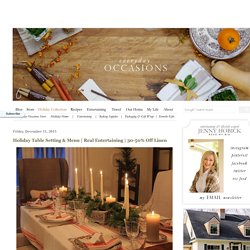 Don't Blow It All -
Having a hard time coming up with fun birthday gift ideas? Well look no further, this gift is a way to give cash without looking like you dug through your purse on the way to the party. You know…when your birthday "card" is an envelope from the bank and you drew a smiley face or birthday balloons on it with a ballpoint pen. This gift is a step above that with not much more effort. It's a "one size fits all" present.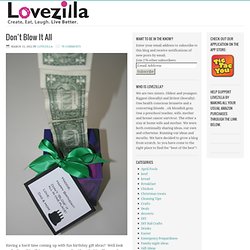 With just a little over 10 weeks until Christmas, it is already time to start thinking about gifts! The more gifts that can be taken care of ahead of time, the easier the holiday season will be. I came up with a really fun idea that can be customized to pretty much any person or occasion called:
Camera Lens Calendar | Design
Gear : Design Magazine
CATEGORIES:GEAR || HOME || STYLE || CAR || BODYGear : AD , Apple , Baby , Bike , Camcoder , Camera , Cellphone , Concept , Design , Desktop , DIY , Film , Gadget , Gaming , Headphone , HIFI , Laptop , Other , Pet , Pic , Phone , Projects , Sport , Spy , Software , Steampunk , News , Man , MediaPlayer , Military , MusicKit , Office , Toy , Tools , Video , Tech , Page: << Previous , 1 , 2 , 3 , 4 , 5 , 6 , 7 , 8 , 9 , 10 , 11 , 12 , 13 , 14 , 15 , 16 , 17 , 18 , 19 , 20 , 21 , 22 , 23 , 24 , 25 , 26 , 27 , 28 , 29 , 30 , 31 , 32 , 33 , 34 , 35 , 36 , 37 , 38 , 39 , 40 , 41 , 42 , 43 , 44 , Next >>
Flower Grenade | lulusuite
by Corie Who likes a good surprise? I know I do!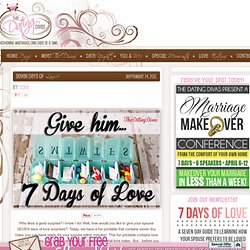 Seven Days of Love
Creating handmade gifts for babies is the sweetest way to welcome those new little ones into the world! Many baby gifts are small and simple so you don't need a ton of time to make the cutest little hats, blankets and bibs! You'll find the perfect gift for your next baby shower on this list…trust me! I've gathered some beautiful gift ideas for newborns and toddlers.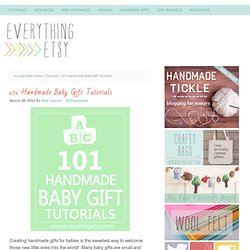 101 Handmade Baby Gift Tutorials
These pretty printables are fabulous and free…you can't go wrong with that! Decorate your home with quotes and flowers, throw a party that looks like a million bucks or wrap a gift with the perfect tag. Oh my gosh…you are going to love these!!! There's a little something for everyone. I wish I could share a photo of each one, but my blog would most likely blow up…ha! Make sure your printer has color ink before you start, and feel free to share this list with all your friends…they'll love you for it!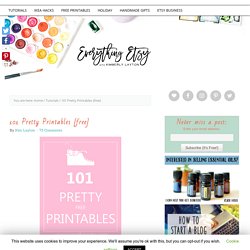 My list of life lessons I want to teach my children. 1. Don't let a day go by without doing something for someone else. It's as easy as holding the door for someone. It makes them happy and makes you happy too.2.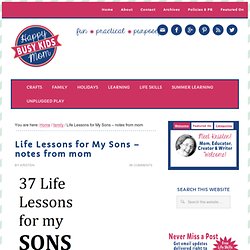 Busy Kids = Happy Mom: Life Lessons for My Sons - notes from mom
Lego Storage Bricks
This isn't our first post on Lego storage; any parent who has ever stepped on one barefoot or wrestled a prized brick out of a younger sibling's mouth will attest to the fact that Legos pose a particularly onerous organization challenge. These storage containers allow Lego lovers to organize their collection and play on a larger scale, as they are actual functional Lego bricks. These reminded us of the giant Lego boxes that we found a few years back.
The Laundry POD
put on your big girl panties [fs200] - $3.00 : Stickatude!, Stickas with Attitude
Home Log In Display your ATTITUDE Banners Biker Helmet Stickas' Christian Stickas
Home Log In Display your ATTITUDE
Daddy kills [fs007] - $3.00 : Stickatude!, Stickas with Attitude
Home Log In Display your ATTITUDE Banners Biker Helmet Stickas'
brake suddenly [fs202] - $3.00 : Stickatude!, Stickas with Attitude
Zevro Single Dry Food Dispenser | Free Shipping
Lipper International Bamboo Tea Storage Box | Free Shipping
Locker Brand 157281 Original Fridge Locker | Free Shipping
Automoblox X9-X Sport Utility - Free Shipping
New Alienware X51 Mini HD Gaming Computer — Specs and Reviews
The First Candy for Beer Lovers
Peligroso Tequila | LIVE DANGEROUSLY - DRINK RESPONSIBLY
Products | Ghost Pepper
Retrode
Tech
Soft Kitty Babydoll
Funny Ties, Unique Ties, Unusual Ties
TIRE TREADS TIE | Featuring hip, abstracted motifs for the modern coat-and-tie man, these 100% silk or microfiber ties are sure to suit any man to a T.
BEER! HOPS TIE | Neckwear, Dress, Men, Hand-Silkscreened
STONEWARE TV DINNER TRAYS - SET OF TWO | Ceramic Plate
FOOTED BOWL | Stoneware, Dylan Kendall, Unique, Kitchen, Bowl, Coffee, Tea, Sugar, Cream, Milk, Condiments, Tablescape, Anthropomorphic
Home
New Nikon Lens AF-S 70-200mm f/2.8 Coffee Cup Mug THERMOS: Camera & Photo
Rare Aquarium
Uncle Milton Moon In My Room: Toys & Games
10 Sky Lanterns - White: Home & Kitchen
Men's Play Money Tie by Fun Ties in Black: Clothing
STAINLESS STEEL INDEX CUTTING BOARD | Kitchen Utensil, Cooking Tool, Chopping, Carving, Butcher Block, Counter Top
MOBILE FOODIE SURVIVAL KIT | Travel Spice Kit, Organic Spices
TREE TO BE KIT | Tree to Be Kit - Easy to Grow Tulip Tree With Instructions and Seeds
APPLE TREE TO BE KIT | Grow Your Own Apples With This Apple Seed Kit
HEALING SCENT DIFFUSERS | Aromatherapy, Essential Oil, Ornament, Light Catcher
PAPER POTS | MollaSpace Paper Pot, Tissue Dispenser, Toilet Paper
RAINBOW HORS D'OEUVRES SET | Appetizer Serving Plate, Party Dish
PORN FOR WOMEN | Cambridge Women's Pornography Cooperative
SOUP AND SANDWICH CERAMIC TRAY DUO | Plate, Set, Bowl, Platter
The Countertop Soda Machine
Database of Periodic Tables
Database of Periodic Tables
Database of Periodic Tables
Database of Periodic Tables
Database of Periodic Tables
Periodic Table of Mixology Photo at AllPosters
Periodic Table Of Wine Poster Chateau Bottle Red 24448 Poster Print, 36x24: Home & Kitchen
Periodic Table of Sandwichry Print at AllPosters
The Alkindus Distiller
The Trouser Trolley
SASSY LUGGAGE TAGS | Patterns, Colorful, Sass, Funny, Hilarious, Bag, Tag, Travel
LUGGAGE TAGS - SET OF 6 | Funny Luggage Tags, Colorful and Sassy Too
ANIMAL & MONSTER HAND TATTOOS - SET OF 2 | Animal Hands
The Children's Learn To Play Keyboard
The 263 Layouts Race Course Set
The 7 1/2 Foot Slumber Bear
The Children's Configurable Fort
F BOMB PAPERWEIGHT | The F Bomb, Office Gift
MATH SYMBOL CUFFLINK | Geek Cufflinks, Jewelry, Pi Symbol
THE SEVEN DEADLY SINS CUFFLINKS | Vices, Devil Cuff Links, Virture
DISAPPEARING CIVIL LIBERTIES MUG | Bill Of Rights, Constitution, Politics
SUPER MAGNETIC PUTTY | Silly Putty, Thinking Putty
Ultra thin & credit card gadgets - knives, flashlights, cameras
GIFTS & DECOR: Asian Art Mall
United States Marine Corps Gifts - 4ArmedForces.com
GUMMY BEAR LIGHTS | Gummi Bear Lamp, Nightlight
HAND EMBROIDERED CITY PILLOWS | Hand Embroidered City Pillows - Detailed, Colorful Highlights and Landmarks from New York, San Francisco, Boston and Other American Cities
Personalized Party Favors, Baby Shower Favors, Wedding Favors, Party Gifts
Geeky Wrapping Paper
The Best Digital Coin Sorter
The Paperless Paperback