Organisationen
ETC - Europäisches Menschenrechts-Trainingszentrum. Fairness Award 2013: 2.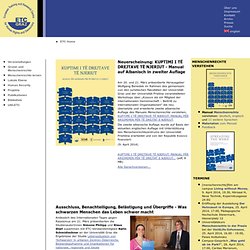 Platz für Volksschule Geidorf und ETC Graz Im Museumsquartier nahm Ende Juni eine Gruppe von Schülerinnen und Schülern der vierten Klassen gemeinsam mit Direktorin Heidi Scheucher und Projektleiterin Barbara Schmiedl vom ETC Graz den Preis entgegen. "Eine schöne Anerkennung für ein Projekt, das wir erst in diesem Frühjahr gestartet haben, und ein Motivationsschub, um weiterzumachen! ", strahlt Heidi Scheucher mit ihren Schülerinnen um die Wette. Die offizielle Website der Europäischen Union. CIA. Welcome to the United Nations: It's Your World.
UNICEF Home. The UN Refugee Agency. The UN Refugee Agency. WFP | United Nations World Food Programme - Fighting Hunger Worldwide.
---