RECIPE
Easy Microwave Popcorn Trick! | Paging Supermom. If you're new here, you may want to subscribe to our RSS feed email so you won't miss a thing.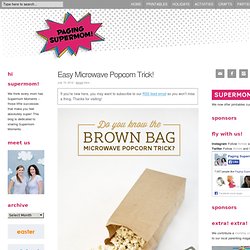 Thanks for visiting! We've got a Supermom Secret to share today — you never have to buy microwave popcorn again! Add 1/3 cup popcorn kernels to a brown paper bag, fold the bag over twice then heat in a microwave — folded side down — for 2 minutes. Frosty Toffee Bits Pie Recipe. Chocolate Peppermints. Ridiculously Easy. I mean it.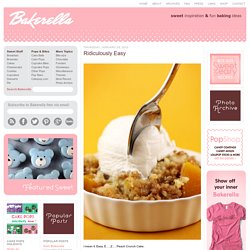 Easy. E…..Z…. Peach Crunch Cake. You need some sliced peaches in syrup. Just dump them in a 13 X 9 dish. Spaghetti With Garlic, Olive Oil, and Chili Flakes. Translated: spaghetti with garlic, oil, and chili pepper flakes.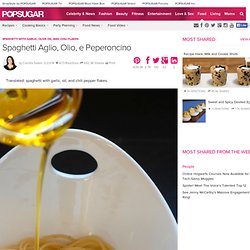 This is the kind of meal that makes you stop and think that the simplest foods are often the most wonderful. With only a few ingredients that are staples in most pantries, you can create a beautiful, flavorful, heartwarming meal from scratch. Spaghetti aglio, olio, e peperoncino is a traditional Italian pasta dish. It's well loved by many because it's so easy and inexpensive to make. Homemade Nutella.
I was an exchange student (ah how many times I've said this sentence...) 5 years ago in the US.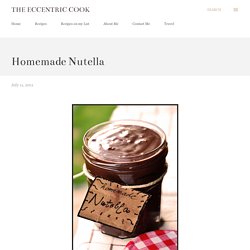 I'm not gonna talk about how it was (AMAZING) but then and there I gained sisters! Now I have one living in the States and one living in Germany. And next week we are gonna be reunited! Frozen Yogurt Dots. Here it is…another installment of Jillee's Favorite Frozen Treats!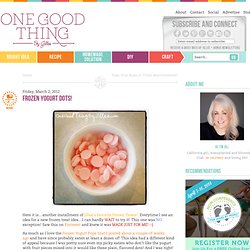 Everytime I see an idea for a new frozen treat idea…I can hardly WAIT to try it! This one was NO exception! Reese's Peanut Butter Cup Freezer Pie Recipe - Coupon Cousins. Creamy Nutella Popsicles. Wednesday, 6 June 2012 Welcome to 52 Kitchen Adventures, your source for creative & delicious desserts!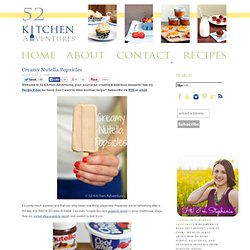 See my Recipe Index for more. Pepperoni Pizza Monkey Bread. Kids can be frustratingly picky eaters.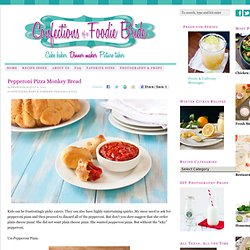 They can also have highly entertaining quirks. My niece used to ask for pepperoni pizza and then proceed to discard all of the pepperoni. Batter Up and Fry: Tailgating Treats. "Deep Dish French Bread Pizza";Pizza is one of those foods that are impossible to hate. Even if you don?t like the traditional toppings, you can mix and match and create your own versionPine Tar Press. Pizza is one of those foods that are impossible to hate.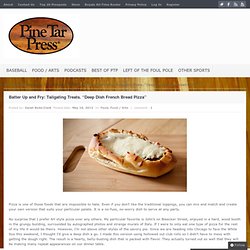 Even if you don't like the traditional toppings, you can mix and match and create your own version that suits your particular palate. It is a no-fuss, no-worry dish to serve at any party. No surprise that I prefer NY style pizza over any others. Inside out Chocolate filled strawberries - se - Popular Food & Drink Pins on Pinterest. Tut Tuesday: Lemon Dessert Bowls - The Proper Pinwheel : The Proper Pinwheel. What up what up?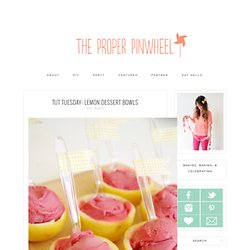 Did you enjoy your Monday? I sure did. I flew home early in the morning and then just kicked back and watched the rain smother our grass. Tiny pies. For a while I had been thinking about small food — as in "Look at me, I am a GIANT!"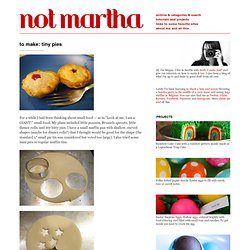 Small food. My plans included little poussin, Brussels sprouts, little dinner rolls, and itty bitty pies. Easter Ice Cream Sandwiches. There are few things that I love more than ice cream in waffle cones. It doesn't take much convincing to go for a scoop so when I saw waffle butter cookies at Trader Joe's I knew excatly what I had to do: ice cream sandwiches! They're super easy to do and would make a great treat for Easter, just pick a pastel ice cream, sandwich it between waffle cookies and violá!
Easter eggs! I used strawberry here but mint or sherbert would be cute too, honestly though, can you ever really go wrong when it comes to ice cream? What you'll need: Carton of ice cream Butter waffle cookies from Trader Joe's Round cookie cutter bent into an oval Large knife Cookie sheet Parchment paper Wax string. The built-in conundrum of their clashing personas, Oreo Crunch Brownies 1/2 Cup Butter, room... Oreo Cookies and Cream No-Bake Cheesecake. Oreo Cookies and Cream No-Bake Cheesecake Oreo Cookies and Cream No-Bake Cheesecake ~ An adult dessert gets some kid lov'n with an Oreo crush.
Oreo Cookie and Cream No-Bake Cheesecake What kid doesn't love Oreos, right? Peanut Butter Chocolate Dessert Recipe. No-Bake Chocolate Eclair Dessert. 224K+ I've actually posted this deliciously creamy, comforting dessert before. Back in the first couple of months of the blog. When I had like 2 followers. And I had absolutely no idea what I was doing. (Not that I really know what I'm doing now, either ... but I have learned at least a little bit in the past year!) So since this is one of my all-time favorites, I decided it was worthy of posting again.
The Kitchen is My Playground. It's strawberry season in my neck of the woods! And I'm very excited about it. I absolutely love fresh strawberries, straight from the field. I'm so fortunate that my husband passes by a local farm stand every day on his way home from work. So what did I do with my first delivery from my sweet hubby this past week?
Whipped up this delicious No-Bake Strawberry Ice Box Cake from 6 Sisters' Stuff. No-bake apple crumble. Simply enter your mobile number below to receive the ingredients for this recipe by text Please enter a valid UK or Ireland mobile phone number Terms of Use. We will send you a text containing the list of ingredients for this recipe and a link to access the method. This will not cost you anything. If a message is undelivered we will only attempt to resend for up to 24 hours. Two-Minute Cupcake. Easy, No Bake Mini Cheesecake Bites. Chewy Peanut Bars recipe from eatbetteramerica. No-Bake Cranberry Nut Cookies recipe from eatbetteramerica. No Bake Butter Biscuits Cake. Jello Cloud Parfait.
Recipe: Banoffee "Danger" Pie. Nutella Rice Krispie Squares. Trix Krispies. How to make sandwich balls (sandwich cupcakes) Rainbow Easter Eggs. Steamed Moist Chocolate Cake. DIY Cupcakes in Jars. Creamy Orange Salad. Crafts: Nutella Ice Cream. Edible Shot Glasses? « Sweet Simple Stuff. Life Savers® Candy flower pops. Sweet Temptations – No Bake Chocolate Peanut Butter Oatmeal Bars | Talking Dollars and Cents. Styled Eats: Mini Grilled Cheese + Tomato Soup. Easter Fools. Red Velvet Cake in a Jar. Homemade Chocolate Sauce. Kids Peanut Butter Banana Sushi. Recipe: Sandwich on a Stick | Sandwiches, Burgers & Wraps. Homemade Pizza Rolls. Easy Salsa Recipe. Fresh Tomato Salsa Recipe. Vegetarian Cheese Quesadilla. Easy Quesadillas Recipe.
Crabmeat-Avocado Quesadillas. Breakfast Quesadilla. Hot Dog Chili - Hot Dog Chili Recipe. Easy Kids Meals, dessert recipes with 6 or fewer ingredients that are simple to make. Peanut Butter Sushi | The Peanut Butter Boy. When Life Hands You Lemons... Make A Lemonade Stand! | Five To Nine. Ice Cream Sandwiches. Lemon Poppy Seed Frozen Yogurt Popsicles | Silly Simple Living.
---