RECIPE
Easy Microwave Popcorn Trick! | Paging Supermom
If you're new here, you may want to subscribe to our RSS feed email so you won't miss a thing.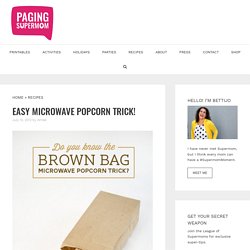 Frosty Toffee Bits Pie Recipe
Chocolate Peppermints
It's funny how the mind works, or at least my mind. For example, years upon years (actually up until I googled it a few minutes ago) it didn't occur to me that Peppermint Patties were named because of their shape, instead of after a person named Patty. I think Charlie Brown threw me off a bit.
I mean it. Easy.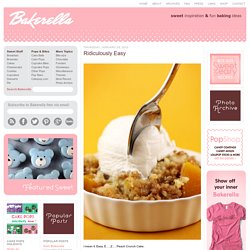 Translated: spaghetti with garlic, oil, and chili pepper flakes.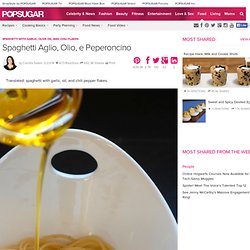 Spaghetti With Garlic, Olive Oil, and Chili Flakes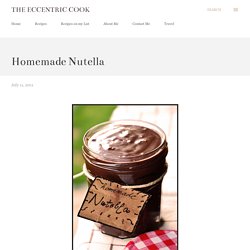 Homemade Nutella
I was an exchange student (ah how many times I've said this sentence...) 5 years ago in the US. I'm not gonna talk about how it was (AMAZING) but then and there I gained sisters! Now I have one living in the States and one living in Germany.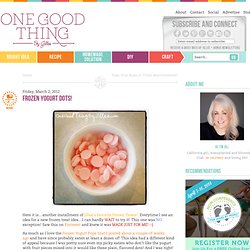 Here it is…another installment of Jillee's Favorite Frozen Treats! Everytime I see an idea for a new frozen treat idea…I can hardly WAIT to try it! This one was NO exception!
Coupon Cousins
Reese's Peanut Butter Cup Freezer Pie Recipe - Coupon Cousins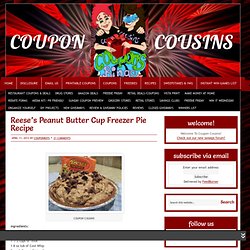 Creamy Nutella Popsicles
Wednesday, 6 June 2012 Welcome to 52 Kitchen Adventures, your source for creative & delicious desserts! See my Recipe Index for more.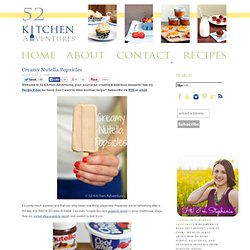 Kids can be frustratingly picky eaters. They can also have highly entertaining quirks. My niece used to ask for pepperoni pizza and then proceed to discard all of the pepperoni.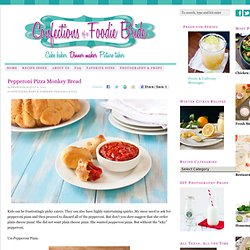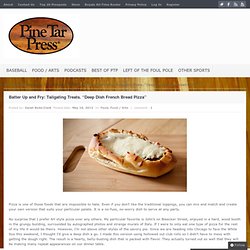 Batter Up and Fry: Tailgating Treats. "Deep Dish French Bread Pizza";Pizza is one of those foods that are impossible to hate. Even if you don?t like the traditional toppings, you can mix and match and create your own versionPine Tar Press
Pizza is one of those foods that are impossible to hate.
Login Join Repinly Pins Pins Pinners
Inside out Chocolate filled strawberries - se - Popular Food & Drink Pins on Pinterest
Posted by Lexy on Tuesday, July 10, 2012 : · 35 Comments
Tut Tuesday: Lemon Dessert Bowls - The Proper Pinwheel : The Proper Pinwheel
tiny pies
For a while I had been thinking about small food — as in "Look at me, I am a GIANT!" small food. My plans included little poussin, Brussels sprouts, little dinner rolls, and itty bitty pies.
Easter Ice Cream Sandwiches
There are few things that I love more than ice cream in waffle cones. It doesn't take much convincing to go for a scoop so when I saw waffle butter cookies at Trader Joe's I knew excatly what I had to do: ice cream sandwiches!
the built-in conundrum of their clashing personas, Oreo Crunch Brownies 1/2 Cup Butter, room...
Oreo Cookies and Cream No-Bake Cheesecake
No-Bake Chocolate Eclair Dessert
The Kitchen is My Playground
No-bake apple crumble - Tesco Real Food
Scattered Thoughts of a Crafty Mom: Two-Minute Cupcake
Scattered Thoughts of a Crafty Mom: Easy, No Bake Mini Cheesecake Bites
Chewy Peanut Bars recipe from eatbetteramerica
No-Bake Cranberry Nut Cookies recipe from eatbetteramerica
No Bake Butter Biscuits Cake
Jello Cloud Parfait
Recipe: Banoffee "Danger" Pie
Nutella Rice Krispie Squares | Cravings of a Lunatic
Trix Krispies | Cravings of a Lunatic
How to make sandwich balls (sandwich cupcakes)
Rainbow Easter Eggs
Steamed Moist Chocolate Cake
DIY Cupcakes in Jars
Creamy Orange Salad
Edible Shot Glasses? « Sweet Simple Stuff
Life Savers® Candy flower pops
Sweet Temptations – No Bake Chocolate Peanut Butter Oatmeal Bars | Talking Dollars and Cents
Styled Eats: Mini Grilled Cheese + Tomato Soup
Easter Fools
Homemade Chocolate Sauce
Kids Peanut Butter Banana Sushi
Recipe: Sandwich on a Stick | Sandwiches, Burgers & Wraps
Homemade Pizza Rolls
Mexican Salsa Recipe: Salsa Roja (Red Salsa recipe)
Easy Salsa Recipe
Fresh Tomato Salsa Recipe
Vegetarian Cheese Quesadilla
Easy Quesadillas Recipe
Crabmeat-Avocado Quesadillas
Breakfast Quesadilla
Hot Dog Chili - Hot Dog Chili Recipe
Easy Kids Meals, dessert recipes with 6 or fewer ingredients that are simple to make.
Peanut Butter Sushi | The Peanut Butter Boy
When Life Hands You Lemons... Make A Lemonade Stand! | Five To Nine
Ice Cream Sandwiches
Lemon Poppy Seed Frozen Yogurt Popsicles | Silly Simple Living