Second lIfe
Shopping. Avatar. Building. Secondlife 1. Sculpties. Textures. Scripting. Animation. SL Business. Clothing Tutorials - Second Life Wiki. Resources - Another. 50 Tips and Tricks to Create a Learning Space in Second Life | College Degrees. The popular virtual world of Second Life attracts online gamers, former Sim City addicts, entrepreneurs-in-training, and tech-savvy teachers.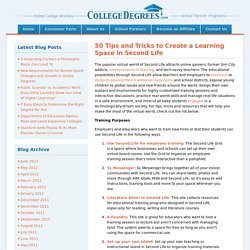 The educational possibilities through Second Life allow teachers and employers to reach out to students beyond their traditional classrooms and school districts, expose young children to global issues and new friends around the world, design their own avatars and environments for highly customized training sessions and interactive discussions, practice real-world skills and manage real-life situations in a safe environment, and most of all keep students engaged in a technologically-driven society.
For tips, tricks and resources that will help you make the most of the virtual world, check out the list below. Training Purposes.
Second Life Official Site. Linden Lab: Makers of Second Life.
---