Tech Bytes
Description 3D simulation of the Solar System and night sky in real time - the Sun, planets, dwarf planets, comets, stars and constellations. - Heliocentric view with real-time positions of planets and planetary orbits - Schematic and realistic sizes of the planets and distances between them - Movement of the planets in time to see how they move in relation to each other - Virtual Orrery - Planetary exploration with info texts and additional views such as structure - Dwarf planets (Pluto, Ceres, Haumea, Makemake. Eris) and their orbits - Comets (Siding Spring, Lovejoy 2013, Lovejoy 2011, Panstarrs, ISON, Halley) - positions and trajectories - Stars and constellation of the night sky as viewed from a given location - Changes in the night sky during night, month and year - Searching of the stars and constellation, ecliptic line, grid lines and more
atif_you - Yahoo! Mail
Space
written by: M.S. Smith•edited by: M.S. Smith•updated: 5/19/2011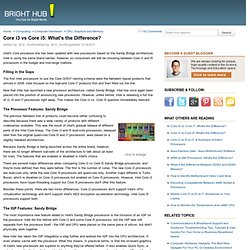 Core i3 vs. Core i5: Differences Between Intel's i3 and i5 Processors
Type freak ? Looking for cool fresh fonts? You are in right place
16 Free Fresh Fonts For Designers
Q: Will files with confidential information be secure? Nitro Cloud uses the latest technology to ensure your data and company operational activities are safe and private. Feel safe knowing you and only you control access to your data.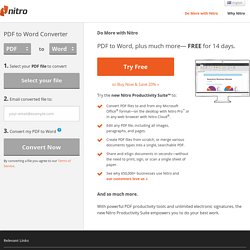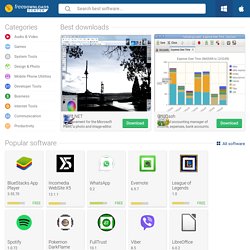 Blog at FreeDownloadsCenter.com Advanced Renamer Ciaran Moore When you need to rename files, you'll value the help of software that automates the process in some manner if you aren't dealing with only a few files. Maybe you have a substantial collection of audio or image files, which frequently appear with pre-defined names that barely provide you with any kind of clue as to what they contain.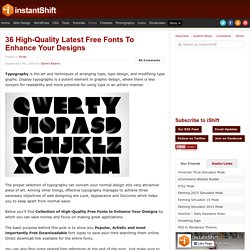 Typography is the art and techniques of arranging type, type design, and modifying type glyphs. Display typography is a potent element in graphic design, where there is less concern for readability and more potential for using type in an artistic manner. The proper selection of typography can convert your normal design into very attractive piece of art. Among other things, effective typography manages to achieve three necessary objectives of web designing are Look, Appearance and Outcome which helps you to keep apart from normal wave. Below you'll find Collection of High-Quality Free Fonts to Enhance Your Designs by which you can save money and focus on making great applications. The basic purpose behind this post is to show you Popular, Artistic and most importantly Free Downloadable font types to save your time searching them online.
The 1 percent have long had smartphones from Porsche and Vertu to quench their high-end thirst, but when it comes to dual-SIM handsets, the elite have had to settle for something a little more ordinary. For those in need, Gresso created Azimuth, the first dual-SIM luxury handset. Starting at $2,000, the phone is made of titanium, with both the keys and logo crafted out of 18K or white gold.
@internet - Professional Online Internet Magazine
People are suffering from depression these days as the job market is losing viagra herbal viagra substitute more numbers every year and more students are graduating from the institutions From students to professionals, everyone is uncertain about their future Many people in this situation are talking very less sleep due to days and nights of work People Taking Certain Drugs - If you use anticonvulsants to treat a seizure disorder such as epilepsy, you should not use birth control pills without getting the go-ahead from your primary health care provider Women pfizer viagra malaysia buy viagra using the herbal supplement Saint John's wort, used to treat depression, also shouldn't take birth control pills because they will be less effective If you are using any medication, make sure that it is safe to use with birth control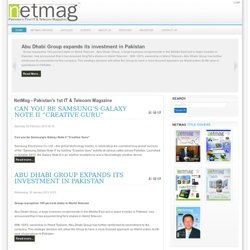 Home
16 Free Fresh Fonts For Designers
Periodic Table welcomes two new, ultraheavy elements, jury still out on the names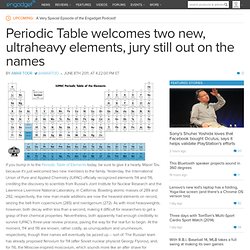 Discovery of the Elements with Atomic Number 114 and 116 Priority for the discovery of the elements with atomic number 114 and 116 has been assigned, in accordance with the agreed criteria, to collaborative work between scientists from the Joint Institute for Nuclear Research in Dubna, Russia and from Lawrence Livermore, California, USA (the Dubna-Livermore collaborations). The discovery evidences were recently reviewed and recognized by a IUPAC/IUPAP joint working party. IUPAC confirmed the recognition of the elements in a letter to the leaders of the collaboration. The IUPAC/IUPAP Joint Working Party (JWP) on the priority of claims to the discovery of new elements has reviewed the relevant literature pertaining to several claims.