Tech Bytes
Interactive 3D model of Solar System Planets and Night Sky. Atif_you - Yahoo! Mail. Space. Core i3 vs. Core i5: Differences Between Intel's i3 and i5 Processors. Written by: M.S.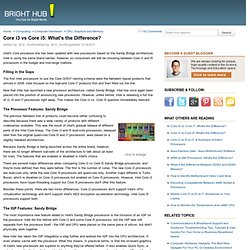 Smith•edited by: M.S. Smith•updated: 5/19/2011. 16 Free Fresh Fonts For Designers. Type freak ?
Looking for cool fresh fonts? You are in right place. PDF to Word Converter — 100% Free. Free Downloads Center - software and free game downloads. 36 High-Quality Latest Free Fonts To Enhance Your Designs | Fonts. Typography is the art and techniques of arranging type, type design, and modifying type glyphs.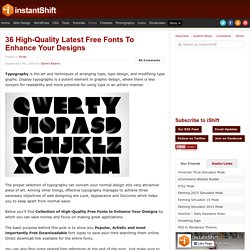 Display typography is a potent element in graphic design, where there is less concern for readability and more potential for using type in an artistic manner. The proper selection of typography can convert your normal design into very attractive piece of art. Among other things, effective typography manages to achieve three necessary objectives of web designing are Look, Appearance and Outcome which helps you to keep apart from normal wave. Below you'll find Collection of High-Quality Free Fonts to Enhance Your Designs by which you can save money and focus on making great applications. The basic purpose behind this post is to show you Popular, Artistic and most importantly Free Downloadable font types to save your time searching them online. OpenClipArt.
Answers.com: Wiki Q&A combined with free online dictionary, thesaurus, and encyclopedias. OpenClipArt. Windows. Mobile News | IT News | Technology News | iPhone, iPad, Android, Blackbarry. Engadget. @internet - Professional Online Internet Magazine. Home. 16 Free Fresh Fonts For Designers. Periodic Table welcomes two new, ultraheavy elements, jury still out on the names. Discovery of the Elements with Atomic Number 114 and 116 Priority for the discovery of the elements with atomic number 114 and 116 has been assigned, in accordance with the agreed criteria, to collaborative work between scientists from the Joint Institute for Nuclear Research in Dubna, Russia and from Lawrence Livermore, California, USA (the Dubna-Livermore collaborations).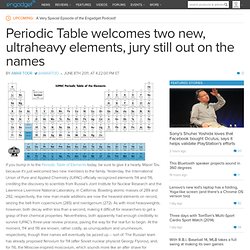 The discovery evidences were recently reviewed and recognized by a IUPAC/IUPAP joint working party. IUPAC confirmed the recognition of the elements in a letter to the leaders of the collaboration. The IUPAC/IUPAP Joint Working Party (JWP) on the priority of claims to the discovery of new elements has reviewed the relevant literature pertaining to several claims. Meebo ? Together is better.
---