Game dev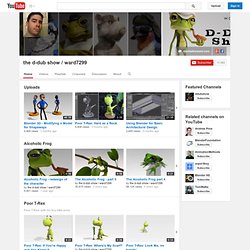 ward7299
Welcome to YouTube!
gamedev - game development, programming, math, art, collaboration
5 Simple Ways To Improve Game Menus
This small article is mainly targeted at hobby game developer.
how indie gaming is reviving the Britsoft s
PlayStation killed Britsoft. We didn't realise it at the time, but it took a cold, technological scythe to the British development community. And Lara Croft, that gloating figurehead of the PlayStation Generation, once viewed as a symbol of this region's success and creativity, should now been read as a harbinger of doom. Because, nothing was ever the same again. Of course, PlayStation didn't destroy the whole business of developing major videogames in the UK – that's still happening, though largely for foreign paymasters.
ETeeskiTutorials
Welcome to YouTube! The location filter shows you popular videos from the selected country or region on lists like Most Viewed and in search results.To change your location filter, please use the links in the footer at the bottom of the page.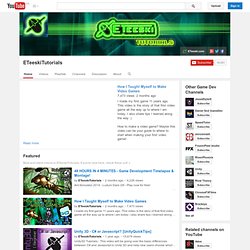 5 Simple Ways To Improve Game Menus
"I think in the future we will have not only historical games surpassing historical films and novels, but being used in historical research as well," says Lucas Molina, creator of Painters Guild. Lucas is a history teacher in Brazil, a Master's student researching art history, and a lover of games. Combining all three passions together to make Painters Guild is a challenge he seems born for.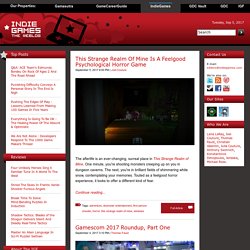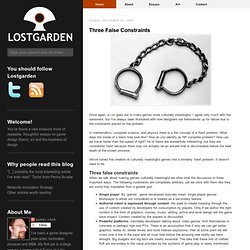 Three False Constraints
Once again, a call goes out to make games more culturally meaningful. I agree very much with the sentiment, but I've always been frustrated with how designers set themselves up for failure due to the constraints placed on the problem. In mathematics, computer science, and physics there is a the concept of a 'hard' problem.
2D Vector Graphics for Unity - Ragespline.com
Tutorials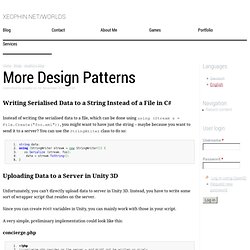 More Design Patterns | xeophin.net/worlds
Writing Serialised Data to a String Instead of a File in C# Instead of writing the serialised data to a file, which can be done using using (Stream s = File.Create("foo.xml")), you might want to have just the string – maybe because you want to send it to a server? You can use the StringWriter class to do so:
Gamer To Game Developer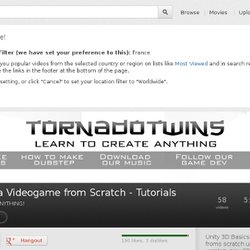 Make a Videogame from Scratch - Tutorials
Welcome to YouTube!
I often get email from people looking to get their first job in the game industry asking me for advice. What are companies looking for in candidates for entry-level programming positions? How come it's so difficult to land a job?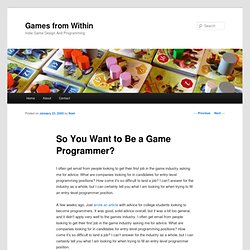 SExpand You press a button; a character on the television screen jumps.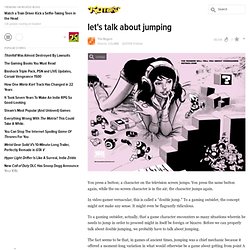 let's talk about jumping
November 17th, 2008 Posted in Reviews, Featured | No Comments »
Indiegamer Developer Discussion Boards - Powered by vBulletin
For someone without programming experience, starting in web development can feel very daunting.