Books & magazines
the best ebooks at the best price: free! Browse through the most popular titles, recommendations, or recent reviews from our visitors. Perhaps you'll find something interesting in the special collections. There are more than 29,000 eBooks available for Kindle, Nook, iPad and most other eReaders, and they're all free! If you still can't decide what to read you might want to browse through some covers to see what strikes your fancy. Or try the Recent Additions to the library, with genre filter.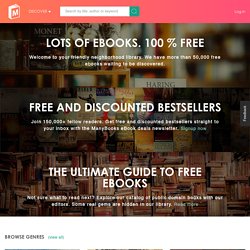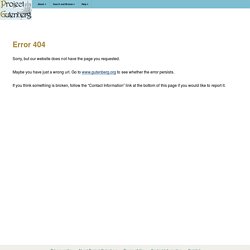 New Kindle Fire Review Before you buy: Read our Webmaster's review of the new Kindle Fire. Some of Our Latest Books Welcome Project Gutenberg offers over 42,000 free ebooks: choose among free epub books, free kindle books, download them or read them online. We carry high quality ebooks: All our ebooks were previously published by bona fide publishers.
The Burgomeister's Books: Truly free ebook download library (#1)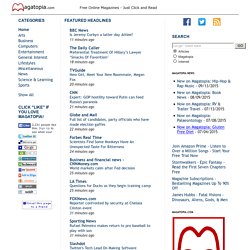 Magatopia.com - Free Online Magazines - Just Click and Read
Yes! Supporting you in creating a more just, sustainable, and compassionate world — YES! Magazine. Wake Boarding Find wakeboards, read gear reviews, browse photos, videos, boats for sale, instructional articles and tips at wakeboardingmag.com. Entrepreneur Entrepreneur.com's opportunities and advice for small businesses.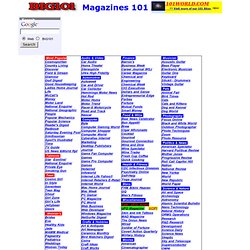 Audio & Video Car Audio Home Theater Stereophile
Magazines 101,best magazines, free online, low prices, old magaz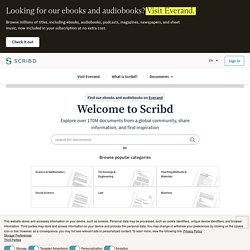 What do I get with my subscription? Your subscription enables you to read thousands of professionally published, popular books in a wide variety of genres on Scribd.com and on supported mobile devices. In addition, you will have full access to millions of user-contributed written works that have been published on Scribd like short stories and essays. How many books can I read each month? Read as much as you want, whenever you want. Scribd doesn't limit the number of books you can read.
Welcome to Free Book Zone - Engineering, Technical, Medical, Mat
Welcome to FreeBookZone, your one stop solution for free eBooks What's Inside FreeBookZone lists free computer science, engineering books, programming manuals, lecture notes and coursewares, all of which are freely available over the internet. Most of the contents are not provided by us, but we do provide materials that are published under GNU General Public License. See the program policy for uptodate details. * Reading is to the mind what exercise is to the body