Gitmo
At CIA, a convert to Islam leads the terrorism hunt. Roger, which is the first name of his cover identity, may be the most consequential but least visible national security official in Washington — the principal architect of the CIA's drone campaign and the leader of the hunt for Osama bin Laden.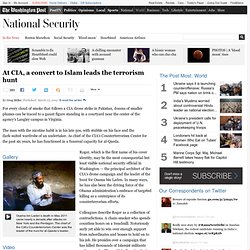 In many ways, he has also been the driving force of the Obama administration's embrace of targeted killing as a centerpiece of its counterterrorism efforts. Colleagues describe Roger as a collection of contradictions. Guantanamo Military Commission "Really About Secrecy," Alleged Bomber's Defense Attorney Says | Truthout. Army Accuses Reservist of "Leaking" Classified Information to Truthout During Interview About Guantanamo. The US Army has told a reservist who has spent half his life in the military that he is barred from re-enlisting, asserting he "leaked" classified information to this reporter during an interview in which he spoke candidly about his experiences working as a guard at Guantanamo Bay eight years ago.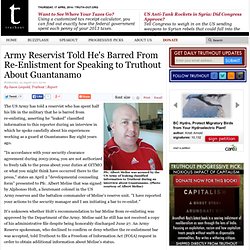 "In accordance with your security clearance agreement during 2003-2004, you are not authorized to freely talk to the press about your duties at GITMO or what you might think have occurred there to the press," states an April 2 "developmental counseling form" presented to Pfc. Albert Melise that was signed by Alphonso Holt, a lieutenant colonel in the US Army reserves and the battalion commander of Melise's reserve unit. Reprieve. UK's secret policy on torture revealed | Politics. A top-secret document revealing how MI6 and MI5 officers were allowed to extract information from prisoners being illegally tortured overseas has been seen by the Guardian.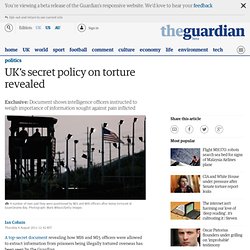 The interrogation policy – details of which are believed to be too sensitive to be publicly released at the government inquiry into the UK's role in torture and rendition – instructed senior intelligence officers to weigh the importance of the information being sought against the amount of pain they expected a prisoner to suffer. It was operated by the British government for almost a decade. A copy of the secret policy showed senior intelligence officers and ministers feared the British public could be at greater risk of a terrorist attack if Islamists became aware of its existence.
Speaking with the enemy: how US commanders fight the Taliban during the day and dine with them at night. "But he's tired of fighting, and if he lays down his weapons he could have a significant effect around here.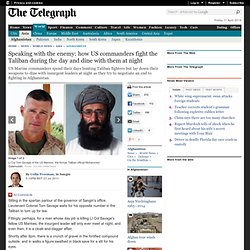 I have to put aside what he may have done in the past, and think about what he can do in the future. " Shrouded in secrecy and fraught with mutual mistrust, it is meetings like these that the West hopes may finally achieve what nearly a decade of military intervention, billions in aid and thousands of troops' lives has not yet done - a lasting accommodation with the Taliban that will one day enable Col Savage and every other foreign soldier in Afghanistan to leave for good. Speaking last month in the wake of the death of Osama bin Laden, the outgoing US Defence Secretary, Robert Gates, said he hoped that talks might begin with the movement's Pakistan-based leadership as soon as the end of this year.
It's the Empathy Crisis, Stupid. I'm sure everyone reading this already knows that our "debt crisis" is a mirage, a canard manipulated by the radical right wing who are theologically devoted to allowing society's rich to become even more so.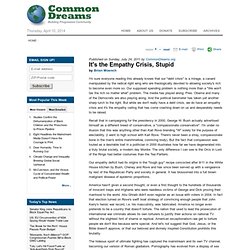 Our supposed spending problem is nothing more than a "We won't tax the rich no matter what" problem. The media has played along; Pres. Obama and many of the Democrats are also playing along. And the political barometer has taken yet another sharp lurch to the right. But while we don't really have a debt crisis, we do have an empathy crisis and it's the empathy ceiling that has come crashing down on us and desperately needs to be raised. Benjamin Wittes Responds: "Happy to be a government proxy" In an an arrogant riposte to an earlier posting of mine, Lawfare blogger and member of the Hoover Institute Task Force on National Security and the Law, Benjamin Wittes, proclaimed he is "Happy to be a government proxy."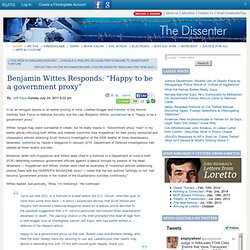 Wittes' tongue may seem somewhat in cheek, but he really means it. "Government proxy" how? In my earlier article criticizing both Wittes and Adweek columnist Alex Koppelman for their poorly resourced and vituperative articles attacking Scott Horton's investigation of the 2006 deaths of three Guantanamo detainees, published by Harper's Magazine in January 2010. Department of Defense investigations had labeled all three deaths suicides. Wittes replied, sarcastically, "Wow, I'm Verklempt."
My Tortured Journey With Former Guantanamo Detainee David Hicks. I've been struggling these past few weeks.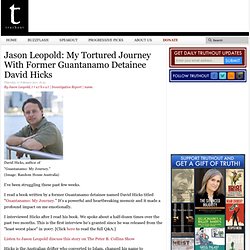 I read a book written by a former Guantanamo detainee named David Hicks titled "Guantanamo: My Journey. " It's a powerful and heartbreaking memoir and it made a profound impact on me emotionally. I interviewed Hicks after I read his book. We spoke about a half-dozen times over the past two months.