CorruptUS
St Louis County Police
EXCLUSIVE: US Chamber's Lobbyists Solicited Hackers To Sabotage Unions, Smear Chamber's Political Opponents. By Lee Fang on February 10, 2011 at 4:30 pm "EXCLUSIVE: US Chamber's Lobbyists Solicited Hackers To Sabotage Unions, Smear Chamber's Political Opponents" ThinkProgress has learned that a law firm representing the U.S.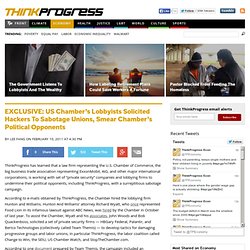 Chamber of Commerce, the big business trade association representing ExxonMobil, AIG, and other major international corporations, is working with set of "private security" companies and lobbying firms to undermine their political opponents, including ThinkProgress, with a surreptitious sabotage campaign. How the USA imposes travel bans within Europe. In an article here yesterday, we mentioned a report earlier this month by Andrej Hunko, a member of the German national legislature ("Bundestag") , based on responses to his information access requests to the German government about its collaboration with DHS and use of PNR data.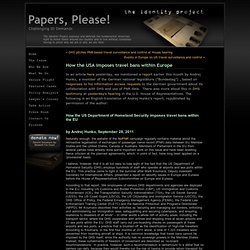 There was more about this in DHS testimony at yesterday's hearing in the U.S. House of Representatives. The following is an English translation of Andrej Hunko's report, republished by permission of the author: How the US Department of Homeland Security imposes travel bans within the EU by Andrej Hunko, September 28, 2011. Diebold voting machines can be hacked by remote control - 2012 Elections. It could be one of the most disturbing e-voting machine hacks to date.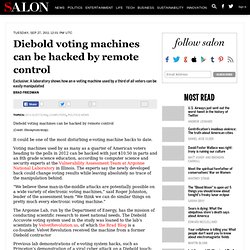 Voting machines used by as many as a quarter of American voters heading to the polls in 2012 can be hacked with just $10.50 in parts and an 8th grade science education, according to computer science and security experts at the Vulnerability Assessment Team at Argonne National Laboratory in Illinois. The experts say the newly developed hack could change voting results while leaving absolutely no trace of the manipulation behind. Possible security breach: Secret Service agents had president's schedule in rooms. New details about the Secret Service personnel alleged to have brought prostitutes to their hotel rooms have emerged, including reports that two of the 11 were supervisors.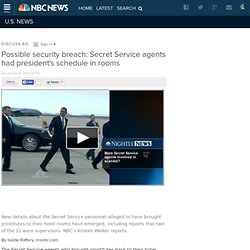 NBC's Kristen Welker reports. By Isolde Raftery, msnbc.com The Secret Service agents who brought prostitutes back to their hotel rooms in Colombia last week had copies of the president's schedule in their rooms, which raises the issue of a potential security breach, a law enforcement official tells NBC News. Secret Service personnel were in Cartagena in advance of President Barack Obama's arrival at the Summit of the Americas, a trade conference, over the weekend.
OCongress: It's a sad day in America... Afghan war whistleblower Daniel Davis: 'I had to speak out – lives are at stake' | World news | The Observer. "I am – how do you say it?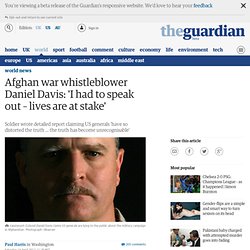 – persona non grata," said Lieutenant-Colonel Daniel Davis, as he sat sipping a coffee and eating a chocolate sundae in a shopping mall, just a subway stop from the Pentagon. The career soldier is now a black sheep at the giant defence department building where he still works. The reason was his extraordinarily brave decision to accuse America's military top brass of lying about the war in Afghanistan. When he went public in the New York Times, he was acclaimed as a hero for speaking out about a war that many Americans feel has gone horribly awry. Later this month he will receive a Ridenhour prize, an award given to whistleblowers that is named after the Vietnam war soldier who exposed the My Lai massacre. US secret service agents sent home from summit over claims of misconduct | World news.
Barack Obama arrives in Cartagena, Colombia, for the Summit of the Americas meeting.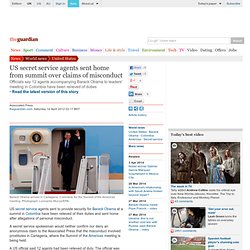 Photograph: Leonardo Munoz/EPA US secret service agents sent to provide security for Barack Obama at a summit in Colombia have been relieved of their duties and sent home after allegations of personal misconduct. A secret service spokesman would neither confirm nor deny an anonymous claim to the Associated Press that the misconduct involved prostitutes in Cartagena, where the Summit of the Americas meeting is being held. A US official said 12 agents had been relieved of duty. The official was not authorised to discuss the matter and requested anonymity. Shale Shocked: "Remarkable Increase" In U.S. Earthquakes "Almost Certainly Manmade" A U.S.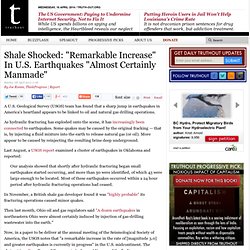 Geological Survey (USGS) team has found that a sharp jump in earthquakes in America's heartland appears to be linked to oil and natural gas drilling operations. As hydraulic fracturing has exploded onto the scene, it has increasingly been connected to earthquakes. Some quakes may be caused by the original fracking — that is, by injecting a fluid mixture into the earth to release natural gas (or oil). L.A. Times: Earth's Top 10 Biggest Enemies in Congress. By Climate Guest Contributor on December 15, 2011 at 1:37 pm "L.A.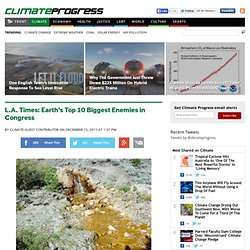 Times: Earth's Top 10 Biggest Enemies in Congress" Republicans launched an unprecedented frontal assault against environmental protections and regulations this year, prompting Rep. Henry Waxman (D-Calif.) to call his chamber "the most anti-environment House in history." Here are the 10 most powerful and outspoken opponents of clean air, clean water, conservation and climate action. Dox of Rep. Charlie Dent, Sponsor of Enemy Expatriation Act.
Red money, blue money: The making of the 2012 campaign. The hidden infrastructure of the 2012 campaign has already been built.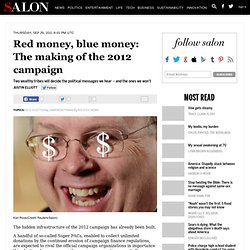 A handful of so-called Super PACs, enabled to collect unlimited donations by the continued erosion of campaign finance regulations, are expected to rival the official campaign organizations in importance this election. In many cases, these groups are acting essentially as outside arms of the campaigns. These are America's best-funded political factions, their war chests filled by some of the richest men (and almost all are men) in the country. More than 80 percent of giving to Super PACs so far has come from just 58 donors, according to the Center for Responsive Politics analysis of the latest data, which covers the first half of 2011. The Republican groups have raised $17.6 million and the Democratic groups $7.6 million.
Citizens United v. Federal Election Commission. The decision overruled Austin v.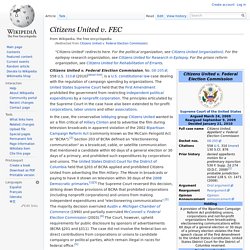 Michigan Chamber of Commerce (1990) and partially overruled McConnell v. Federal Election Commission (2003).[4] The Court, however, upheld requirements for public disclosure by sponsors of advertisements (BCRA §201 and §311). Obama Signs NDAA Bill With Signing Statement Clarifying Indefinite Detention Provisions. After a long battle over one section of the latest National Defense Authorization Act, President Obama signed the bill into law today - but with a signing statement. The statement, which can be read in full here , clarifies why Obama signed the bill and how the controversial provisions on indefinite detention will be treated. Although Obama says in the statement that he does not agree with the entire bill, passing it is necessary to maintain the operation of our military.
He also added that the indefinite detention provision (section 1021) just codifies how our military currently operates rather than changing anything, and that "my Administration will not authorize the indefinite military detention without trial of American citizens. " BREAKING: Obama Signs Defense Authorization Bill. Statement by the President on H.R. 1540: Today I have signed into law H.R. 1540, the "National Defense Authorization Act for Fiscal Year 2012." I have signed the Act chiefly because it authorizes funding for the defense of the United States and its interests abroad, crucial services for service members and their families, and vital national security programs that must be renewed. In hundreds of separate sections totaling over 500 pages, the Act also contains critical Administration initiatives to control the spiraling health care costs of the Department of Defense (DoD), to develop counterterrorism initiatives abroad, to build the security capacity of key partners, to modernize the force, and to boost the efficiency and effectiveness of military operations worldwide.The fact that I support this bill as a whole does not mean I agree with everything in it.
Peter Schiff Was Right 2006 - 2007 (2nd Edition)
Department of Homeland Security Using Fake Facebook and Twitter Accounts to Monitor Posts. AlterPolitics - Progressive Blog For Politics, World Issues, Arts & Entertainment. While Drafting SOPA, the U.S. House Harbors BitTorrent Pirates. In recent weeks we discovered BitTorrent pirates at the RIAA, Sony, Fox, Universal and even law-abiding organizations such as the Department of Homeland Security. By now it should be clear that people are using BitTorrent pretty much everywhere, and not only for lawful downloads. Today we can add the U.S. House of Representatives to that list, the place where lawmakers are drafting the much discussed "Stop Online Piracy Act" (SOPA). The New Breed of Hero by John Brennan. By John Brennan Recently by John Brennan: Obama's Latest Speech The United States has done a remarkable job over the years convincing you that the folks in law enforcement are here for no other reason then to "protect and serve.
" The words sound honorable and are meant to instill trust and confidence. You see this worn out, duplicitous motto emblazoned across every squad car in every small town across America. Some Occupy L.A. protesters may get a lesson in free speech - latimes.com. Many Occupy L.A. protesters arrested during demonstrations in recent months are being offered a unique chance to avoid court trials: pay $355 to a private company for a lesson in free speech. Los Angeles Chief Deputy City Atty. William Carter said the city won't press charges against protesters who complete the educational program offered by American Justice Associates. He said the program, which may include lectures by attorneys and retired judges, is being offered to people with no other criminal history and who were arrested on low-level misdemeanor offenses, such as failure to disperse.
There have been more than 350 arrests at Occupy demonstrations in Los Angeles since protesters first set up camp outside City Hall in October. The National Defense Authorization Act Explained. M.guardian.co.uk. Dem Think-tank on NDAA: Obama Says He Won't Detain Citizens, and That's Good Enough for Us! Do We Really Have To Prepare For The Fourth Box? NDAA's CIA, military targeted killings of innocent Americans - National Human Rights. Three myths about the detention bill.
Watch Now. NDAA mass dox.
Iraq project
Iraq Body Count. 10 Signs You Might Be a Slave. Wikileaks - Eurasia Review. US Insider Trading Laws - Insider Trading by Congress - ProCon.org. Bradley Manning supporters march on news of pre-trial hearing in SF. Tear Gas Reference - Medics. Irritants - CS, CN, CNC, CA, CR, CNB, PS Medication. Why do Police Officers Use Pepper Spray? | Wired Science. Reporting From Outside Party Lines. FBI Sanctioned for Lying About Existence of Surveillance Records. Hacker Says Texas Town Used Three Character Password To Secure Internet Facing SCADA System. Police Leak Police Brutality Police Leaks, Lieutenant Brian Connolly "The Swinger" Davey D's Photo.
Daily News cheers Occupy Wall Street raid, until Daily News reporter is arrested. Occupy Santa Cruz - Bank of America refusing to close account. CNN's New Star Is a Little Too Sympathetic to Wall Street - Business. Law Firm of Wohl & Fruchter LLP Announces Investigation Against Imperial Holdings, Inc. Region | Commentary: Yemen's field of scarecrows. Another guilty plea in state corruption investigation.
---