Inspiration/design ideas (blogs, too!)
Free & ace repeating patterns from awesome people. The Ultimate Guide to Tiny Homes 20 Source Lists & Shopper's Guides | Apartment Therapy New York. Pugly pixel : freebies. WHAT I LOOK FOR IN A BRAND INSPIRATION BOARD | PROMISE TANGEMAN ART & DESIGN. Inspiration boards are a key research element in the design process for Promise Tangeman Creative.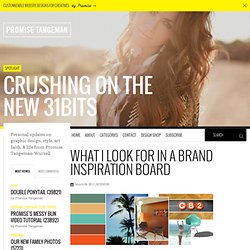 Curating items, picking colors, and choosing elements is a major component to diving into the mindset and theme of a project. And it can sometimes be hard. The Fox Is Black » The Desktop Wallpaper Project. Spring has totally sprung here in LA and we're reaching temperatures between 80º and 90º, aka my heaven.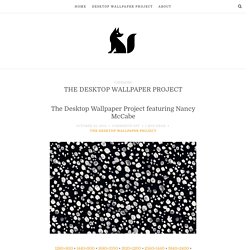 I figured that it was totally fitting then that we feature this incredibly beautiful wallpaper by Jensine Eckwall, which feels to me like spring incarnate. Jensine is a Brooklyn based artist/illustrator who loves to create pieces that are "delicate, nervous, and richly textured illustrations about women, relationships, psychology, and other fun(?) Stuff." MiniCards | Design Customized Mini Business Cards. MiniCards: event cards, name cards, mini business cards, swing tags, gift tags, save the dates, promotional cards and cards to show off your photography or design...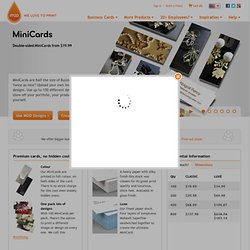 MiniCards might be little, but they do pack a mighty punch! With a variety of different uses, it's sometimes tricky to list them all. Jan/Feb 2011. French Knot | Sublime Stitching. Hand Embroidery Network. Jill Bliss. Curbly | DIY Design Community. Home - Creature Comforts - daily inspiration, style, diy projects + freebies. So You Need A Typeface « Inspiration Lab. So You Need A Typeface I never usually feature my students but I'm going to make an exception, we had such a brilliant critique today that I just want to say "Thank god for passionate students like mine!".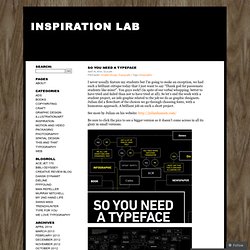 You guys rock!! (in spite of our verbal whupping; better to have tried and failed than not to have tried at all). So let's end the week with a student project, an info graphic related to the job we do as graphic designers. Julian did a flowchart of the choices we go through choosing fonts, with a humorous approach.
---