Advertising Blogs
It's cliché to state at this point, but just about everything you encounter throughout the day is a form of advertising. Even with that knowledge, there are far too many brands that don't take the time to fully analyze where their messaging is being interacted with and how it's being interpreted. Need proof? Go on the internet.
Online Visibility: The Quadcopter Theorem | Terakeet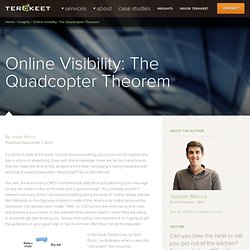 Macala Wright: Why Mad Men Are Becoming Math Men
In our digital worlds, it is safe to say that advertising is becoming more dynamic and complicated than ever.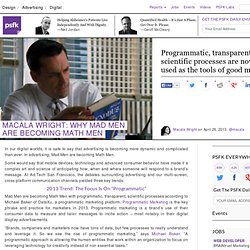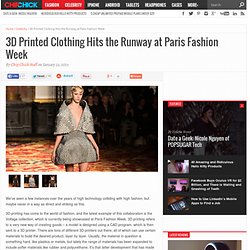 3D-Printed Clothing Hits Paris Fashion Week
We've seen a few instances over the years of high technology colliding with high fashion, but maybe never in a way as direct and striking as this.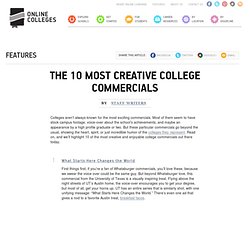 Colleges aren't always known for the most exciting commercials. Most of them seem to have stock campus footage, voice-over about the school's achievements, and maybe an appearance by a high profile graduate or two. But these particular commercials go beyond the usual, showing the heart, spirit, or just incredible humor of the colleges they represent .
The 10 Most Creative College Commercials
2011 4A's Jay Chiat Awards for Strategic Excellence Winners Announced at Strategy Festival
Brilliant planning ought to be celebrated and the 4A's did so with its presentation of the 2011 Jay Chiat Awards for Strategic Excellence at the Strategy Festival in New York City on Thursday, October 13.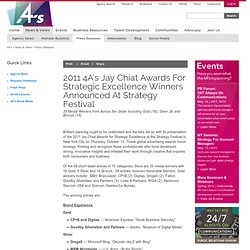 S.I. Newhouse School of Public Communications : Events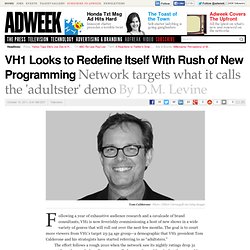 VH1 Looks to Redefine Itself With Rush of New Programming
Following a year of exhaustive audience research and a cavalcade of brand consultants, VH1 is now feverishly commissioning a host of new shows in a wide variety of genres that will roll out over the next few months. The goal is to court more viewers from VH1's target 25-34 age group—a demographic that VH1 president Tom Calderone and his strategists have started referring to as "adultsters." The effort follows a rough 2010 when the network saw its nightly ratings drop 31 percent from the year before.