Advertising Blogs
Online Visibility: The Quadcopter Theorem | Terakeet. It's cliché to state at this point, but just about everything you encounter throughout the day is a form of advertising.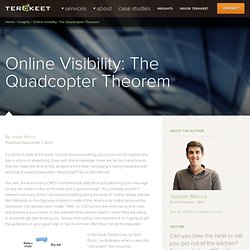 Even with that knowledge, there are far too many brands that don't take the time to fully analyze where their messaging is being interacted with and how it's being interpreted. Need proof? Go on the internet. Macala Wright: Why Mad Men Are Becoming Math Men. In our digital worlds, it is safe to say that advertising is becoming more dynamic and complicated than ever.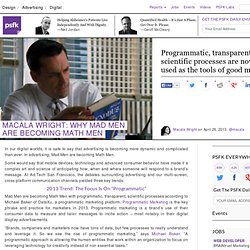 In advertising, Mad Men are becoming Math Men. Some would say that mobile devices, technology and advanced consumer behavior have made it a complex art and science of anticipating how, when and where someone will respond to a brand's message. At Ad:Tech San Francisco, the debates surrounding advertising and our multi-screen, cross-platform communication channels yielded three key trends: 2013 Trend: The Focus Is On "Programmatic" 3D-Printed Clothing Hits Paris Fashion Week. We've seen a few instances over the years of high technology colliding with high fashion, but maybe never in a way as direct and striking as this. 3D printing has come to the world of fashion, and the latest example of this collaboration is the Voltage collection, which is currently being showcased at Paris Fashion Week. 3D printing refers to a very new way of creating goods – a model is designed using a CAD program, which is then sent to a 3D printer.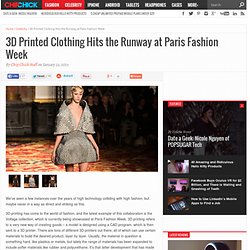 There are tons of different 3D printers out there, all of which can use certain materials to build the desired product, layer by layer. Usually, the material in question is something hard, like plastics or metals, but lately the range of materials has been expanded to include softer materials like rubber and polyurethane. The 10 Most Creative College Commercials. 2011 4A's Jay Chiat Awards for Strategic Excellence Winners Announced at Strategy Festival. Brilliant planning ought to be celebrated and the 4A's did so with its presentation of the 2011 Jay Chiat Awards for Strategic Excellence at the Strategy Festival in New York City on Thursday, October 13.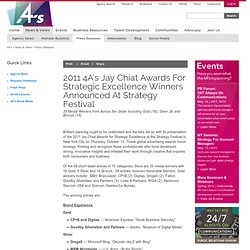 These global advertising awards honor strategic thinking and recognize those professionals who have developed strong, innovative insights and initiated their work through creative that inspires both consumers and business. Of the 68 short-listed entries in 10 categories, there are 39 medal winners with 16 Gold; 9 Silver and 14 Bronze. 29 entries received Honorable Mention. Gold winners include: BBH; BrainJuicer; CP+B (2); Digitas; Droga5 (2); Fallon; Goodby Silverstein and Partners (3); Lowe & Partners; R/GA (2); Redscout; Starcom USA and Starcom Sweden/Le Bureau.
The winning entries are: S.I. Newhouse School of Public Communications : Events. VH1 Looks to Redefine Itself With Rush of New Programming. Following a year of exhaustive audience research and a cavalcade of brand consultants, VH1 is now feverishly commissioning a host of new shows in a wide variety of genres that will roll out over the next few months.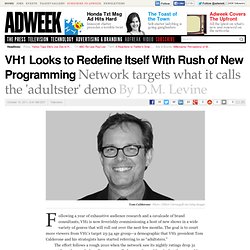 The goal is to court more viewers from VH1's target 25-34 age group—a demographic that VH1 president Tom Calderone and his strategists have started referring to as "adultsters." The effort follows a rough 2010 when the network saw its nightly ratings drop 31 percent from the year before. NewhouseSM6. Advertising. Adweek.
Advertising Agency & Marketing Industry News.
---