Bites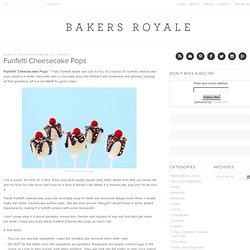 Funfetti Cheesecake Pops ~ That's funfetti inside and out! It's fun, it's colorful, it's funfetti cheesecake pops dipped in white chocolate with a chocolate pour and finished with nonpareils and jimmies, topping all that goodness off is a red M&M for good cheer. Funfetti Cheesecake Pops
Funfetti Cheesecake Pops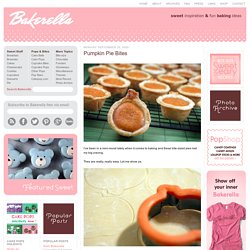 I've been in a mini-mood lately when it comes to baking and these bite-sized pies met my big craving. They are really, really easy. Let me show ya. Of course, it didn't hurt that I used ready to roll refrigerated pie crust. It comes two to a box and if you roll each round pie crust a little bit thinner with a rolling pin, you can get 24 mini pumpkin-shaped pie crusts out of them. Make sure you use all the dough scraps and re-roll to maximize quantities.
Chocolate Chip Cookie Dough Truffles I've never liked chocolate chip cookies. Go ahead and throw tomatoes at me if you'd like, but I don't like 'em. They're just a plain old cookie, after all, with a few studs of chocolate chips in them. They're nothing special to me, unless you get some cookie dough-action before it meets its fate in the oven. Now you're talkin'.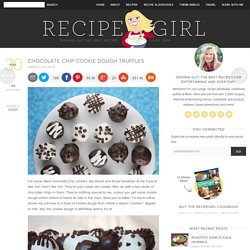 Candy truffles are always an elegant treat but surprisingly, they're also one of the easiest to make. Only a few ingredients are needed and you can get pretty creative in making them too. There's also the variety in the types of truffles - cake, chocolate, cheesecake, cookie, etc. In fact, you can transform any cake, cheesecake and cookie into a truffle if you really wanted.
5 Tempting Truffle Recipes...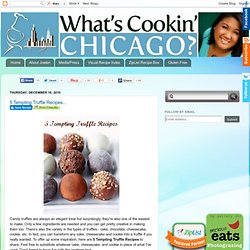 Banana Split Bites ~ A classic ice cream dessert gets mini for some bite size fun. And yes, there is actually a tiny scoop of ice cream tucked inside and underneath the whip cream of those little darlings. Banana Split Mini Bites For once I made something mini for portion control and not just for the cute factor. My little guy had some friends over the other day and of course with a mom who is a baker, the expectation is dessert will not only be good but it will be fun. And I was asked, by friend Caroline, not to let her boys eat too much dessert.