Beauty
Let them have Polish! How To Use A Sock To Get Beautiful Curly Hair Without Heat | A Spotted Pony - StumbleUpon. If you are a mom on the go with long hair you HAVE TO try this.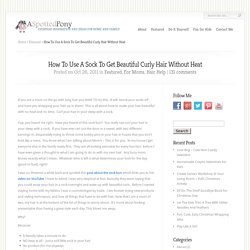 It will knock your socks off and have you wrapping your hair up in them! This is all about how to make your hair beautiful with no heat and no time. Curl your hair in your sleep with a sock. Tips & Tricks - Beauty Secrets - StumbleUpon. Get Yo' Nails Did - StumbleUpon. Okay, so we're only three weeks in to this whole thing and I'm already showing you a tame look after I totally promised some of you that I'd do a newsprint nail tutorial this week.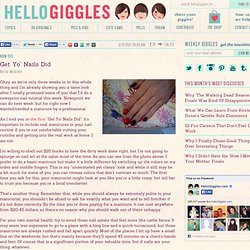 Newsprint we can do next week, but for right now I wanted/needed a manicure by a professional. As I told you in the first "Get Yo' Nails Did", it's important to include real manicures in your nail routine if you're not comfortable cutting your cuticles and getting into the real work at home. I am not. I'm willing to shell out $20 bucks to have the dirty work done right, but I'm not going to splurge on nail art at the salon most of the time. - StumbleUpon. How-To: Instant Hairstyles- Do Yourself | ~She Exists~ | to Add Colors in Life. AdelynSTONE: DIY Clean eyes! Eye make-up remover is so darn expensive!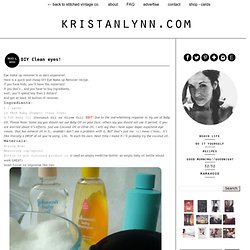 Here is a quick and cheap DIY Eye Make-up Remover recipe. If you have kids, you'll have the materials! If you don't… and you have to buy ingredients, well, you'll spend less than 3 dollars! How to: pore strips - StumbleUpon. You know those Biore pore strips you buy at the drugstore for about $12 a pop? Yeah, those. Today I'm going to teach you how to make your own homemade pore strips. &How-To: Newsprint Manicure & A Pretty Penny - StumbleUpon. I saw this newsprint manicure over on The Daily Nail and thought it was adorable (especially for bookworms and word lovers like myself).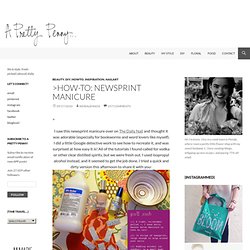 I did a little Google detective work to see how to recreate it, and was surprised at how easy it is! All of the tutorials I found called for vodka or other clear distilled spirits, but we were fresh out. I used isopropyl alcohol instead, and it seemed to get the job done. I tried a quick and dirty version this afternoon to share it with you: Like this: DIY Nails - Newsprint Nails. PIN IT UP, GIRL - thebeautydepartment.com - StumbleUpon. Photo: justin coit for thebeautydepartment.com post designed by kristin ess Our email box is literally flooded with requests for updos so here's a fun one to get us all going!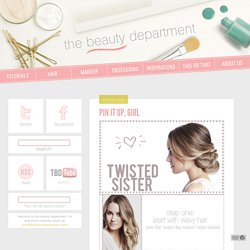 This is always a favorite for attending an event. This updo looks gorgeous on any hair color but particularly amazing with hilighted hair because it gives the hair lots of depth and dimension. For lack of a better word, I love the way it becomes "swirly". Best thing is; it's easy to do, gorgeous and keeps your hair out of your way for the night.
---