Mind Maps
Non-profit mindmap software
Александр Прохоров FreeMind Xebece CmapTools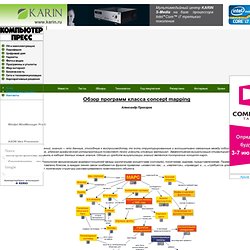 Журнал "КомпьютерПресс" | Обзор программ класса concept mapping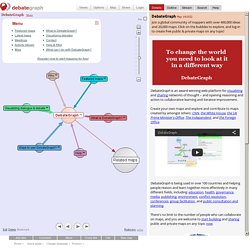 DebateGraph is an award-winning, web-platform for visualizing and sharing networks of thought – and opening reasoning and action to collaborative learning and iterative improvement.Create your own maps and explore and contribute to maps created by amongst others: CNN, the White House, the UK Prime Minister's Office, The Independent, and the Foreign Office. DebateGraph is being used in over 100 countries and helping people reason and learn together more effectively in many different fields, including: education, health, governance, media, publishing, environment, conflict resolution, conferences, group facilitation, and public consultation and planning.There's no limit to the number of people who can collaborate on maps, and you are welcome to start building and sharing public and private maps on any topic now. Copyright © 2014 Thoughtgraph Ltd. All Rights Reserved. Registration No: 0584316 VAT No: 994672852. Terms & Privacy (including our Cookie Policy).
welcome back! Forget your password? Click here. Trouble signing in? Click here. Not a member?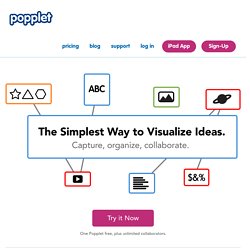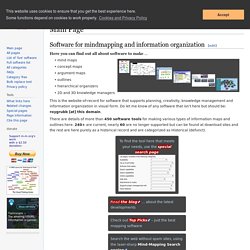 " 3D Topicscape: The information organizer for mindmappers and others.A flexible way to plan new projects and manage information. It's like concept mapping or mindmapping, but in 3D. You can even import FreeMind mind maps to build a 3D view from work you've already done in 2D (and export them again). - take in your To Do lists with just a glance at your 3D landscape; zoom in on part of the landscape and go back instantly; make live links to Outlook tasks, contacts, etc. (in Pro).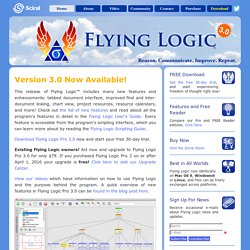 Our first paid upgrade includes a huge number of new features and enhancements including our top request: Incremental Layout! The document window has a completely new design including inspectors that can be shown, hidden, and resized to suit your work style. Also: custom symbols, colored groups, zoom the canvas up as well as down, group hoisting, and too many more to list here!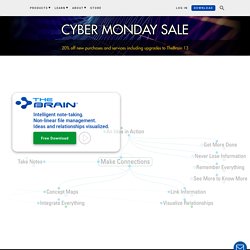 Know more. Map your mind. There's a lot of connections in your head, but unfortunately sometimes they don't last.
The PersonalBrain
TheBrain (PersonalBrain) - [1] :: Варезник
Результаты поиска: Personal Brain
Софт для построения ментальных карт: Mindjet MindManager, FreeMind, ConceptDraw MindMap, MindMeister
Бесплатная программа для рисования ментальных карт, отличается от своих аналогов тем, что построена на векторной графике. Построение ментальных карт в данной программе напоминает сборку конструктора: в любую часть рабочего пространства можно добавить картинку, стрелку, топик. Преимущества: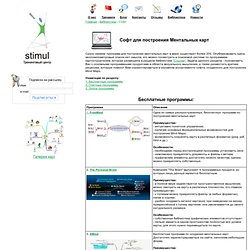 Сервис Prezi.com. Руководство пользователя | Открытый класс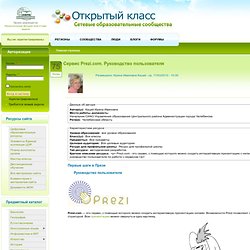 Первые шаги в Прези Руководство пользователя Prezi.com — это сервис, с помощью которого можно создать интерактивную презентацию онлайн. Возможности Prezi позволяют создавать презентации нового вида с нелинейной структурой. Всю презентацию можно свернуть в одну картинку,
FreeMind is a premier free mind-mapping software written in Java. The recent development has hopefully turned it into high productivity tool. We are proud that the operation and navigation of FreeMind is faster than that of MindManager because of one-click "fold / unfold" and "follow link" operations. So you want to write a completely new metaphysics?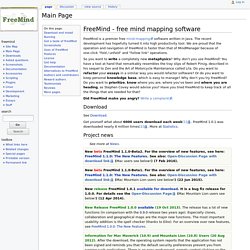 NodeMind
ГОРОNodeMind 2.0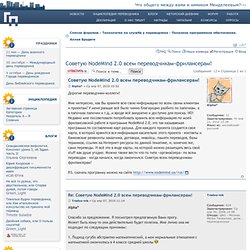 Alpha* писал(а):...Да, пожалуй, помимо изучения, самое главное всегда сначала привыкнуть к использованию нового программного обеспечения. Меня, например, раньше и слово TRADOS сильно пугало, пока я таки не взялась решительно приручить эту кошку... ...А раньше, помните, об электронных словарях можно было только мечтать... ...Можно медленно, но уверенно использовать свои собственные методы работы, а можно жить по принципу «совершенству нет пределов».... Альфа - Вы зря думаете, что "люди вокруг" не оценили и не увидели/не поняли такой важный продукт, который произвёл на Вас такое сильное впечатление и изменил организацию Вашего времени. Просто на минуту представьте себе, что в мире есть масса людей, которые реально способны/научились оценивать нужность/ненужность какой-либо предлагаемой вещи/явления/информации. Представьте также, что бывают люди, которые тоже начинали с бумажных словарей, чистых листов А4 и чернильной ручки (кто победнее)/печатной машинки (кто побогаче).
Works with Office/PDF How to make colleagues access our mind map if they don't have XMind? With some simple operations, we can export our mind map into about 10 universal formats by the export functionality. By this way, your team can collaborate seamlessly.