Search engines and Tools
Real Time Search - Social Mention. Spam free search. People Search. RankSpeed - Search by sentiments. Xmarks | Bookmark Sync and Search. Copyscape Plagiarism Checker - Duplicate Content Detection Software.
Expo: authentic video reviews, opinions and insights about produ. Product and shopping comparison. DuckDuckGo. Factbites: Where results make sense. Dataopedia.com - All you need to know about a website. DeepDyve - Millions of Articles At Your Fingertips.
Document Search. Toried - Top 5 in the world. What The Trend? Find out WHY terms are trending on Twitter. Soovle - Let the web help. BlogPulse.
Search Tools - Enterprise Search Engines - Information, Guides and News. Topsy - A search engine powered by tweets. 8 Excellent Tools to Extract Insights from Twitter Streams. Twitter is now the third most popular social network, behind Facebook and MySpace (Compete, 2009).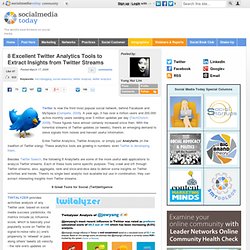 A year ago, it has over a million users and 200,000 active monthly users sending over 3 million updates per day (TechCrunch, 2008). Those figures have almost certainly increased since then. With the torrential streams of Twitter updates (or tweets), there's an emerging demand to sieve signals from noises and harvest useful information. Enter Twitter Analytics, Twitter Analysis, or simply just Analytwits (in the tradition of Twitter slang). These analytics tools are growing in numbers; even Twitter is developing them.
---