Ecommerce & Online Marketing Blogs
Best Web Metrics / KPIs for a Small, Medium or Large Sized Business | Online Marketing Key Performance Indicators. How to make your application viral. Everyone wants their application to "spread virally".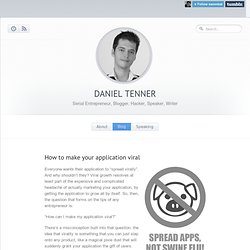 And why shouldn't they? Viral growth resolves at least part of the expensive and complicated headache of actually marketing your application, by getting the application to grow all by itself. So, then, the question that forms on the lips of any entrepreneur is: "How can I make my application viral?" There's a misconception built into that question: the idea that virality is something that you can just slap onto any product, like a magical pixie dust that will suddenly grant your application the gift of users.
The Best Damn Web Marketing Checklist, Period! - Search Engine G. Marketing a website isn't particularly difficult.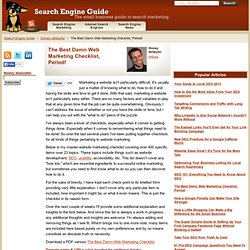 It's usually just a matter of knowing what to do, how to do it and having the skills and time to get it done. With that said, marketing a website isn't particularly easy either. How Google's Panda Update Changed SEO Best Practices Forever - Whiteboard Friday. It's here!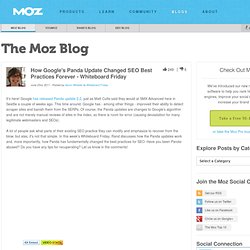 Google has released Panda update 2.2, just as Matt Cutts said they would at SMX Advanced here in Seattle a couple of weeks ago. This time around, Google has - among other things - improved their ability to detect scraper sites and banish them from the SERPs. Of course, the Panda updates are changes to Google's algorithm and are not merely manual reviews of sites in the index, so there is room for error (causing devastation for many legitimate webmasters and SEOs). Marketing in the semantic web. What should be the role of marketing in the semantic web?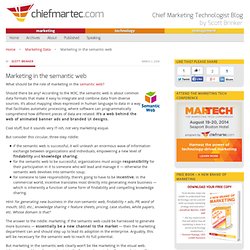 Should there be any? According to the W3C, the semantic web is about common data formats that make it easy to integrate and combine data from diverse sources. Houston Search Engine Marketing and Optimization Services " If you read Internet marketing and SEO blogs on a regular basis, you undoubtedly come across posts about free SEO tools quite often.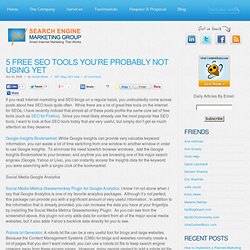 While there are a lot of great free tools on the Internet for SEOs, I have recently noticed that almost all of these posts profile the same core set of free tools (such as SEO for Firefox). Since you most likely already use the most popular free SEO tools, I want to look at five SEO tools today that are very useful, but simply don't get as much attention as they deserve: Google Insights Bookmarklet: While Google Insights can provide very valuable keyword information, you can waste a lot of time switching from one window to another window in order to use Google Insights. How to Write Magnetic Headlines. 10 ways to measure social media success | Blog. There's so much talk about social media that it is easy for people to become cynical, perhaps losing track of the fact that it can have a positive impact on your business.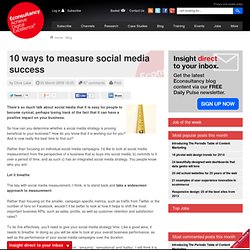 So how can you determine whether a social media strategy is proving beneficial to your business? How do you know that it is working out for you? Seven Inspirational Site Tweaks Newegg.com Used to Raise Online. By Anne Holland, PresidentAs Sherpa reported in a Case Study last week (link at the end of this Blog), Newegg.com increased revenues 30% last year to hit approx. $1.3 billion.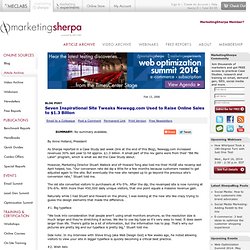 A small part of the rev gains were from their "Bill Me Later" program, which is what we did the Case Study about.However, Marketing Director Stuart Wallock and VP Howard Tong also told me their HUGE site revamp last April helped, too. "Our conversion rate did dip a little for a few months because customers needed to get adjusted again to the site. But eventually the new site ramped up to go beyond the previous site's conversion rate," Stuart told me.The old site converted visitors to purchasers at 4%-5%.
Review: 5 free apps that make project management easier. Review By Howard Wen June 30, 2009 12:01 AM ET Computerworld - Putting together a project plan can sometimes seem more daunting than completing the project itself.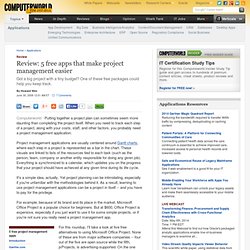 When you need to track each step of a project, along with your costs, staff, and other factors, you probably need a project management application. Traffikd. 2011: The Year the Free Ride Died - ReadWriteCloud. Out with the old, in with the new.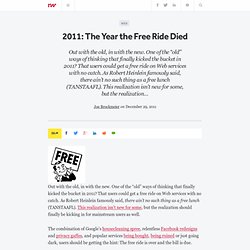 One of the "old" ways of thinking that finally kicked the bucket in 2011? That users could get a free ride on Web services with no catch. As Robert Heinlein famously said, there ain't no such thing as a free lunch (TANSTAAFL). Top Ten Eyetracking Blogs « The Acagamic. Background Information When going on the prowl for a new article, the young academic researcher, who is not too familiar with all the big names, research venues and journals typically starts their research looking the desired topic up in books, wikipedia (or other dictionaries) and most recently also in blogs (which happen to be increasingly written by academics in their spare time).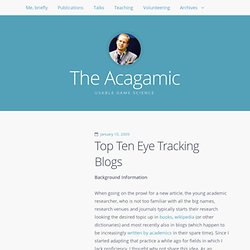 Since I started adapting that practice a while ago for fields in which I lack proficiency, I thought why not share this idea. As an academic, you usually often want to give back to the community that nurtures you. Therefore, I would like to present my top ten of blogs that deal with eye tracking (often in a research context). 50 Youth Marketing Keywords You Need to Know PART ONE (Graham Br.
Shopping Cart Posts
Retail news discussions and analysis. RetailWire ...Plug in. Fre. Publications - Home of MediaDailyNews, MEDIA and OMMA Magazines. Resources for Online Business Owners. How we made $1 million for SEOmoz—with one landing page and a few emails. Since we first published this case study, SEOmoz has continued to grow and rebrand significantly (it's now called Moz). However, the techniques described below are still as relevant as ever. In this talk, SEOmoz's CEO, Rand Fishkin, raves about the work we did, explaining how the money that we generated enabled SEOmoz to develop from a membership site into a web app. Overview SEOmoz is one of the world's largest providers of tools and resources for search engine optimization (SEO).
The company was already highly successful, having a list of Fortune 500 clients as long as your arm. Econsultancy | Community of Digital Marketing and Ecommerce Prof. Small Business CRM Resource Centre - Your Free Guide To CRM Help.
---