Music
Funky16Corners
Greetings all. What a shitty way to start the day. I get up, I'm sitting at the breakfast table getting my sons ready for school, log onto the interwebs, and the first thing I see is that the mighty Teddy Pendergrass, one of the truly great soul voices of the 1970s has passed away at the age of 59. Pendergrass had a memorable solo career, but my all-time fave record featuring his voice is also one of my all-time fave records period, that being Harold Melvin and the Blue Notes original version of 'Don't Leave Me This Way'. I posted this record back in the summer of 2007, and I'm reposting it this morning in the memory of a brilliant singer. Peace Larry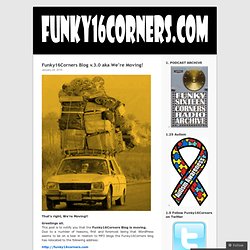 12ozprophet THE LEGACY TRAILER BY HARD 2 BURN refinedhype Weekly Re-Up: Baked News, Drake Plays Beer Hockey & More djbooth Sauce Money ft.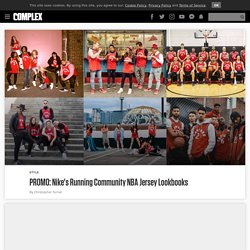 The 50 Greatest Hip-Hop Samples Of All Time
Miss Etta James Listen/Download -Etta James – Something's Got a Hold On Me Listen/Download -Etta James and Sugar Pie DeSanto – In the Basement Pt1 Listen/Download -Etta James – I'm So Glad
Funky16Corners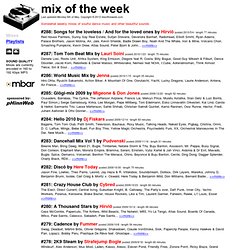 Last updated Monday 6th of May. Copyright © 2013 mixoftheweek.com. Somewhat weekly mixes of soulful dance music and other beautiful sounds. #288: Songs for the loveless / And for the loved ones by Hirviö posted 2010/5/4 - length 77 minutes Red House Painters, Sunny Say Real Estate, Sufjan Stevens, Devendra Banhalf, Radiohead, Elliott Smiht, Ryan Adams, Palace Brothers, Jason Molina, Air, Jale, Kevin Shields, Badle Drawn Boy, Noah And The Whale, Iron & Wine, Volcano Choir, Smashing Pumpkins, Kevin Drew, Atlas Sound, Peter Bjorn & John...
mixoftheweek.com
Today's Blog Music / The Hype Machine
Shuffler
Auscultons le bilan de fin d'année des Inrocks Le bilan de fin d'année des Inrocks, c'est toujours un grand moment. Dès qu'il est publié, c'est un peu le Café du Commerce dans ta chambre : les mails arrivent de partout pour dénoncer ce scandale, cette saignée, cette trahison aux valeurs historiques du magazine.
Interprétations Diverses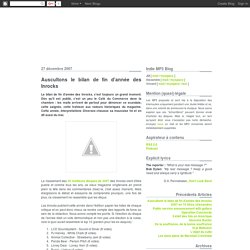 Paris Jazz Club, agenda des concerts jazz Paris, Ile-de-France
George Duke with Billy Cobham - Rush Hour
Crossing the Bridge - The Sound of Istanbul ( Fatih Akin )
Benn loxo du taccu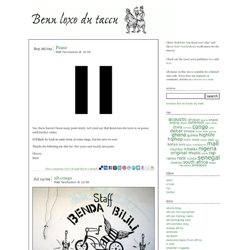 I had the good fortune to spend a week in Seoul, South Korea, this past February. The weather was hazy and cold almost every day and the pollution hung in the air like a bad Beijing day, but I still thought the city was pretty cool. It was much bigger than I imagined and it takes you hours to get anywhere.. my meetings seemed to always be at opposite ends of the city. I could go on and on about how great Korean food is, but I'll let Louise handle that. Let's focus on some music. I have to admit that I've had a hard time penetrating the K-Pop scene to find some truly good contemporary Korean music.
la case de l'affreux thom
Shades of Soul, EP 1.7 – 1.8: The Best of 2013 by Oliver Wang on Mixcloud My last Shades of Soul show covered my favorite recordings of 2013 and the second hour, beginning right around the 1:00 mark, focuses on the older songs I discovered this year. I won't go into every song on there but I did want to highlight my absolute favorites. 1:02:30 Brenton Wood: Oogum Boogum Song From 7″ (Double Shot, 1967). Also on Oogum Boogum
soul sides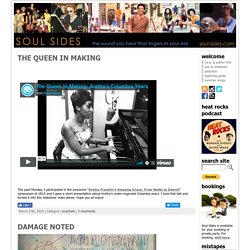 naija jams
=================================================================Even when you don't find music here, you can bet I'm on my grizzly. Here's a recent post I made over at Monkeyfilter and ILM: Some of you may know me from around town; I'm an audioblogger. A musicblogger/audioblogger/MP3blogger is a person who offers interesting, out of print, rare or otherwise engaging music to people at no charge, out of love for the sound and to promote artists that they would like to see get more popular. I'm not prejudiced; I also include record label sites, artist's personal sites, people who aggregate the daily adventures of other musicbloggers into digests...
THE TOFU HUT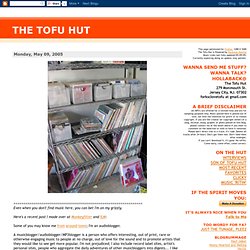 High on the Stones by Dan Chiasson
Fresh from damp-brown 50s Liverpool, packed into a camper van with one bumper hanging off, these were truly innocents abroad. They'd played rock & roll for years, at the Lathom Hall or the Childwall Labour Club - they'd seen brawls and batterings, and known the feel of girdled girls, and swaggered through foul-smelling crowds, and thrown up pints of English ale. All that pain and glory, though, had been contained, parochial, and nothing more than a minor disturbance.
The Beatles In Hamburg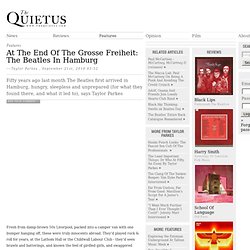 Ed Note: Sometimes it's hard to hear music as described on the page. Bill DeMain's story on Miles Davis and Kind of Blue in our latest magazine is wonderful, but we wanted to make sure readers actually got to hear the sounds. So we asked Ransom to remix it with any YouTube clips he could find. The following is a mish-mash of Bill's story and Ransom's writing, all enhanced with Miles' music. We're hoping it gives readers a slightly richer experience. Enjoy!
The Genius of Miles Davis: Explained!
Paris, May 23, 2007: Carefully avoiding eye contact with the tourists in the street, Charlotte Gainsbourg quickly lets me into the small, graffiti-covered house at 5 bis Rue de Verneuil. Two blocks from Boulevard Saint-Germain in the Seventh Arrondissement, the house is where her father, Serge Gainsbourg, lived and, on March 2, 1991, died at the age of 62. In the days following his death, France went into mourning, fans crowded the tiny street singing his songs, and the women closest to him sat in his bedroom with his body for four days because Charlotte didn't want to let him go. For 16 years this house has been shuttered and locked, with only the housekeeper or occasional family member allowed inside. Charlotte, an actress and a huge star in France, is now the owner of the house and wants, with the help of architect Jean Nouvel, to turn it into a museum.
The Secret World of Serge Gainsbourg
Khaled and the myth of rai
Cheb Khaled, the Algerian rai singer who is probably the best-known Arabic singer on the planet, was selected this summer as one of NPR's 50 Great Voices. Banning Eyre, a regular commentator on World Music on NPR and producer for Afropop Worldwide who has worked tirelessly to promote music from Africa, including the Maghreb, introduced Khaled to the NPR audience. Unfortunately, his introduction of Khaled repeated several unfortunate and misleading myths about rai music.
Best of 2010 radio shows, Podcasts
MediaCore | Video, Audio, and Podcast Publication Platform
this thread on head-fi, my friend, is the answer to all your questions. i don't think i've ever read a review of headphones this comprehensive and in-depth... [bit.ly] Thanks man! That really helped.
How to Choose the Perfect Pair of Headphones - Lifehacker
ALLOFMP3
Groovylists.com - Convert your Spotify and iTunes playlists to Grooveshark
Breaking into the music industry has changed, with artists no longer relying on old-school tactics to try and land a record deal. Technology has disrupted the music biz like bands creating location aware based albums. Here's how social media can be used to try and make that break into the music industry: Consider which social networking sites to use
How to use social media to break into the music industry - TNW
Top 10 Augmented Reality Projects by the Music Industry Article OWNI.eu, Digital Journalism