2011
Social - BEST DIGITAL CAMPAIGNS 2011 by gregory pouy
The Growth of Social Media in 2011 #Infographic | Digital Marketing via @kkoolook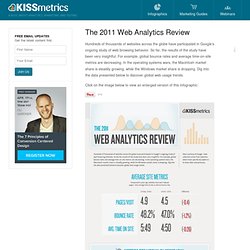 The 2011 Web Analytics Review - Infographic based on Google's 2011 Data
Hundreds of thousands of websites across the globe have participated in Google's ongoing study of web browsing behavior. So far, the results of the study have been very insightful. For example, global bounce rates and average time-on-site metrics are decreasing. In the operating systems wars, the Macintosh market share is steadily growing, while the Windows market share is dropping. Dig into the data presented below to discover global web usage trends. Click on the image below to view an enlarged version of this infographic:
The Growth of Social Media
2011 - 50 New Social Media Stats to Kickstart Your Slide Deck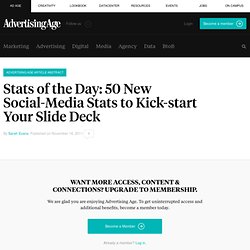 On her social-media and PR blog, Commentz, Sarah Evans and her staff compile a lot of stats. Each quarter, she cherry-picks the most relevant for marketers to share with Ad Age . 1. eMarketer estimates there will be nearly 21 million Twitter users in the U.S. by the end of this year, and a sizable minority of those will use the service at least in part to follow brands.
McKinsey Report: What Marketers Are Saying about Social Media