Templates
Professional Joomla Templates. Clean Creative Joomla Templates | Professional Joomla Template Club | Joomla Bamboo. Joomla Templates, Modules, Extensions - Hot Joomla. Joomla - CMS Themes. Tennis. Description: Once an aristocratic hobby for a select few, tennis has evolved into one of the most practiced sports in the world.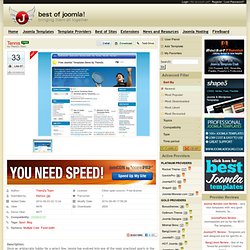 The Tennis Joomla 1.5 template by ThemZa will help both old time fans and new admirers of the game establish a tennis fan club web page or adorn their existing one with new web design apparel. It includes two sidebars, a quick JavaScript-based drop-down navigation bar, a predefined bottom area where you can display various tennis-related links, a site-wide banner area featuring an exalted player who has just scored a decisive point, and a 2-column central content area where you can clarify the rules of the game, let others in on the specific vocabulary associated with it, focus on trendsetting tennis equipment, apparel and accessories, post Grand Slam tournament recaps, etc.
Artisteer - joomla. Tuto Créer son template Joomla! 1.5 By CEd | Tutoriels template joomla! | Tutos design et template Joomla! Templates Demonstration. Modifier le template MadeYourWeb. 30 Mai 2006 Made Your Web est certainement, graphiquement, le plus simple du pack Joomla!.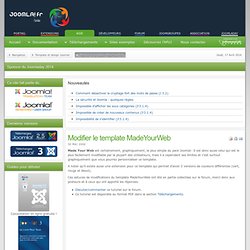 Il est donc aussi celui qui est le plus facilement modifiable par la plupart des utilisateurs, mais il a cependant ses limites et c'est surtout graphiquement que vous pourrez personnaliser ce template. A noter qu'il existe aussi une extension pour ce template qui permet d'avoir 3 versions de couleurs différentes (vert, rouge et bleue). Ajouter une nouvelle position dans un template Joomla - templates - astuces - Hébergement Joomla, formations Joomla, support Joomla et tutoriels vidéos Joomla.
Vous avez trouvé le qui vous plait pour votre site mais aimeriez afficher du contenu dans une qui n'a pas été prévue?
Aucun problème, dans ce tutoriel nous allons voir avec un cas concret, comment ajouter une nouvelle position à un template . Pour cette exemple, nous allons nous baser sur le template installé par défaut avec . Nous allons tout d'abord afficher les positions déjà définies dans le template. Pour cela il nous suffit de rajouter après notre nom de domaine ce qui pourrait donner : Free Joomla Templates | Free Resources for Designers & Developers. Personnaliser joomla, Personnaliser template joomla, Personnaliser wordpress, Personnaliser template wordpress | Waxoo.fr. Jamba Template Demo - Changing The Header. Joomla Template Builder | Build your own Joomla templates! Template Joomla | I Wanna Click. Création site internet Joomla - Bordeaux - Akyweb - Site vitrine, ecommerce, évènementiel et communautaire de qualité professionnelle. - Comment créer un template Joomla 1.5. Tuto Créer son template Joomla! 1.5 By CEd | Tutoriels template.
Cool Template - Free Web Template Designer.
---