Art
794693. Amazing Graffiti Art by Banksy. Banksy is a well-known English graffiti artist, possibly named Robert Banks.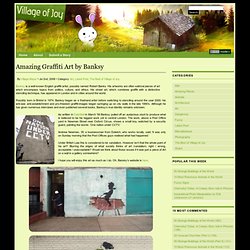 His artworks are often satirical pieces of art which encompass topics from politics, culture, and ethics. His street art, which combines graffiti with a distinctive stenciling technique, has appeared in London and in cities around the world. Possibly born in Bristol in 1974, Banksy began as a freehand artist before switching to stenciling around the year 2000; his anti-war, anti-establishment and pro-freedom graffiti images began springing up on city walls in the late 1990′s.
Although he has given numerous interviews and even published several books, Banksy's true identity remains unknown. 10 Photos Of "Authentic" Post-Apocalypse Fashion: Pics, Videos, Links, News. Photos: Status Factory by Ron English at Opera Gallery New York. 50 Mind Blowing Sketches | Penny's Daybook | www.PennysDaybook.com - StumbleUpon. Critic, "I'm an artist myself and" Argument from authority – always a logical fallacy, but even worse when it's in a subjective field where there arguably can't be any authorities.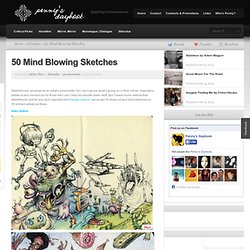 "I hate it when people who aren't artists assume anything someone puts out there is 'mind-blowing'." – incredibly condescending, don't you think? And besides, "assumes" that it is mind-blowing? If the person who posted these pieces had his mind figuratively blown by them, then how can they not be mind-blowing? Who are you to say that they are not, in the face of reality and facts? The drawings of Leonardo da Vinci - StumbleUpon. How to Draw Celtic Knotwork - StumbleUpon.
The old method These instructions can be followed with pencil and paper or using any computer based drawing or drafting program.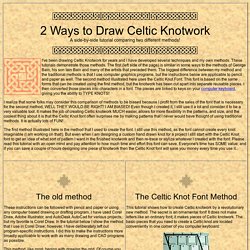 I have used Corel Draw, Adobe Illustrator, and AutoDesk AutoCad for various projects, but my favorite is Corel Draw. In the tutorial below I show the method that I use in Corel Draw; however, I have deliberately left out program-specific instructions. I did this to make the instructions more broadly applicable to work with as many drawing and CAD programs as possible. ANNIE WU: Sketches. - StumbleUpon. - StumbleUpon. Dont Make Me Over - StumbleUpon. Gothic horror illustrations by Tatsuya Morino ~ Pink Tentacle - StumbleUpon. Artist Tatsuya Morino puts a unique twist on the great monsters of Gothic literature in a series of illustrations featured in the book Kaibutsu Gensō Gashū.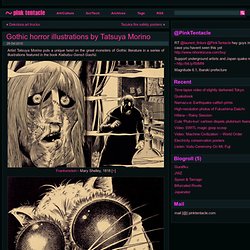 Frankenstein - Mary Shelley, 1818 [+] The Fly - George Langelaan, 1957 Moxon's Master - Ambrose Bierce, 1919. Page corner bookmarks | I Could Make That - StumbleUpon. This project comes to you at the request of Twitterer @GCcapitalM.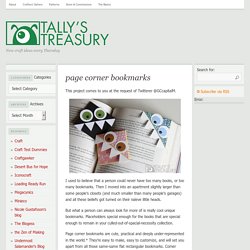 I used to believe that a person could never have too many books, or too many bookmarks. Then I moved into an apartment slightly larger than some people's closets (and much smaller than many people's garages) and all these beliefs got turned on their naïeve little heads. But what a person can always look for more of is really cool unique bookmarks. Just Say AH! :: The Official Adam Hughes Website. The free encyclopedia. 35 Fantasy art masterpieces of character design history.
About: Gonzalo Ordóñez Arias (GENZOMAN) Gonzalo Ordoñez Arias, Is an extraordinary digital artist and painter of fantasy art.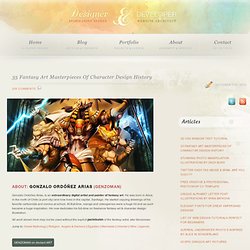 He was born in Arica, in the north of Chile (a port city) and now lives in the capital, Santiago. He started copying drawings of his favorite cartoonists and comics at school. At that time, manga and videogames were a huge hit and as such became a huge inspiration. Beautiful/Decay Cult of the Creative Arts | Artist Book Series + Daily Art... - StumbleUpon. I couldn't help but direct everyone to fellow public art loving blog Street Art Utopia as they have compiled a pretty decent list of the best street art of 2011.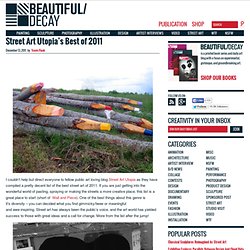 If you are just getting into the wonderful world of pasting, spraying or making the streets a more creative place, this list is a great place to start (short of Wall and Piece). One of the best things about this genre is it's diversity – you can decided what you find gimmicky/twee or meaningful and awe-inspiring. Street art has always been the public's voice, and the art world has yielded success to those with great ideas and a call for change.
---