Noticias Reales
La crisis del capitalismo es tan profunda que hasta los líderes de los EEUU y de la Unión Europea y los ideólogos del neoliberalismo asumen esa realidad. Están alarmados por no divisar una solución que pueda detener la caída al abismo: Se esfuerzan sin éxito para que aparezca la luz al final del túnel. A pesar de las contradicciones existentes, los EEUU y las grandes potencias de la Unión Europea pusieron fin a las guerras interimperialistas –como la de 1914-1918 y la de 1939-45- substituyéndolas por un imperialismo colectivo, bajo la hegemonía norteamericana, que las disloca para países del llamado Tercer Mundo sometido al saqueo de sus recursos naturales. Pero la evolución de la coyuntura mundial demuestra también con claridad que la crisis del capital no puede ser resuelta en el cuadro de una "transnacionalización global", tesis defendida por Toni Negri y Hardt en su polémico libro en que niegan el papel del imperialismo tal y como lo definió Lenin.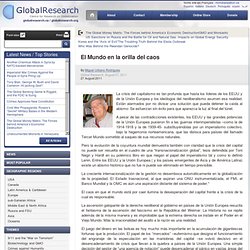 El Mundo en la orilla del caos
Los italianos rechazan la energía nuclear y la inmunidad de Berlusconi El primer ministro italiano reconoce la derrota de sus posiciones en los cuatro referendos y admite que el resultado "no puede ser ignorado" MIGUEL MORA | Roma 13/06/2011 FUENTE ELPAIS Blog Vaticalia: Un alud de votos Guillermo Fonck O`Brien Provincia Virtual * Periódico de las bases del PPD * Nº 276 – PV Domingo, 29 de mayo de 2011 INDICE Senadores y diputados de Chile condenan sanción de EEUU contra Venezuela Senador Alejandro Navarro senan@senado.cl El …Read more Manipulación, censura y medios anipulación, censura y medios Sin previo aviso, sin explicación, como una mosca persistente eliminaron a El Muerto de Facebook No es la primera vez Lo que nos queda Hay periodistas que no lo son, responden más a intereses sectoriales . Son operadores no periodistas. Entonces, lo primero es distinguir entre unos … Read more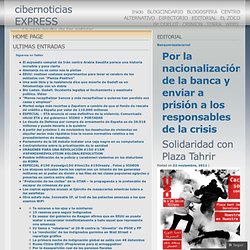 cibernoticias EXPRESS
Portada | Venezolana de Televisión
Chavez headed the lists of the CIA and the Pentagon as the main target of their attacks, and the US significantly expanded its military presence open and clandestine-around Venezuela during his administration. Western corporate media, its Oil and Gas counterparts (GCC) are once again attempting to bolster and rebrand the public image of the fundamentalist rebels in Syria. If there is anything the House of Saud knows well, it is rounding up Al Qaeda terrorists at the service of Washington. The House of Saud has also played a role in destabilizing the Russian Federation and organizing terrorist attacks inside Russia. The police hope to have drones able to fire "non-lethal weapons" at people they deem to be involved in criminal activity. Non-lethal weapons will soon become lethal weapons and the US will be trying and executing citizens at home as it has done elsewhere without even a hint of due process.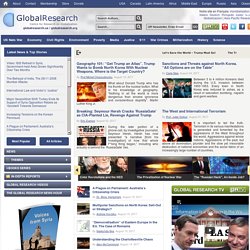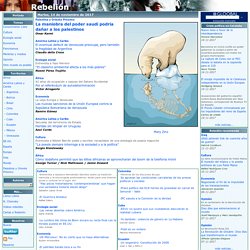 Palestina y Oriente PróximoAriel Sharon, el final de un criminal de guerra Alain Gresh Colombia