Literature
Blog Archive » One man's meat is another man's Poisson (GRAVITY'S RAINBOW) Working notes: Notes on what literary theory does. Tuesday I sat down with other people to discuss literary theory (which, remember, is not critical theory) with one of our more prominent professors.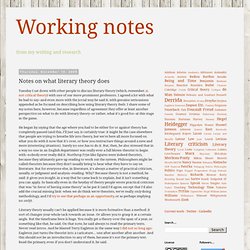 I agreed a lot with what he had to say--and even more with the jovial way he said it, with genuine seriousness appended as he focused on describing how using literary theory feels. I share some of my notes here, however, because regardless of agreement they offer at least another perspective on what to do with literary theory--or rather, what it's good for--at this stage in the game. He began by saying that the age where you had to be either for or against theory has completely passed (and this, I'll just say, is certainly true: it might be the case elsewhere that people are trying to breathe life into theory, but we're here all more focused on what you do with it now that it's over, or how you restructure things around a new and more interesting situation). Surely no one has to do it. Untitled Document. Simpsons at the Gates by Keith Gessen Intimations of the Coming Barbarism.
Lempriere's Dictionary: Amazon.co.uk: Lawrence Norfolk. 'Lempriere's Dictionary' is a fascinating novel, tying together many seemingly separate plots, and encompassing genres from the romantic, through the gothic, to the fantastic.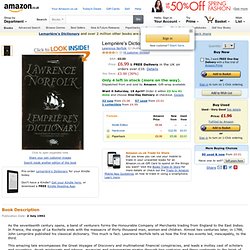 The Lempriere's are a family with a dark history, a treasonous agreement valid in perpetuity haunts successive generations. Norfolk ties the mystery of the Lempriere's with a story of corruption at the heart of the East India Company, assassinations, strange deaths, and uncertain romance. Lempriere slaves away at a classical dictionary in order to purge his addled psyche, while revolution is afoot in France, in London, and above it all flies the charred figure of the Sprite of La Rochelle... The book is so spellbinding, that I felt sad once I had finished it, as if it's world had died. For this reason, don't borrow the book from a library, as you won't want to return it. Hauntology: A not-so-new critical manifestation. Hauntology is probably the first major trend in critical theory to have flourished online.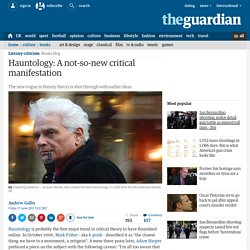 In October 2006, Mark Fisher - aka k-punk - described it as "the closest thing we have to a movement, a zeitgeist". A mere three years later, Adam Harper prefaced a piece on the subject with the following caveat: "I'm all too aware that it's no longer 2006, the year to blog about hauntology". Two months ago, James Bridle predicted that the concept was "about six months away from becoming the title of a column in a Sunday supplement magazine". 40, Vladimir Nabokov. Vladimir Nabokov lives with his wife Véra in the Montreux Palace Hotel in Montreux, Switzerland, a resort city on Lake Geneva which was a favorite of Russian aristocrats of the last century.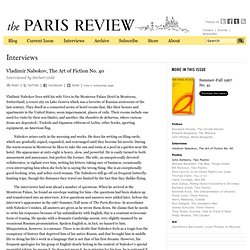 They dwell in a connected series of hotel rooms that, like their houses and apartments in the United States, seem impermanent, places of exile. Their rooms include one used for visits by their son Dmitri, and another, the chambre de debarras, where various items are deposited—Turkish and Japanese editions of Lolita, other books, sporting equipment, an American flag. Wardshelley_scifiSmaller.jpg (3400×1826) My Lost Library - The Chronicle Review. By Ariel Dorfman In the ninth year of my exile, one sullen day in the winter of 1982, the phone rang in our house in Bethesda, Maryland.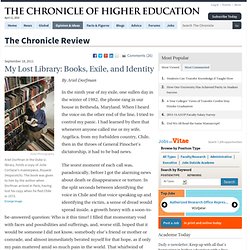 When I heard the voice on the other end of the line, I tried to control my panic. I had learned by then that whenever anyone called me or my wife, Angélica, from my forbidden country, Chile, then in the throes of General Pinochet's dictatorship, it had to be bad news. The worst moment of each call was, paradoxically, before I got the alarming news about death or disappearance or torture. SearchWorks (SULAIR) If:book, the future of the book. Dystopian Books - Dystopia. 20 Best Websites To Download Free E-Books, Part II. Few months earlier, we showed readers some 20 best websites to download free Ebooks and had been receiving a lot of feedbacks from readers together with their personal favourite.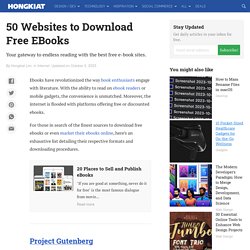 We thought that's great and really appreciate each and every single plug. Thus it got us back into work again. After revising the previous post, and gone through each and every single of the suggested sites, here's 20 Best Websites To Download Free E-Books, Part II. Just PDF - eBooks and Docs.
---