Web - research and ideas
Should I Build a Website?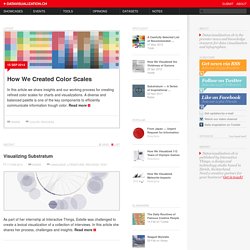 OKCon 2013 29 Aug 2013 Events Conference On September 16th to 18th, Geneva will host OKCon 2013, the annual Open Knowledge Conference, bringing together representatives from agencies and public administrations, technology activists, civic entrepreneurs and data-driven designers. Read more
Specifications are an effective way to document, communicate, and achieve agreement on a design. Axure RP generates specifications in Microsoft Word's DOCX format which has been the default format for Word since Word 2007. You do not need Word installed to generate the specification, but you will need Word to edit the Word template or view the generated document. If you have Word 2000, XP, or 2003 installed, the Axure RP installer includes the Microsoft Office Compatibility Pack which enables these versions of Word to open, edit, and save .docx files. If you are using the Mac version, the specification is compatible with Word for Mac and will also open in iWork Pages, but with some differences in formatting.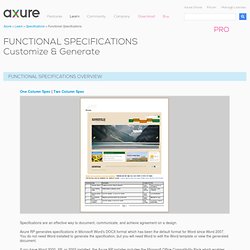 Functional Specifications
It's usual to see graphic designers having problems while trying to explain their customers the main idea of the project that they want to develop, this happens often because graphic and web designers are getting used to draw everything straight in the computer, without a previous hand drawn sketch. When the creative arrives to the costumer's office / house and finds out that the person is not familiar with graphic programs such as Photoshop and Illustrator and so there's is no way to show him the super cool vectorized interface that was supposed to blow out your client's mind; don't worry my dear creative people, because now there's a product that will solve all your graphic presentation needs regardless of having the complete Adobe Suite at your disposal. We are talking about the mockups and wireframes, applications that are designed to work on your main idea without having to worry about resolution, color mode and other similar topics.
Wireframe and mockup tools, best examples
Functional Spec Tutorial :: What and Why
7 Killer Tips to Creating a Website Specification Document to Support Your Search Engine Marketing Efforts - ROI Factor Blog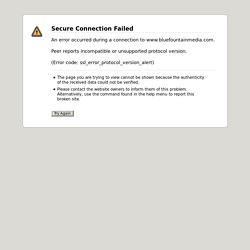 Any experienced architect will tell you only a foolish person would build a house without first putting some specs down on paper. A website is no different. It takes careful planning and precise information architecture before you can hammer that first nail, or in this case punch up that first string of code. And because search engine marketing success is so critically dependent on having a website with a solid underlying foundation, future efforts to optimize are riding high on your ability to deliver a cohesive plan today.
A Better User Experience - Web usability, user-testing, UX philosophy, UX basics, and a weekly usability podcast too!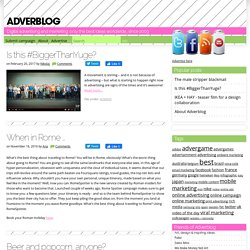 Kusmi Tea – The beauty of blends This campaign for Kusmi Tea created by French agency Quai Des Orfevres is simply beautiful. The campaign consists of 3 spots, each film representing one of the Kusmi Tea blends : Sweet Love, BB Detox and Prince Wladimir. Read more…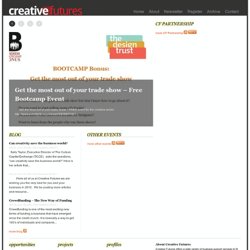 Can creativity save the business world? Sally Taylor, Executive Director of The Culture Capital Exchange (TCCE), asks the questions, "can creativity save the business world?" Here is her article that... From all of us at Creative Futures we are wishing you the very best for you and your business in 2012. We be posting more articles and resource...
Creative Futures
10 Beautiful Sketches for Website Prototypes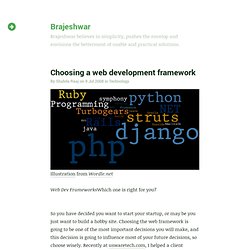 Illustration from Wordle.net Web Dev FrameworksWhich one is right for you? So you have decided you want to start your startup, or may be you just want to build a hobby site. Choosing the web framework is going to be one of the most important decisions you will make, and this decision is going to influence most of your future decisions, so choose wisely. Recently at uswaretech.com, I helped a client evaluate frameworks and make a choice, so here is some help for you from my experience. Step 1.
Choosing a web development framework | Brajeshwar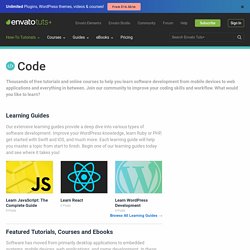 Are you getting started with mobile design? Any designer who's had the opportunity to design for ... Are you getting started with mobile design? Any designer who's had the opportunity to design for mobile devices as well as desktop computers knows that mobile design is a one of a kind discipline.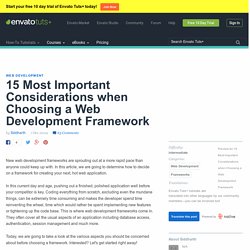 15 Most Important Considerations when Choosing a Web Development Framework
New web development frameworks are sprouting out at a more rapid pace than anyone could keep up with. In this article, we are going to determine how to decide on a framework for creating your next, hot web application. In this current day and age, pushing out a finished, polished application well before your competitor is key. Coding everything from scratch, excluding even the mundane things, can be extremely time consuming and makes the developer spend time reinventing the wheel, time which would rather be spent implementing new features or tightening up the code base.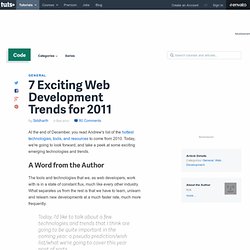 At the end of December, you read Andrew's list of the hottest technologies, tools, and resources to come from 2010. Today, we're going to look forward, and take a peek at some exciting emerging technologies and trends. A Word from the Author The tools and technologies that we, as web developers, work with is in a state of constant flux, much like every other industry. What separates us from the rest is that we have to learn, unlearn and relearn new developments at a much faster rate, much more frequently.
7 Exciting Web Development Trends for 2011
Playstation have created an installation that challenges people to insert their fingers into a machine that shock them, as a stunt to promote the new 'inFAMOUS: Second Son' game. People step right up, insert their fingers into the holes in the machine, before it charges up and starts increasing the shock over 5 long seconds… If you make it all the way, you win the new game! Great stunt for Playstation Belgium, but not many YouTube views… Created by TBWA. (Thanks Rindert)
Visualizing Online Social Networks | Online Network visualization | Visualizing Social Bookmarks 2009
Visualizing Online Social Networks Social network analysis is a system of mapping how individuals are related to each other and how they form connections around certain institutions or ideas. Visualization is the first step towards understanding any kind of social network, both online and offline. Jeffrey Heer's Visualization Project - Large-Scale Online Social Network Visualization by Jeffrey Heer, University of California, Berkeley (2004) Vizster: Visualizing Online Social Networks (PDF) - a research paper resuming the results of a large-scale online social network visualization project by Jeffrey Heer and Danah Boyd, University of California, Berkeley (2005) The Vizster Website - Vizster, an interactive visualization tool for online social networks, allowing exploration of the community structure of social networking services such as friendster.com, tribe.net, and orkut; by Jeffrey Heer, UC Berkeley (2004)