Online RPG Tools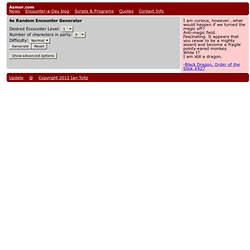 Advanced Options The table above allows you to specify how many creatures of each type should be used, in order of preference.
4e Monster Math Cruncher - Asmor.com
TenFootWiki: a Free Campaign Management Tool | UncleBear Media
Create, edit, and use tables for virtually anything in your campaign - monsters, treasure, inns...you name it! Link to other tables for unlimited flexibility, create maps out of random tiles, and even export favored results to HTML! You can even archive and retrieve your TableSmith results through an Explorer-like interface, and have all your generated information easily available.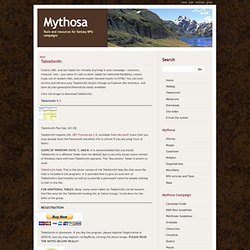 Realm of Mythosa | Main / TableSmith
PCGen :: Overview
PCGen is a FREE Open Source character generator and maintenance program for role-playing games. It currently supports the d20 RPG system and includes data sets based upon gaming material from Wizards of the Coast, Paizo Publishing and dozens of other publishers.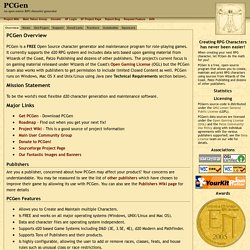 dgsh
A Dungeon Master Resource for 1E, 2E, 3E, and d20 Dungeons & Dragons!
NearbyGamers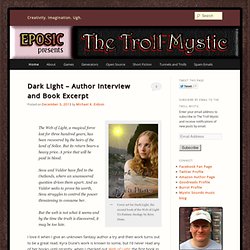 When Riley Banks , author of The William S Club , asked for volunteers to whom she could pass the baton for the "Next Big Thing" Blog Hop Tour, I felt compelled to put out my hand.
RolePlaying GM Online Tools