Letras
While at the Austin Film Festival, one of the seminars was on the most common errors in screenplays that made them unworkable and in dire need of rewriting to try to salvage the story or concept that was there. The seminar was given by screenwriters ROBIN SWICORD (Little Women, The Perez Family) and NICK KAZAN (Reversal of Fortune), both pros since the 1970's, and also producer DAVID VALDES (Summer Magic Films).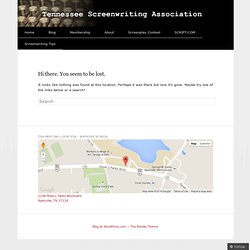 TSA Writing Tips-No Nos
Janet Fitch is the author of "White Oleander" and "Paint it Black," and she teaches writing at USC. It seems like every time I run into her at a reading, she introduces one or two or more of her students who she has encouraged to come along, people whose work she praises. This enthusiastic engagement makes her, well, nicer than many writing teachers, and that niceness might be why she's posted a list of 10 writing tips that can help almost anyone on her blog.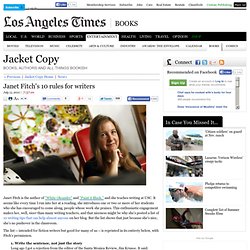 Janet Fitch's 10 rules for writers | Jacket Copy | Los Angeles Times
22 Short Stories
Ambiguous Words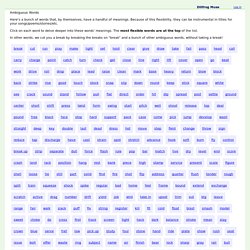 Gentle Lady, Do Not Sing. By James Joyce - Hello Poetry
Science Fiction
Write Everyday