Industry Efforts & Standards
Distributed Management Task Force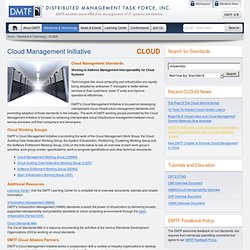 Cloud Management Standards Working to Address Management Interoperability for Cloud Systems Technologies like cloud computing and virtualization are rapidly being adopted by enterprise IT managers to better deliver services to their customers, lower IT costs and improve operational efficiencies.
Open Networking Foundation
GENI
GENI and IF-MAP Network Instrumentation and Measurement | IF-MAP
What if you were designing the Internet from scratch? What capabilities would you build into it?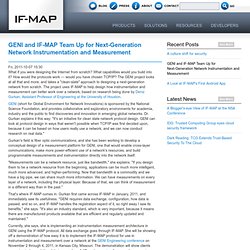 Open Networking Summit
NOX | An OpenFlow Controller
These videos demonstrate different research experiments that build on top of OpenFlow.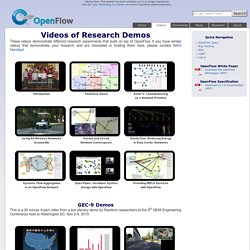 Research Demo Videos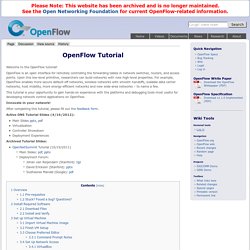 Welcome to the OpenFlow tutorial! OpenFlow is an open interface for remotely controlling the forwarding tables in network switches, routers, and access points. Upon this low-level primitive, researchers can build networks with new high-level properties. For example, OpenFlow enables more secure default-off networks, wireless networks with smooth handoffs, scalable data center networks, host mobility, more energy-efficient networks and new wide-area networks – to name a few. This tutorial is your opportunity to gain hands-on experience with the platforms and debugging tools most useful for developing network control applications on OpenFlow. Innovate in your network!
Tutorial