Photoshop
Retrofuture. Brushes. Grunge. Create a Night Sky - Photoshop Tutorials - CSS Creme. Author: Tyler Jordan Fine Artist, illustrator, web/graphic designer, photographer, chef...
Step 1 Create a new document in Photoshop and fill the canvas with black. Then add a new layer and fill this one with black too. How to Create an Illustrative Web Design in Photoshop. In this web design tutorial, you'll learn how to create a professional web design with an illustrated "vector" header in Photoshop.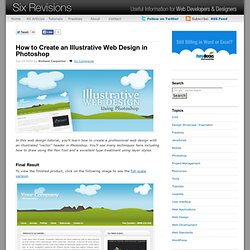 You'll see many techniques here including how to draw using the Pen Tool and a excellent type treatment using layer styles. Final Result To view the finished product, click on the following image to see the full-scale version. Setting Up the Photoshop Document 1 Open up Photoshop, create a new document that is 950 pixels by 1280 pixels and with a white background (#FFFFFF).
6 Free PSD/(X)HTML-Templates | Freebies. Advertisement We love our readers.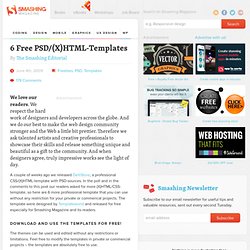 We respect the hard work of designers and developers across the globe. Tutorial Magazine - 33 Best Photoshop Tutorials of April 2009. Photoshop Recreate the Iron Man Interface Effect This tutorial will show you how to create the screen interface from the hit movie Iron Man. | 41423 views | by abduzeedo.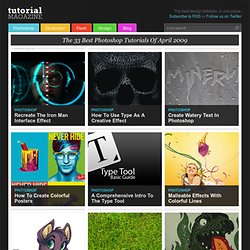 Girl in Tempo Tutorial - 1 Copy Pixelmator Giveway | Abduzeedo - In this tutorial I will show you how I created the Girl in Tempo Image.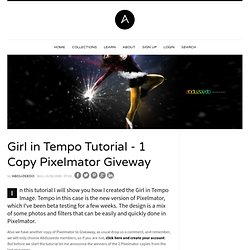 Tempo in this case is the new version of Pixelmator, which I've been beta testing for a few weeks. The design is a mix of some photos and filters that can be easily and quickly done in Pixelmator. Also we have another copy of Pixelmator to Giveaway, as usual drop us a comment, and remember, we will only choose Abduzeedo members, so if you are not, click here and create your account. But before we start the tutorial let me announce the winners of the 2 Pixelmator copies from the last giveaway: mani styletime. Adobe Photoshop Tutorials - Best Of | Tutorials | Smashing Magaz. Advertisement When it comes to graphic design, Adobe Photoshop is usually the first option to consider.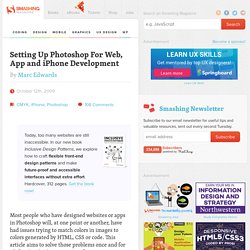 However, the software itself is a quite tough nut to crack — and definitely extremely hard to master. For instance, the concepts are not always intuitive and it's not always clear when to use what tool and how to use it effectively. In fact, in Photoshop it usually takes pretty much time to achieve something you have never done before. However, you don't need to muddle through numerous Photoshop features and extensions for every design problem. Dynamic Web Pages from your Photoshop Designs in Seconds! | psd. Noupe. 40+ Killer Typographic Posters, Photoshop Effects and Tutorials. Jun 22 2008 We cannot escape typography; it's everywhere on the web.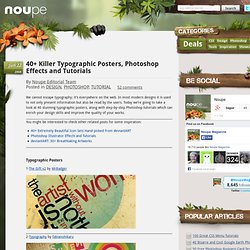 In most modern designs it is used to not only present information but also be read by the users. Today we're going to take a look at 40 stunning typographic posters, along with step-by-step Photoshop tutorials which can enrich your design skills and improve the quality of your works. You might be interested to check other related posts for some inspiration: 50+ Kick Ass Logos for Inspiration | + fuel your creativity +
---