Social News & Blog Aggregators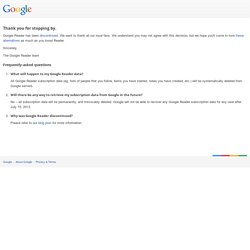 Google Reader has been discontinued. We want to thank all our loyal fans. We understand you may not agree with this decision, but we hope you'll come to love these alternatives as much as you loved Reader. Sincerely,
Personalized sports search.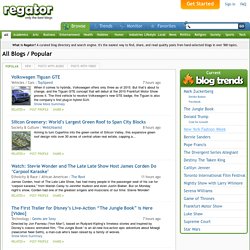 BMW i3 Electric Vehicle Wins 'World Green Car' and 'Design of the Year' Awards at the 2014 New York Auto Show The World Car of the Year Awards were given out today at the 2014 New York Auto Show, and the BMW i3 electric car was crowned the Green Car Of The Year and the Car Design Of The Year. The BMW i3 beat out the Audi A3 and the VW XL1 in the green car category, Miley Cyrus to Remain Hospitalized for Indeterminate Period of Time Silicon Valley Takes Us Into The Incubator With A Hacker Hostel Tour Watch Nick Kroll, Paul Scheer, and NBA Stars Live-Read Space Jam
news, bulletin, updates and new content streaming to you where e
topikality — Be knowledgeable on anything
Web-based aggregators These are sites that aggregate feeds for reading in a browser. 24bytesSimple Blog RSS/Atom aggregator 24x7 News24x7 Medical News Aggregator 24eyesWeb 2.0 RSS aggregator AggregatoTag-based RSS/Atom aggregator (R) Alesti Feed ReaderWeb 2.0 RSS reader AlmondRocksSimple aggregator Attensa Onlineis a free AJAX RSS reader that works like a dedicated RSS reader application.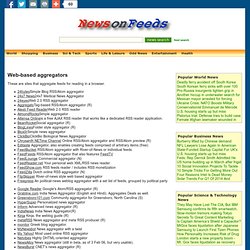 LockerBlogger | Get Inside!