Social News & Blog Aggregators
Reader - Hammerhead's shared items. iCurrent. Feedly: a magazine-like start page. Is feedly blocked?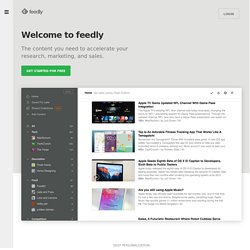 Feedly is not able to load. It is probably because one of your extensions is blocking it. Business Information and News: Track, Connect and Share - Tracke. Personalized sports search. IM + Email + Social Networks. Lazyfeed. Read Top Rated Blog Posts at Regator.com. News, bulletin, updates and new content streaming to you where e. MOSS SharePoint 2007 & 2010 Enterprise Social Computing – NewsGa. PubSub - Home. Topikality — Be knowledgeable on anything. List of News Aggregators.
Web-based aggregators These are sites that aggregate feeds for reading in a browser. 24bytesSimple Blog RSS/Atom aggregator 24x7 News24x7 Medical News Aggregator 24eyesWeb 2.0 RSS aggregator AggregatoTag-based RSS/Atom aggregator (R) Alesti Feed ReaderWeb 2.0 RSS reader AlmondRocksSimple aggregator Attensa Onlineis a free AJAX RSS reader that works like a dedicated RSS reader application.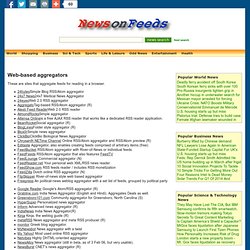 Splurb - main. Yardbarker: Sports Rumors, Blogs, Videos, News, Discussion. LockerBlogger | Get Inside! Gist. News.
---