Social News & Blog Aggregators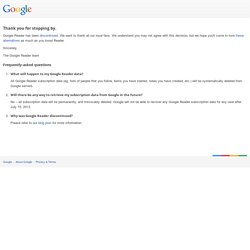 Google Reader has been discontinued. We want to thank all our loyal fans. We understand you may not agree with this decision, but we hope you'll come to love these alternatives as much as you loved Reader. Sincerely,
Personalized sports search.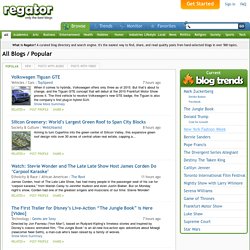 App Store Update: January 13 Rhythm Thief is back after being pulled from the App Store last week, Alien Tribe 2's price is slashed and three more notable games go free for the first time. A PR Chill on Niagara Falls Facebook increases focus on 'conversations' with purchase of Branch and Potluck Facebook grew its ranks by 10 New Yorkers today, following an agreement to acquire Branch. Josh Miller and Cemre G?
news, bulletin, updates and new content streaming to you where e
PubSub - Home
topikality — Be knowledgeable on anything
Web-based aggregators These are sites that aggregate feeds for reading in a browser. 24bytesSimple Blog RSS/Atom aggregator 24x7 News24x7 Medical News Aggregator 24eyesWeb 2.0 RSS aggregator AggregatoTag-based RSS/Atom aggregator (R) Alesti Feed ReaderWeb 2.0 RSS reader AlmondRocksSimple aggregator Attensa Onlineis a free AJAX RSS reader that works like a dedicated RSS reader application.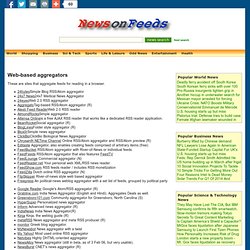 splurb - main
LockerBlogger | Get Inside!