Art
SUPAKITCH & KORALIE Art. Drowning Beautiful | Leaf Cut Art by Lorenzo Durán. Wire Sculpture. The Book Surgeon (15 pieces) Using knives, tweezers and surgical tools, Brian Dettmer carves one page at a time.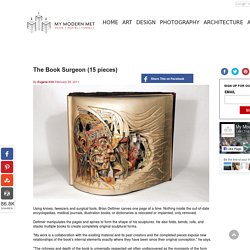 Nothing inside the out-of-date encyclopedias, medical journals, illustration books, or dictionaries is relocated or implanted, only removed. Dettmer manipulates the pages and spines to form the shape of his sculptures. He also folds, bends, rolls, and stacks multiple books to create completely original sculptural forms. "My work is a collaboration with the existing material and its past creators and the completed pieces expose new relationships of the book's internal elements exactly where they have been since their original conception," he says. "The richness and depth of the book is universally respected yet often undiscovered as the monopoly of the form and relevance of the information fades over time.
Painting on water. Hero. Jellyvampire-1304892000.jpg (JPEG Image, 750x12291 pixels) Sharpie Art - Extreme Sharpie Artwork at WomansDay.com. Nowadays, Sharpie markers come in more than basic black––they're available in every color of the rainbow, and in just about every size and shape.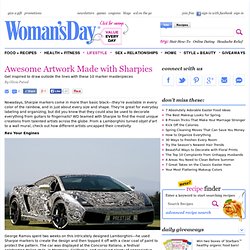 They're great for everyday labeling and organizing, but did you know that they could also be used to decorate everything from guitars to fingernails? WD teamed with Sharpie to find the most unique creations from talented artists across the globe. From a Lamborghini turned objet d'art to a wall mural, check out how different artists uncapped their creativity. Oleg Shuplyak Optical Illusions Paintings.
Skateboard Sculptures. The acid test. Sistine Chapel.
---