Craft inspiration
Craftgawker | look to inspire. Anthro-Inspired Mirror & Flamingo Toes - StumbleUpon. You all know we love a good Anthropologie knockoff around here – so a couple of days ago when I was browsing online I came across this mirror.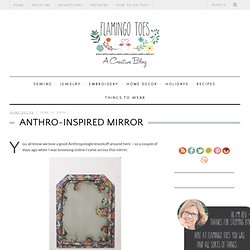 Oh I definitely need that. Hold the presses – did that say $498??? Dirty hems diy: book clutch. « Dirty Hems – Personal, Fashion, DIY Blog. Our last "vintage school" post was a quick tutorial on the most basic of hand-sewing stitches, the backstitch.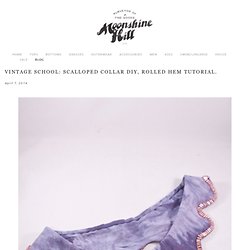 It's a good, all-purpose stitch for sewing seams when you don't have, or don't want to use, a sewing machine. I wanted to show y'all a great hem stitch for the next installment, another wonderful all-purpose stitch that can be used in all sorts of situations. You knew i was going to make one. They are all over pinterest....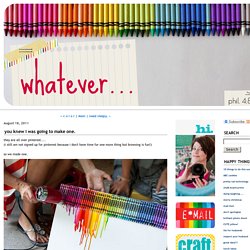 (i still am not signed up for pinterest because i don't have time for one more thing but browsing is fun!) So we made one. Top 100 Tutorials of 2010 - StumbleUpon. Home PomPom Pillow from Living with Punks.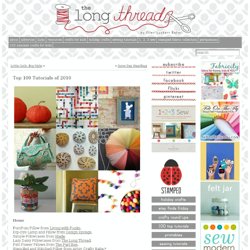 Dip-Dye Lamp and Pillow from Design Sponge. Simple Pillowcases from Made. Lazy Daisy Pillowcases from The Long Thread. D.I.Y. Adventures in home-making: The world's best sewing tutorials in no particular order. Alina's Adventures sew everything A P indicates a printable tutorial or pdf pattern.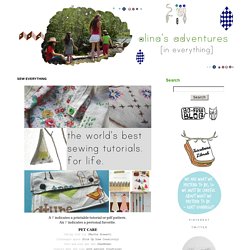 An F indicates a personal favorite. PET CARECatnip fish toy (Martha Stewart)Clothespin apron (Pick Up Some Creativity)Cool and cozy pet bed (Sew4Home)Country gent dog coat with pattern (Craftzine)Collapsible travel dish (Craft Stylish)Color spectrum pet bed (Design Sponge)Custom-fit doggy coat (Pretty Little Things)Dog leash (The Purl Bee)Embellished doggy sweater (Miss Lovie)Fabric dog coat pattern (Cut Out & Keep) PFabric pet bed (Inspiration & Realization)Fabric pup tent (CasaSugar)Family connection writing center (Craftzine)Fleece dog bed (Dog Under My Bed)Pet pouches (The B Line)Sweater dog toys (Craft Stylish)Squeaky doggie bone (Laura Griffin)Water resistant doggy coats (Martha Stewart)
Ice Fabric Dyeing | Bloom, Bake & Create. Did you say you don't have snow and want to do some dyeing?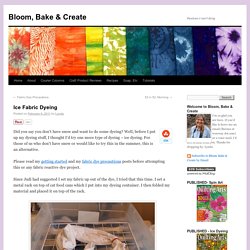 Well, before I put up my dyeing stuff, I thought I'd try one more type of dyeing – ice dyeing. For those of us who don't have snow or would like to try this in the summer, this is an alternative. Please read my getting started and my fabric dye precautions posts before attempting this or any fabric reactive dye project. DIY - Wall Decor from Ruche's Lookbook. Hi Ladies, I've finally had a chance to put together this DIY post from Ruche's first Spring lookbook.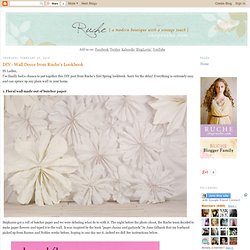 Sorry for the delay! Everything is extremely easy and can spruce up any plain wall in your home. 1. Floral wall made out of butcher paper. Prudent Baby.
---