Social Media Thinking
4 Ways to Integrate B2B Social Media into Marketing Plans. B2B marketers have long known that to succeed with social media they can't view it as a stand alone campaign or tactic, but must integrate social media into their marketing plans.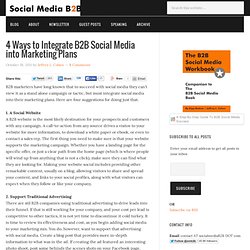 Here are four suggestions for doing just that. 1. 25 business-tastic B2B social media case studies. I've been asked quite a few times over the past couple of weeks for examples of social media marketing being used in a B2B context.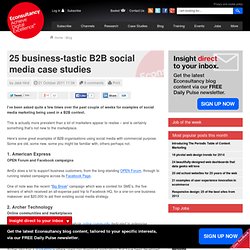 This is actually more prevalent than a lot of marketers appear to realise – and is certainly something that's not new to the marketplace. Here's some great examples of B2B organisations using social media with commercial purpose. Some are old, some new, some you might be familiar with, others perhaps not. What Your Klout Score Really Means | Epicenter. Photo: Garry McLeod Last spring Sam Fiorella was recruited for a VP position at a large Toronto marketing agency.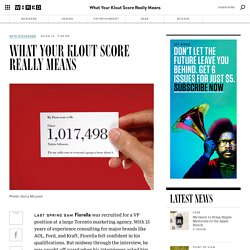 With 15 years of experience consulting for major brands like AOL, Ford, and Kraft, Fiorella felt confident in his qualifications. But midway through the interview, he was caught off guard when his interviewer asked him for his Klout score. Fiorella hesitated awkwardly before confessing that he had no idea what a Klout score was. The interviewer pulled up the web page for Klout.com—a service that purports to measure users' online influence on a scale from 1 to 100—and angled the monitor so that Fiorella could see the humbling result for himself: His score was 34.
Social Media Marketing Kit. Social Media Success Is About Purpose (Not Technology) - Anthony J. Bradley and Mark P. McDonald. By Anthony J.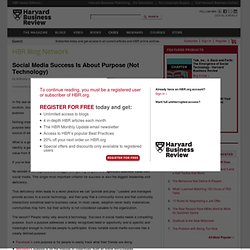 Bradley and Mark P. McDonald | 2:57 PM November 1, 2011 In the real estate world, there is a saying: "The three considerations that most impact value are location, location, and location."
Bringing Old School to New Media. Bringing Old School to New Media "It ain't so much the things we don't know that get us into trouble.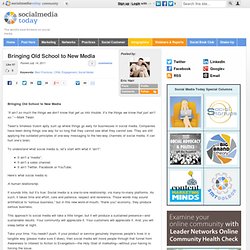 It's the things we know that just ain't so." Free Webinar: How to Master B2B Social Media Marketing. In order to be effective with internet marketing, you need more than just a website.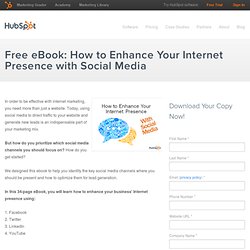 Today, using social media to direct traffic to your website and generate new leads is an indispensable part of your marketing mix. But how do you prioritize which social media channels you should focus on? How do you get started? We designed this ebook to help you identify the key social media channels where you should be present and how to optimize them for lead generation. In this 34-page eBook, you will learn how to enhance your business' Internet presence using: Guy Kawasaki Explains How Entrepreneurs Are Getting Social Media All Wrong. Why Big Corporations Are Putting the Brakes on Social Media | Blog | Daily Dose. When it comes to the care and tending of corporate blogs, Twitter accounts and Facebook pages, a new study suggests big business social media may be suffering from neglect.
In recent report by the Center for Marketing Research at the University of Massachusetts Dartmouth social media use among America's largest companies is losing steam. Specifically, less than a quarter of the nation's top 500 companies as ranked by Fortune magazine now have a public-facing blog -- the same percentage reported in last year's study. When UMass Dartmouth began counting blogs within the Fortune 500 in 2008, that figure was 16 percent, growing to 22 percent in 2009. The use of Twitter and Facebook among Fortune 500 companies was similarly stunted. This year, 62 percent of those corporations took advantage of the Twittersphere, up just 2 percentage points over 2010.
---