Hacktivism
Get flash to fully experience Pearltrees
When Anonymous first made big headlines in early 2008 with its protests against the Church of Scientology, dubbed Project Chanology , it was not yet apparent that Anonymous would be here to stay. Three years later, Anonymous has not only gained a sizeable collection of adversaries and critics – including government agencies, IT security companies and digital rights advocacies who criticise its methods – it has also won scores of secret and not so secret admirers, especially among the highly social media literate, digital creative class. The reputation of its members as defenders of truth and seekers of knowledge, digital avengers who cannot be lied to because they will hijack the emails of those who try, seems to strike a chord with many.
Anonymous's rapid rise from the depths of geekdom to becoming a catalyst and nerve centre for real-life revolutionaries is one that has taken even some of its own members by surprise. The loosely-knit hive brings anonymous techies, hackers and, increasingly, activists together under a single appellation, united in their non-violent but often illegal collective action. With high-profile campaigns, centred on "distributed denial of service" (DDoS) attacks that knock target websites offline, it has been transformed from a fringe group of law-breaking pranksters that emerged in 2006 into an international movement that draws new recruits by their thousands. In an interview with a group of Anons conducted on their home turf, Internet Relay Chat (IRC), they tell Al Jazeera that they are fighting, above all, for the free flow of information. "You can't make a decision on something if you don't know anything about it," one Anon says.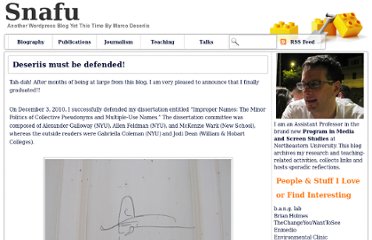 Tah-dah! After months of being at large from this blog, I am very pleased to announce that I finally graduated!! On December 3, 2010, I successfully defended my dissertation entitled "Improper Names: The Minor Politics of Collective Pseudonyms and Multiple-Use Names."
Taken as a whole, Anonymous resists straightforward definition as it is a name currently called into being to coordinate a range of disconnected actions, from trolling to political protests. Originally a name used to coordinate Internet pranks, in the winter of 2008 some wings of Anonymous also became political, focusing on protesting the abuses of the Church of Scientology. By September 2010 another distinct political arm emerged as Operation Payback and did so to protest the Motion Picture Association of America ( MPAA ), and a few months later this arm shifted its energies to Wikileaks, as did much of the world's attention. It was this manifestation of Anonymous that garnered substantial media coverage due the spectacular waves of distributed denial of service (DDoS) attacks they launched (against PayPal and Mastercard in support of Wikileaks).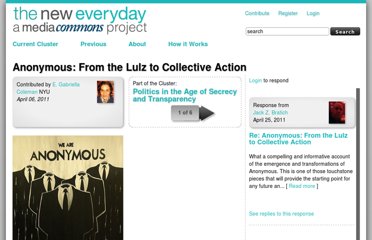 The recent unmasking of the membership of LulzSec by the FBI and pronouncement of the organisation's leader (Sabu) as a government informant has led to suggestions that LulzSec have been decapitated. Following an international policing operation, the arrest of Sabu (real name Hector Xavier Monsegur) alongside five other alleged co-conspirators has been reported as a significant counter-attack against hacktivism. The importance of this "decapitation" for the wider hacktivist movement has, however, been grossly over-stated by the media and, unsurprisingly, the FBI.