Mes blogs
Pendant le rencard. « Bouillon de Luxure. Vous avez rencard pour la troisième fois avec ce type formidable qui vous fait tellement rire.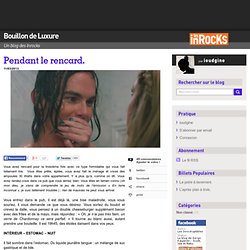 Vous êtes prête, épilée, vous avez fait le ménage et vissé des ampoules 30 Watts dans votre appartement. Y a plus qu'à, comme on dit. Vous avez rendez-vous dans ce pub que vous aimez bien. Ma vie est une bande dessinée. Ioudgine. I'M REVOLTING. 233272455668567690_CLh2UBvP_c. So mee... Paint chips. Lobster, Tropical Fruits, Meyer Lemon, Heart of Palm. I've been eyeing this dish since early December; the photos in the book are eye-poppingly vibrant, and several of the tropical fruits were familiar to me because of time in New Zealand.
Appealing too was the bulk of the recipe, which is basically "Acquire exotic fruit, cut into interesting shapes." As I sifted through the list of ingredients though, it became clearer that this dish represents a small and rare nexus in the cycle of globally-available produce, and getting the stars to align for this moment has taken some patience. On the plate, we have freshly-cooked lobster meat plated alongside small planks of papaya, ovals of sapote, and rings of heart of palm, all of which have been tossed in a sweet meyer lemon vinaigrette. The bites are topped with a ribbon of passion fruit 'jam', then garnished with dots of tamarillo pudding, coconut ribbons and dice, lemon balm leaves, thai chili rings, pineapple powder, kiwifruit slivers, and passion fruit seeds. Liberté d'expression - Le Loup & Le Chien.
Studio Dormant. Les 400 culs. Vieux Félin. Il y a deux choses qui gouvernent le monde : l'argent et le sexe. Perso, je suis à découvert.  Les Entrailles de Mademoiselle | "Quand une féministe est accusée d'exagérer, c'est qu'elle est sur la bonne voie." Christine Delphy.
BD. DariaMarx. C'est La Gêne. Juste après dresseuse d'ours. Mademoiselle Ocytocine.
---