Mes blogs
Vous avez rencard pour la troisième fois avec ce type formidable qui vous fait tellement rire.
Pendant le rencard. « Bouillon de Luxure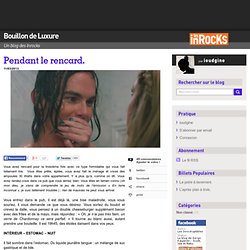 Ma vie est une bande dessinée
ioudgine
I'M REVOLTING
233272455668567690_CLh2UBvP_c
So mee...
Things Organized Neatly: Paint chips
I've been eyeing this dish since early December; the photos in the book are eye-poppingly vibrant, and several of the tropical fruits were familiar to me because of time in New Zealand.
Lobster, Tropical Fruits, Meyer Lemon, Heart of Palm
Liberté d'expression - Le Loup & Le Chien
Studio Dormant
Les 400 culs
Vieux Félin
Il y a deux choses qui gouvernent le monde : l'argent et le sexe. Perso, je suis à découvert. 
Les Entrailles de Mademoiselle | "Quand une féministe est accusée d'exagérer, c'est qu'elle est sur la bonne voie." Christine Delphy
DariaMarx
C'est La Gêne
Juste après dresseuse d'ours
Mademoiselle Ocytocine