Music
How To Turn Google Translate Into Google Beatbox. For reasons inexplicable, a "Today I Learned" thread on Reddit has turned into a treatise on how to make Google Translate beatbox for you, among other things.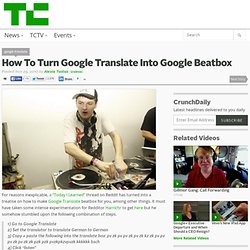 It must have taken some intense experimentation for Redditor Harrichr to get here but he somehow stumbled upon the following combination of steps. 1) Go to Google Translate 2) Set the translator to translate German to German 3) Copy + paste the following into the translate box: pv zk pv pv zk pv zk kz zk pv pv pv zk pv zk zk pzk pzk pvzkpkzvpvzk kkkkkk bsch 4) Click "listen" 5) Be amazed :) Since the original post both the thread and meme have expanded into slight tweaks and variations, including Technocopter, Helicopter and Dubstep.
Bands
Playing. Podcasts. Indie Shuffle :: Indie music blog & free music discovery. Last.fm - Listen to free music with internet radio and the largest music catalogue online. Songza - Listen to Music Curated by Music Experts. Pandora Internet Radio - Listen to Free Music You'll Love. Rdio. Grooveshark - Listen to Free Music Online - Internet Radio - Free MP3 Streaming. Pitchfork. Best New Tracks.
---