Stumbleupon goodies
Highest Rated - Status Humor - Funny Status Updates, Funny Status, Funny... - StumbleUpon. Bacon Wrapped Media - Attack Of The Funny Animals (22 Pics) BBC Science | Human Body and Mind | Pyschology Tests & Surveys.
Facebook Symbols, Symbols for Facebook. How To Make Rage Faces on Facebook Chat | Geekosystem - StumbleUpon. Simply type the above code that corresponds to the appropriate rage face into Facebook chat, and the image of the rage face you chose will appear, emoticon-like in its existence.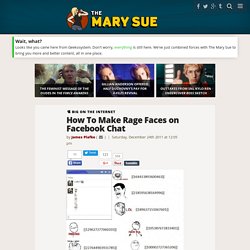 Facebook didn't suddenly become hip to the Internet and add rage face emoticons (something from which Google Chat would greatly benefit), but the ability to add rage faces to Facebook chat is more of a hack than anything else, and something to which you can add. Reddit user daychilde explains that these aren't actually some form of ragemoticon, but that the double bracket and code corresponds to a user profile or page, and when put into Facebook chat, will show the thumbnail of the profile or page that the code links to.
---