Euro crisis
Continue reading the main story EU rules say that countries using the euro are not allowed to have an annual deficit of more than 3% of GDP, but several countries have failed to keep to that rule in recent years. Note that Germany, Italy and France were all among the first countries to break the Maastricht rule during the last decade, while Spain and the Republic of Ireland ran surpluses before the 2008 crisis.
EU-Crisis explained (by explainity)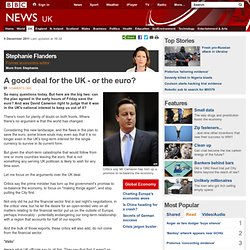 A good deal for the UK - or the euro?
9 December 2011Last updated at 11:32 ET Critics say Mr Cameron has torn up a promise to re-balance the economy So many questions today. But here are the big two: can the plan agreed in the early hours of Friday save the euro? And was David Cameron right to judge that it was in the UK's national interest to keep us out of it? There's room for plenty of doubt on both fronts.