Occupy News
Think Occupy Wall St. is a phase? You don't get it. A protester holds a sign at the Occupy Wall Street protest last weekend Douglas Rushkoff says traditional media condescends to Occupy Wall Street movementHe says that's because its 21st-century, net-driven narrative doesn't fit old media modelHe says protest not about end-point, it's about a new discourse on variety of complaintsRushkoff: Protest may be unwieldy, but aims to correct disconnects in U.S.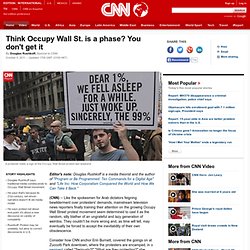 Editor's note: Douglas Rushkoff is a media theorist and the author of "Program or Be Programmed: Ten Commands for a Digital Age" and "Life Inc: How Corporatism Conquered the World and How We Can Take it Back. " (CNN) -- Like the spokesmen for Arab dictators feigning bewilderment over protesters' demands, mainstream television news reporters finally training their attention on the growing Occupy Wall Street protest movement seem determined to cast it as the random, silly blather of an ungrateful and lazy generation of weirdos. Dorli Rainey, 84-Year-Old Occupy Seattle Protester, Pepper Sprayed In The Face (PHOTO) A woman old enough to be a grandmother is quickly becoming the face of Occupy Seattle.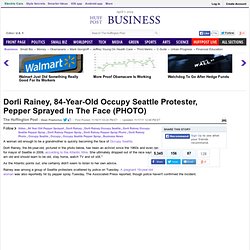 Dorli Rainey, the 84-year-old, pictured in the photo below, has been an activist since the 1960s and even ran for mayor of Seattle in 2009, according to the Atlantic Wire. She ultimately dropped out of the race saying, "I am old and should learn to be old, stay home, watch TV and sit still. " As the Atlantic points out, she certainly didn't seem to listen to her own advice. Secret Fed Loans Gave Banks Undisclosed $13B. The Federal Reserve and the big banks fought for more than two years to keep details of the largest bailout in U.S. history a secret.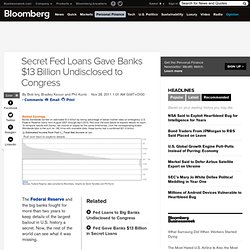 Now, the rest of the world can see what it was missing. The Fed didn't tell anyone which banks were in trouble so deep they required a combined $1.2 trillion on Dec. 5, 2008, their single neediest day. Bankers didn't mention that they took tens of billions of dollars in emergency loans at the same time they were assuring investors their firms were healthy. And no one calculated until now that banks reaped an estimated $13 billion of income by taking advantage of the Fed's below-market rates, Bloomberg Markets magazine reports in its January issue. Saved by the bailout, bankers lobbied against government regulations, a job made easier by the Fed, which never disclosed the details of the rescue to lawmakers even as Congress doled out more money and debated new rules aimed at preventing the next collapse.
The Regency « zunguzungu. Most of the Regents of the University of California — whose very name gives you a good idea of the kind of power they wield over the direction and functioning of the University of California – are unelected, appointed to 12 year terms by the governor of California, and almost without exception, they have no real background or apparent interest in education.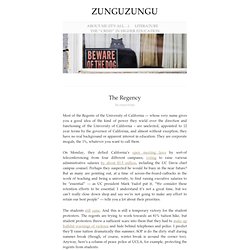 They are corporate moguls, the 1%, whatever you want to call them. On Monday, they defied California's open meeting laws by sort-of teleconferencing from four different campuses, voting to raise various administrative salaries by about $3.5 million, including the UC Davis chief campus counsel. Perhaps they suspected he would be busy in the near future? But as many are pointing out, at a time of across-the-board-cutbacks in the work of teaching and being a university, to find raising executive salaries to be "essential" — as UC president Mark Yudof put it, "We consider these retention efforts to be essential. U.N. Envoy: U.S. Isn't Protecting Occupy Protesters' Rights. WASHINGTON -- The United Nations envoy for freedom of expression is drafting an official communication to the U.S. government demanding to know why federal officials are not protecting the rights of Occupy demonstrators whose protests are being disbanded -- sometimes violently -- by local authorities.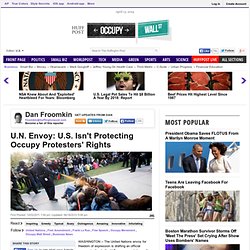 Frank La Rue, who serves as the U.N. "special rapporteur" for the protection of free expression, told HuffPost in an interview that the crackdowns against Occupy protesters appear to be violating their human and constitutional rights. "I believe in city ordinances and I believe in maintaining urban order," he said Thursday. "But on the other hand I also believe that the state -- in this case the federal state -- has an obligation to protect and promote human rights. " "If I were going to pit a city ordinance against human rights, I would always take human rights," he continued. Occupy Wall Street: Why Baby Boomers Don't Understand the Protests. American spies have spotted all the signs of an all-out Russian invasion of Ukraine.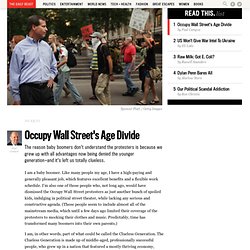 Why won't they tell the Ukrainians about the forces on their border? U.S. intelligence agencies now have detailed information that Russia has amassed the kind of forces needed for a full-scale invasion of Ukraine. But the Obama administration hasn't shared with Ukraine the imagery, intercepts, and analysis that pinpont the location of the Russian troops ready to seize more Ukrainian land, The Daily Beast has learned.
President Obama has repeatedly and publicly expressed solidarity with the Ukrainian people—and warned Russian leader Vladimir Putin that there will be consequences if he takes over any more Ukrainian territory. Yet Obama's administration has so far been reluctant to hand over the kind of intelligence the Ukrainians could use to defend themselves. Anonymous targets cop group that coordinated calls on Occupy. The hacker group Anonymous has targeted the Police Executive Research Forum (PERF), taking down the website and publicly releasing home phone numbers, addresses, emails, and other personal information of directors and staff.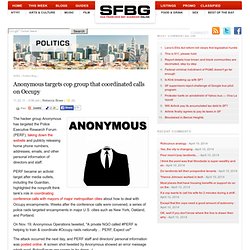 PERF became an activist target after media outlets, including the Guardian, highlighted the nonprofit think tank's role in coordinating conference calls with mayors of major metropolitan cities about how to deal with Occupy encampments. Weeks after the conference calls were convened, a series of police raids targeted encampments in major U.S. cities such as New York, Oakland, and Portland. On Nov. 19, Anonymous Operations tweeted, "A private NGO called #PERF is helping to train & coordinate #Occupy raids nationally ... The shocking truth about the crackdown on Occupy | Naomi Wolf.
US citizens of all political persuasions are still reeling from images of unparallelled police brutality in a coordinated crackdown against peaceful OWS protesters in cities across the nation this past week.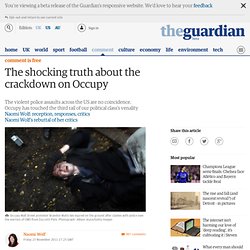 An elderly woman was pepper-sprayed in the face; the scene of unresisting, supine students at UC Davis being pepper-sprayed by phalanxes of riot police went viral online; images proliferated of young women – targeted seemingly for their gender – screaming, dragged by the hair by police in riot gear; and the pictures of a young man, stunned and bleeding profusely from the head, emerged in the record of the middle-of-the-night clearing of Zuccotti Park. But just when Americans thought we had the picture – was this crazy police and mayoral overkill, on a municipal level, in many different cities? – the picture darkened. Social media in protests: Study finds 'recruiters' and 'spreaders' A study has explored the dynamics behind social network sites in recruiting and spreading calls for action that contribute to mass mobilisations in riots, revolutions and protests.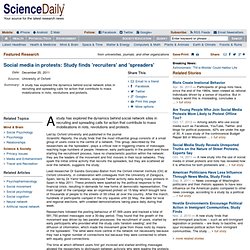 Led by Oxford University and published in the journal Scientific Reports, the study finds that the most influential group consists of a small group of users close to the centre of a network. This group, described by the researchers as the 'spreaders', plays a critical role in triggering chains of messages reaching huge numbers of people.
The Protester - Person of the Year 2011. Once upon a time, when major news events were chronicled strictly by professionals and printed on paper or transmitted through the air by the few for the masses, protesters were prime makers of history.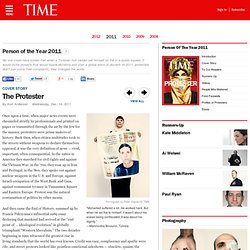 Back then, when citizen multitudes took to the streets without weapons to declare themselves opposed, it was the very definition of news — vivid, important, often consequential. In the 1960s in America they marched for civil rights and against the Vietnam War; in the '70s, they rose up in Iran and Portugal; in the '80s, they spoke out against nuclear weapons in the U.S. and Europe, against Israeli occupation of the West Bank and Gaza, against communist tyranny in Tiananmen Square and Eastern Europe. Protest was the natural continuation of politics by other means. And then came the End of History, summed up by Francis Fukuyama's influential 1989 essay declaring that mankind had arrived at the "end point of ... ideological evolution" in globally triumphant "Western liberalism. "
---