Art
Bennett Robot Works: Robot Index #1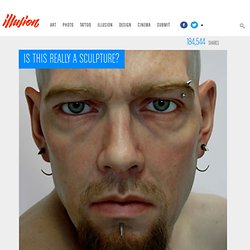 So, you are wondering what is so special about this man's face? It is a hyperrealist sculpture by Jamie Salmon , who uses materials such as silicone rubber, fibre glass, acrylic and human hair. Incredible detail! Also see: The Hyperrealist Sculptures of Ron Mueck Notes from the artist (from bio):
Bennett Robot Works: Robot Index #1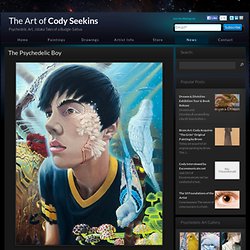 Cody Seekins News | Psychedelic Art, Shamanic Revivalism in Art | Page 3
New Painting for the Hive Gallery's 3rd Annual Tarot Show Plus Work by Yoko D'holbachie, J. Slattum and More! "The Empress" Tarot Painting by Cody Seekins. 11″x14″ Oil on Canvas Small 11″ x 14″ painting for the Hive Gallery's Tarot show January 7th, 2012 in Los Angeles. This is an Empress interpretation.
Pop Surrealism Magazine
odd wall : gallery of the streets
Last Gasp 40th Anniversary Lowbrow Art Show | Neon Monster Blog
How are Last Gasp and Earth Day connected? Glad you asked. Legendary local purveyors of underground books and comics, Last Gasp, published its premiere comic, Slow Death Funnies #1, on the first Earth Day: April 15, 1970. This year, they celebrate their 40th anniversary with a showcase of "the haut monde of lowbrow" at 111 Minna Gallery . Naturally, we checked it out. If you're not familiar with Last Gasp, chew on this:
I am sure many of you are already familiar with the name Naoto Hattori , a rising star from Japan responsible for a phenominal amount of Subversive Psychedelic Lowbrow Art. I couldn't throw enough adjectives at this mans giant body of deranged works. Naoto's cute Rydenesk characters creep closer to the macabre than many of his contemporaries (in the pop surrealist movement) and are packed with more drug references than you could poke a joint at. I would like to probe deeper into the mind of Naoto at some stage and may come back with an interview. For now, i must go to bed.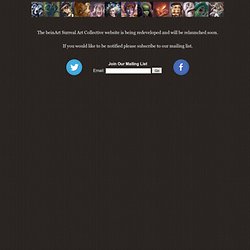 Naoto Hattori at Lineage Gallery | beinArt Collective & Publishing
Jason Limon's lowbrow artwork has been making its way into some of the galleries in the New York, Georgia and California since 2007. Limon's lowbrow artwork is known for sharp illustration characters and scenery in acrylic medium. Raised in San Antonio, Texas the young artist entered a field of graphic design initialy but turned over his computer graphics for the love of the abstract canvas art and mystical characters.
Jason Limon Lowbrow Art | Urban Art Blog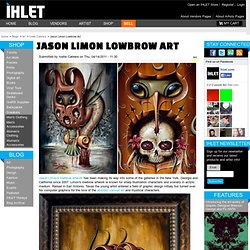 Mr. Hooper Art Blog » lowbrow art
Lowbrow horror art, mixed media, paintings, photography and digital art by Mia Mäkilä. Horror art in the bush Horror art they Horror art Natascha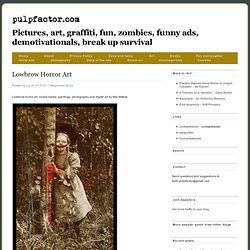 Lowbrow Horror Art | Pictures, art, graffiti, fun, zombies, funny ads, demotivationals, break up survival
Jeff Soto - Lowbrow Art - Illustratore, designer e street artist americano | CocaColla.it