Blogs
"A Crocheted World" Crochet by Catherine. Knitting by kaae. Untitled. Tuto Diagonales au crochet. Vous le réclamiez, le voilà : en exclu pour vous, le tuto du carré diagonales en crochet : (For the English translation go here (clic clic) ) Matos: De la laine en plusieurs coloris (moi j'en ai 13 mais c'est autant que vous voulez hein :)Un crochet de taille adaptée à la laine.Des ciseauxThat's all!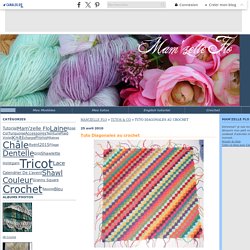 Tuto : Ce carré se fait en deux étapes : une méthode pour les augmentations, et une pour les diminutions. ChemKnits. Free patterns « Ragga goes on about knitting. Freyja Freyja was published by Knitting Iceland when the website aired in May 2010.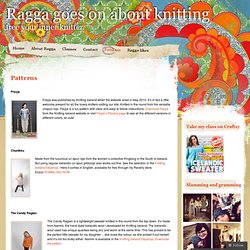 It's in fact a little welcome present for all the lovely knitters visiting our site. Knitted in the round from the versatile unspun lopi, Freyja is a fun pattern with clear and easy to follow instructions. Download Freyja from the Knitting Iceland website or visit Freyja's Ravelry page to see all the different versions in different colors, so cute! Chunikku. Elfin Baby Booties « DIY Maven. If you have an hour to spare, you can still whip up a pair of these booties before Christmas!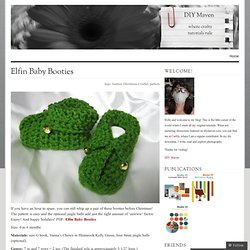 The pattern is easy and the optional jingle balls add just the right amount of 'aawww' factor. Enjoy! And happy holidays! PDF: Elfin Baby Booties. Size: 0 to 6 months. Mein strickding. Yes, i MADE that. I'm a snacker.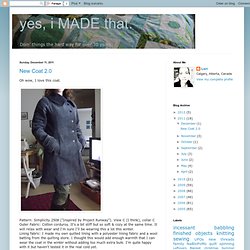 I snack. I snack too much, to be completely honest. My favorite snacks are salty: chips, popcorn, pretzels. V and Co how to: jersey knit bracelet. I don't know what it is about this time of year that makes me just want to have my bare feet in the sand, be watching the sun setting into the ocean, and breathing in the warm salty air of the beach...as i get older, more and more i find myself missing that place i used to go to almost every.single.day. as a teen.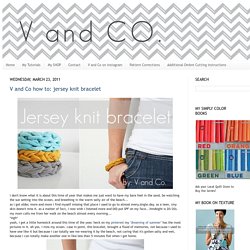 (my skin doesn't miss it. as a matter of fact, i now wish i listened more and DID put SPF on my face...hindsight is 20/20). my mom calls me from her walk on the beach almost every morning... *sigh*yeah, i get a little homesick around this time of the year. heck on my pinterest my "dreaming of summer" has the most pictures in it. ah yes. i miss my ocean. case in point. this bracelet, brought a flood of memories, not because i used to have one like it but because i can totally see me wearing it by the beach, not caring that it's gotten salty and wet, because i can totally make another one in like less than 5 minutes flat when i get home. Off the Hook - Crochet Hints and Help. Knitting Glasses | In desperate need of a new tagline. | knitting is cool. seriously. Twistedloops. Tutorial--T-Shirt Yarn. **This tutorial is intended for personal use only.** About 5 years ago, I prepared a tutorial with pictures showing how to create yarn from cotton t-shirts.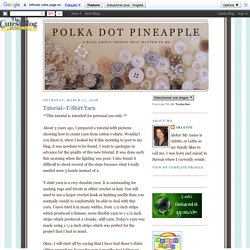 Wouldn't you know it, when I looked for it this morning to post to my blog, it was nowhere to be found. ChemKnits. I made my first sweater when I was 18... and haven't made a sweater since then (I am 27 now.)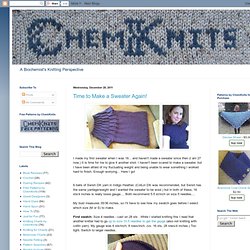 It is time for me to give it another shot. I haven't been scared to make a sweater, but I have been afraid of my fluctuating weight and being unable to wear something I worked hard to finish. Enough worrying... Le blog de Don Peloton. Shoeless. Spinning Flower. Tricot géant - Carton et chiffons. Lundi 15 février 2010 Tricot géant Lors du Salon des brodeuses, tricoteuses et patcheuses en tout genre(eh oui, j'y suis tout de même allée...), je me suis entraînée au tricotgéant avec des aiguilles n° 24.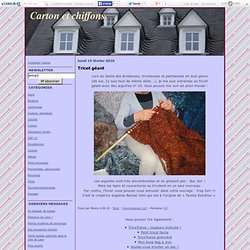 Knit Spirit. Fuzzy Thoughts. Olives and Mermaids and Wine, oh my... ¡The AntiCraft! Wendy Knits. Chalice Lace Tanktop. In celebration of my first post; free tanktops for all!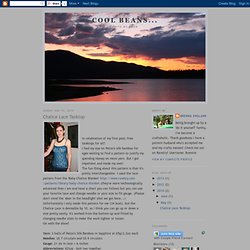 I had my eye on Paton's silk bamboo for ages waiting to find a pattern to justify my spending money on more yarn. But I got impatient and made my own! Patterns, projects and techniques | Knitting | CraftGossip.com. Lola Nova - Whatever Lola Wants. Stricken & Spinnen: Annkaris Blog. Samstag, 31.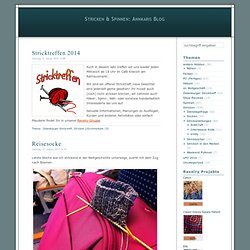 August 2013 14:55 Letzte Woche war ich strickend in der Weltgeschichte unterwegs, zuerst mit dem Zug nach Bremen. Den Sherlock-pinken Koffer hatte ich mir kurz vorher noch zugelegt, damit er auch auf jeden Fall als Ryan-Air-Handgepäckstück durchgeht. Hat prima geklappt! Die Sockenanleitung für die Cable Rib Socks stammt aus dem Buch Favorite Socks. Patchwork stricken und mehr. Make a Plant Press. The frosty, bloomless months of winter offer their own charms as mosses, lichens, and mushrooms pop from every moist nook under the forest canopy, but who doesn't long for the sun filled beauty of handpicked wildflowers? The colorful blossoms of spring and summer can be enjoyed year round with one simple tool that is easily crafted during a lazy afternoon at home.
Plant presses have been used for hundreds of years to dry and preserve specimens for safe travel across vast continents and rough seas. Explorers would guard their botanical treasures like gold, hoping to return home with a variety of floral curiosities for later identification, taxonomic cataloging, and even cherished supplies for artwork. TECHknitting™ Kerstins Woll-Blog » Patchwork-Stricken. Bei meiner Freundin Barbara fand ich den Hinweis auf Damaris HP . Damaris beschäftigt sich seit vielen Jahren mit Patchworkstricken nach Horst Schulz und zeigt in ihrer HP eigene Modelle und Anleitungen.
Mir gefällt diese Seite besonders gut, da auch ich bereits nach Horst Schulz gestrickt habe und diese Technik sehr gut finde, besonders um Wollreste zu verarbeiten. Sassy Cupcake. Home ホーム - Welcome to the Fiber Republic! A Ewe-Topia of all things knitterly!
---