Risques
Consignes en cas de séismes.
Lettre du Plan Séisme - Le Plan Séisme
MI SEISM'ANTILLES
CPSyst_alerte tsunamisCaraibe.pdf (application/pdf Object)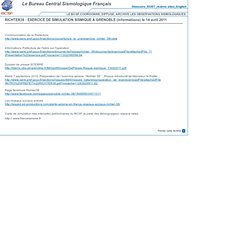 RICHTER38 : EXERCICE DE SIMULATION SISMIQUE A GRENOBLE (informations) le 14 avril 2011 Communication de la Préfecture http://www.isere.pref.gouv.fr/sections/couverture/a_la_une/exercice_richter_38/view Informations Préfecture de l'Isère sur l'opération http://www.isere.pref.gouv.fr/sections/documents/risques/richter_38/documents/downloadFile/attachedFile_11/Présentation%20exercice.pdf?nocache=1302098596.94 Dossier de presse ISTERRE http://isterre.obs.ujf-grenoble.fr/IMG/pdf/DossierDePresse-Risque-sismique_13042011.pdf Mardi 7 septembre 2010, Préparation de l'exercice séisme ''Richter 38'' , Propos introductif de Monsieur le Préfet http://www.isere.pref.gouv.fr/sections/risques3689/risques_naturels/preparation_de_lexe/downloadFile/attachedFile/INTRO%20PREFET%20RICHTER38.pdf?
Le Bureau Central Simologique Français (BCSF)
Sciences : Depuis 1700, 34 tsunamis sur les côtes françaises
INFOGRAPHIE - S'il n'y a pas eu de vagues meurtrières, la présence des centrales nucléaires sur le littoral pose question. Pas moins de 34 tsunamis se sont produits le long des côtes métropolitaines depuis le XVIIIe siècle dont 22 en Méditerranée, 4 en Atlantique et 8 en Manche. On en dénombre 28 en France d'outre-mer. C'est le recensement le plus complet à ce jour. Il a été réalisé par Jérôme Lambert et Monique Terrier, du Bureau des recherches géologiques et minières (BRGM). «Le catalogue va continuer à s'étoffer au cours des prochaines années», assure Jérôme Lambert, géophysicien et historien pour la circonstance.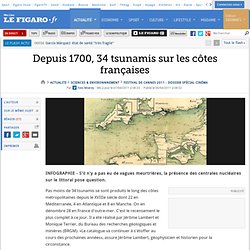 Já Viram Desmoronar uma Montanha?
Il est 6 heures et demie du matin. Nous sommes le 28 juin.
Tremblement de terre: scénario catastrophe sur la Côte d'Azur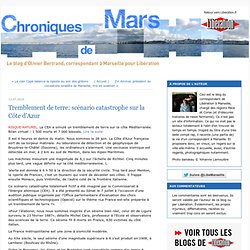 Satellite Photos of Haiti Before and After the Earthquake | Wire
At least 1783 deaths worldwide resulted from earthquake activity in 2009.
Earthquakes Cause over 1700 Deaths in 2009 (1/8/2010 11
Accueil - AFPS - Association Française du génie Parasismique
Les Zones sismiques en France : Etudes sur les tremblements de t
Earthquake Hazards Program National Earthquake Information Center - NEIC The mission of the National Earthquake Information Center (NEIC) is to determine rapidly the location and size of all destructive earthquakes worldwide and to immediately disseminate this information to concerned national and international agencies, scientists, and the general public. The NEIC compiles and maintains an extensive, global seismic database on earthquake parameters and their effects that serves as a solid foundation for basic and applied earth science research. Earthquake Data Available from the NEIC Share this page: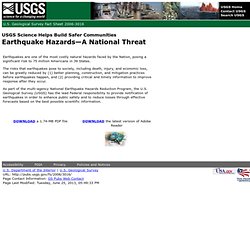 Fact Sheet 2006-3016: Earthquake Hazards--A National Threat
Earthquakes are one of the most costly natural hazards faced by the Nation, posing a significant risk to 75 million Americans in 39 States. The risks that earthquakes pose to society, including death, injury, and economic loss, can be greatly reduced by (1) better planning, construction, and mitigation practices before earthquakes happen, and (2) providing critical and timely information to improve response after they occur. As part of the multi-agency National Earthquake Hazards Reduction Program, the U.S. Geological Survey (USGS) has the lead Federal responsibility to provide notification of earthquakes in order to enhance public safety and to reduce losses through effective forecasts based on the best possible scientific information.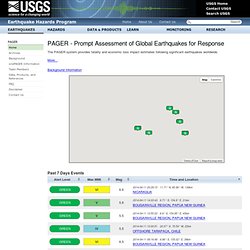 The PAGER system provides fatality and economic loss impact estimates following significant earthquakes worldwide. Links to PAGER results for earthquakes occurring within the last 7 days are contained below. The earthquakes are color-coded by the higher of two impact scales - fatalities and economic losses. These impact scales are broken up into four categories.
PAGER - Prompt Assessment of Global Earthquakes for Response
ShakeOut VideosSimulations developed by the Southern California Earthquake Center ShakeOut Simulation workgroup. Simulation by Rob Graves, URS/SCEC. Visualization by Geoff Ely, USC/SCEC.Watch on YouTube Ground shaking during a magnitude 7.8 earthquake on the southern San Andreas fault; red indicates areas of strongest ground shaking. The 2008 Great Southern California ShakeOut was based on a potential magnitude 7.8 earthquake on the southern San Andreas Fault— approximately 5,000 times larger than the magnitude 5.4 earthquake that shook southern California on July 29, 2008. It's not a matter of if an earthquake of this size will happen—but when.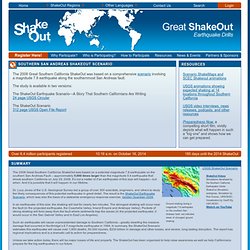 Southern San Andreas ShakeOut Scenario
Multimedia Gallery: (Video)--Preparedness Now
Title: Preparedness Now Description: This film takes you on a visceral journey through the USGS ShakeOut Earthquake Scenario. The film was created by the USGS Multi-Hazards Demonstration Project in cooperation with the Designmatters program at Art Center to depict the physical, social, and economic consequences of the most comprehensive earthquake scenario ever created.
2008 Bay Area Earthquake Probabilities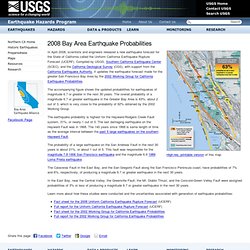 In April 2008, scientists and engineers released a new earthquake forecast for the State of California called the Uniform California Earthquake Rupture Forecast (UCERF). Compiled by USGS, Southern California Earthquake Center (SCEC), and the California Geological Survey (CGS), with support from the California Earthquake Authority, it updates the earthquake forecast made for the greater San Francisco Bay Area by the 2002 Working Group for California Earthquake Probabilities. The accompanying figure shows the updated probabilities for earthquakes of magnitude 6.7 or greater in the next 30 years. The overall probability of a magnitude 6.7 or greater earthquake in the Greater Bay Area is 63%, about 2 out of 3, which is very close to the probability of 62% obtained by the 2002 Working Group. The earthquake probability is highest for the Hayward-Rodgers Creek Fault system, 31%, or nearly 1 out of 3.