Music
James Kibbie - Bach Organ Works - Catalog.
Dashboard. Musiknet. Sirona Records - l'alternative en musique. Suono, forma, creazione. La Kimatica è la scienza che studia le forme e le figure create dalle onde sonore.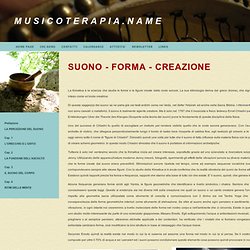 La sua etimologia deriva dal greco (kùma), che significa flutto inteso come un'onda creatrice. Di questa saggezza del suono se ne parla già nei testi antichi come nei Veda, nel Sefer Yetzirah ed anche nella Sacra Bibbia. I riferimenti al suono non sono casuali o metaforici. Il suono è realmente agente creatore. Ma è solo nel 1787 che il musicista e fisico tedesco Ernst Chladni pubblicando Entdeckungen Uber die Theorie des Klanges (Scoperte sulla teoria dei suoni) pone le fondamenta di questa disciplina della fisica. La musique Electro-Pépère. BEATBEAR | Magazine di musica alternativa. MP3 download, recensioni ed interviste. Download & Streaming : Audio Archive : Internet Archive.
AMP, Alternate Music Press, The Multimedia Journal of New Music. Minimal Italia - Il blog italiano sulla musica Minimal nel mondo. Main Page | Musopen. Groove Salad: A nicely chilled plate of ambient/downtempo beats and grooves. A nicely chilled plate of ambient/downtempo beats and grooves.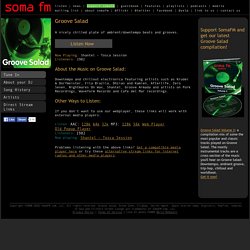 Downtempo and chillout electronica featuring artists such as Kruder & Dorfmeister, Fila Brazila, Dhzian and Kamien, Afterlife, Zero Seven, Nightmares On Wax, Shantel, Groove Armada and artists on Pork Recordings, Waveform Records and Cafe del Mar recordings. Problems listening with the above links? Get a compatible media player here or try these alternative stream links for internet radios and other media players. Gallery. Ziklibrenbib. Guadagna con la tua musica. • restorm.com.
---