DIY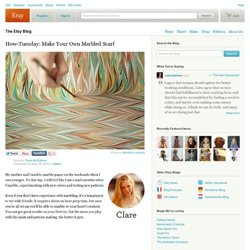 How-Tuesday: Make Your Own Marbled Scarf | The Etsy Blog
My mother and I used to marble paper on the weekends when I was younger. To this day, I still feel like I am a mad scientist when I marble, experimenting with new colors and testing new patterns. Even if you don't have experience with marbling, it's a fun project to try with friends. It requires about an hour prep time, but once you're all set up you'll be able to marble to your heart's content.
How-Tuesday: Nine Nautical DIYs | The Etsy Blog
Hand Painted and Dyed by byrachelrose on Etsy
How-Tuesday: Urban Herbalist | The Etsy Blog
Holiday Centerpieces
Dip dyed ombré denim has been popping up here and there and not only do we love the look, it's super easy to do yourself! We've combined Tory Burch 's dip dyed jeans and Miss Unkon 's ombré 501s as inspiration for a pink infused DIY that could be done in a jiffy. Start by rinsing your shorts with water. A bottle of RIT liquid dye amounts to 1 cup; you'll dye your shorts with the lightest shade first and darkest shade last. Pour 1/3 of the cup of dye into 2 gallons of hot water and mix. When dyeing dark denim, you will want to use less water for a darker dye.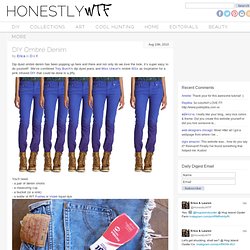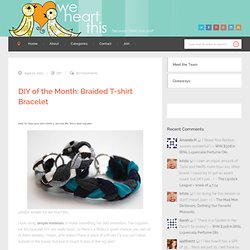 How To: Give your old t-shirts a second life. Sorry dust rag pile! photos: kirsten for we heart this I love using simple materials to make something fun and innovative. The supplies for this bracelet DIY are really basic , so there's a REALLY good chance you own all of them already. I mean, who doesn't have a stack of soft old T's you can't wear outside of the house, but love to much to toss in the rag pile?
Climbing rope ? Bracelets ? Count us in. Inspired by Miansai 's colorful, stackable and adjustable rope bracelets, we were determined to add another do-it-yourself bracelet to our growing collection.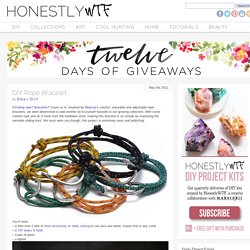 DIY Orange Peel Candle
81: DIY mini stamp collecting book
DIY mini stamp collecting book by Teri from Giddy Giddy We needed a lovely display and storage solution for all the wonderful stamps we've been collecting. The criteria is something kid friendly and practical. But also beautiful and high quality enough that the collection can be passed down to my kids' kids.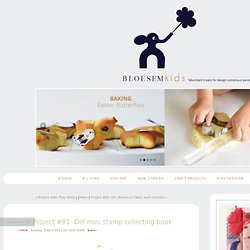 Chain link bracelets, with colorful threads woven through them, have been popping up here and there . We adore Aurèlie Bidermann 's Do Brazil bracelets and thought it was about time we graduate to the ultimate "grown-up" friendship bracelet. With a curb chain bracelet and some embroidery thread, we'll teach you how to make your own woven chain bracelet.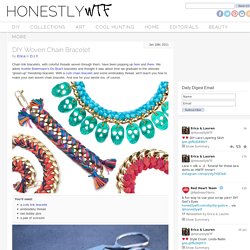 Dress up bottles of home made fruit juices, ciders, sodas or fruit infused waters with these free festive labels. Take a bright and bold decorative approach to summer picnics, home entertaining and even gifts! For a healthy option, I highly recommend experimenting with fruit-infused waters. They're incredibly simple to make, low in calories and free from processed sugars. Simply pop a few slices of your fruit into a jug of water and let it infuse over a few hours or overnight. Citrus fruits will provide the strongest flavours however, this article suggests that even harder fruits like apples and pears can work well if the fruits are frozen first.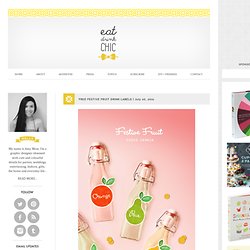 Free Festive Fruit Drink Labels
Urban Cheesecraft | The Etsy Blog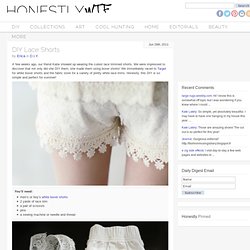 A few weeks ago, our friend Katie showed up wearing the cutest lace trimmed shorts. We were impressed to discover that not only did she DIY them, she made them using boxer shorts! We immediately raced to Target for white boxer shorts and the fabric store for a variety of pretty white lace trims. Honestly, this DIY is so simple and perfect for summer!
DIY Picnic Blanket & Goodbye (for now)
Hi friends! I am so, so sorry for not blogging in so long. Some of you know that I recently had surgery for a severely herniated disk and I was feeling great for a few weeks.