Blogs
Five Chinese Crackers
The Daily Quail
Angry Mob
Bangable Dudes in History
Never Be My Friend
Sheetr.com | I am a high profile blogger. This is my other blog.
Stuff no one told you: Simple truths of life
A(n)nals of Online Dating - Page 1 of 28
There are cats and cats. - Denis Diderot Patricia Highsmith with "Ripley" "Pangur, white Pangur, How happy we are Alone together, scholar and cat." Aldous Huxley with "Limbo"
The Literate Cat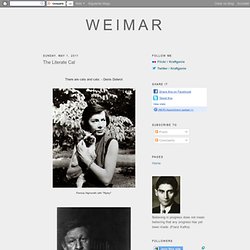 Shakesville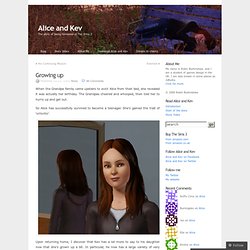 When the Grandpa family came upstairs to evict Alice from their bed, she revealed it was actually her birthday. The Grandpas cheered and whooped, then told her to hurry up and get out. So Alice has successfully survived to become a teenager. She's gained the trait of 'unlucky'. Upon returning home, I discover that Kev has a lot more to say to his daughter now that she's grown up a bit. In particular, he now has a large variety of very specific insults for her, rather than mere generic arguments.
Growing up « Alice and Kev
Hyperbole and a Half
The ducks in the bathroom are not mine.
From: David Thorne Date: Thursday 21 May 2009 10.16am To: Helen Bailey Subject: Pets in the building Dear Helen, Thankyou for your letter concerning pets in my apartment.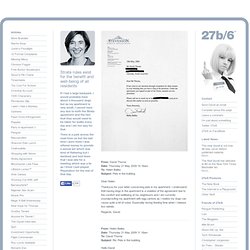 Todd Lamb Notes From Chris
Welcome to the " Notes From Chris" gallery. These are notes that I post around New York City from a mysterious man named Chris. Chris wants to do tedious things with people.
Gary: Landlord of the Flies
No Ordinary Rollercoaster — Just Gay Enough
Chicken Maker
WE ARE COSMO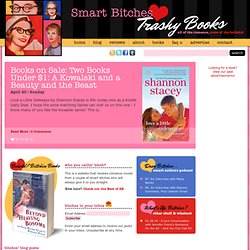 RECOMMENDED: Simply Irresistible is the first book in Jill Shalvis' Lucky Harbor series, and it's currently $2.99. Book 3, Head Over Heels, is still $1.99, so I'm reposting that below so you can grab both for yourself if you're so inclined. Maddie Moore's whole life needs a makeover. In one… read more » I was so excited about this book. After reading most of Kate Noble's previous historical romances and recommending them to people who had historical London romance fatigue, I was hopping in my chair eager to read this book.
Smart Bitches, Trashy Books | Romance Novel Reviews | Come for the Dominican Bitches, Stay for the Man Titty | The Playboy Sheikh's Virgin Stable Girl by Sharon Kendrick
TheBloggess.com
Wave At The Bus
Nic Cage as Everyone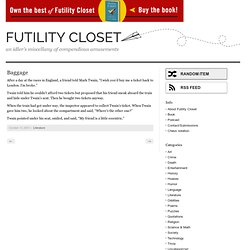 After a day at the races in England, a friend told Mark Twain, "I wish you'd buy me a ticket back to London. I'm broke." Twain told him he couldn't afford two tickets but proposed that his friend sneak aboard the train and hide under Twain's seat. Then he bought two tickets anyway. When the train had got under way, the inspector appeared to collect Twain's ticket. When Twain gave him two, he looked about the compartment and said, "Where's the other one?"
Baggage
The Lightning and the Lightning-Bug
364 Quotes in 2011