Blogs
Five Chinese Crackers
A while ago now (although it was in my last post here) I looked at a James Delingpole column and went through the logical fallacies I spotted in it. I think I got most of them. In it, I mentioned Toby Young, one of the other big professional Gumbys who earns at least some of his living spouting nonsense the media thinks someone should be representing, even if it's an idiot with a knotted hanky and wellies on standing in the middle of a field.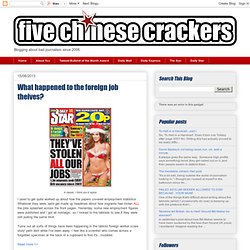 As you are no doubt aware, losing weight can be tough. This is especially true if you are a woman over the age of 40, as it probably seems like no matter what you do, the weight just comes back within a few weeks. With this in mind, it's important that you start to look at ways to achieve lasting weight loss, so you can look and feel great 365 days of the year, as well as greatly reduce your risk of experiencing health problems from being overweight. If you are ready to take the plunge into long lasting weight loss, then the following tips will help you get started… Weight loss aids While there is much debate on these type of products, weight loss aids such as Garcinia Cambogia extract has been getting some positive reviews in the press and media.
The Daily Quail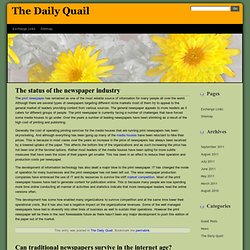 Angry Mob
We didn't need a 2,000 page report by Leveson to demonstrate that something is rotten in the state of journalism, we just need to remind ourselves of the glittering career of Richard Littlejohn. Here is a man who has worked in journalism since 1971 and in his most recent form – twice-weekly 'satirical' columns – has been handsomely paid by both the Sun and the Daily Mail (rumour from a few years back put his annual salary at £800,000). Along the way he has been named Fleet Street's Columnist of the Year and he was also given a place in the inaugural Newspaper Hall of Fame as one of the most influential journalists of the past 40 years.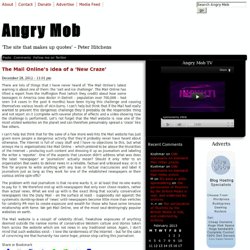 Bangable Dudes in History
See, I'm not a total liar (this time). We be making this jawn weekly. I'd also like to give a shoutout to Luisa for providing the visual fodder for this week's speci(wo)men. And though I said she was going to be an archaeologist, like a dickweed asshole I dropped that piece for someone hotter, because I'm superficial like that. And I pretend to know my (critical?)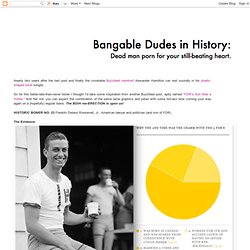 Never Be My Friend
Sheetr.com | I am a high profile blogger. This is my other blog.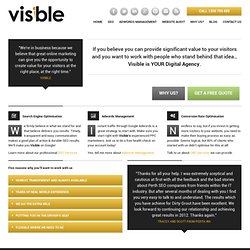 "We're in business because we believe that great online marketing can give you the opportunity to create value for your visitors at the right place, at the right time." Visible Search Engine Optimisation We firmly believe in what we stand for and that believe delivers you results.
Stuff no one told you: Simple truths of life
A(n)nals of Online Dating - Page 1 of 28
There are cats and cats. - Denis Diderot Patricia Highsmith with "Ripley" "Pangur, white Pangur, How happy we are Alone together, scholar and cat." Aldous Huxley with "Limbo"
The Literate Cat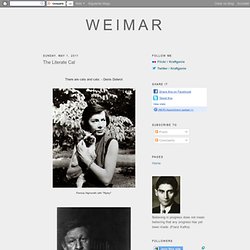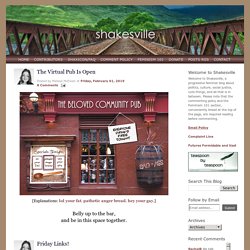 Shakesville
Last night, my friend and amazing activist Jessica Luther appeared on The Last Word with guest host Ari Melber to discuss the Jameis Winston case and the New York Times article published yesterday about the flawed investigation. One of the main points Jess wanted to make is that the Winston case is not an exception, but a frustratingly typical example of the barriers to justice that many survivors face, and she did an excellent job making that point. This isn't just about "football culture," but about rape culture. Below, is video with complete transcript. Ari Melber, anchor, a young white man, on-screen: In the spotlight tonight, college football and a flawed rape investigation. The New York Times is out with a scathing report today about the failures in the investigation of Florida State University student's rape accusation against star quarterback and Heisman Trophy winner Jameis Winston.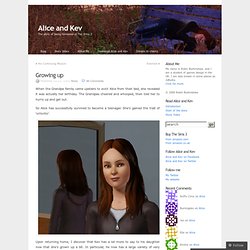 When the Grandpa family came upstairs to evict Alice from their bed, she revealed it was actually her birthday. The Grandpas cheered and whooped, then told her to hurry up and get out. So Alice has successfully survived to become a teenager. She's gained the trait of 'unlucky'. Upon returning home, I discover that Kev has a lot more to say to his daughter now that she's grown up a bit. In particular, he now has a large variety of very specific insults for her, rather than mere generic arguments.
Growing up « Alice and Kev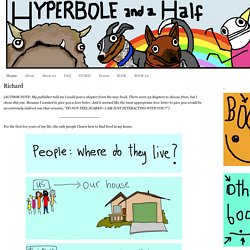 Power is intoxicating. Everyone loves having the ability to make their decisions into reality — to think "this should be something that happens," and then actually be able to make that thing happen. It is also dangerous. And it is especially dangerous when applied to four-year-olds.
Hyperbole and a Half
The ducks in the bathroom are not mine.
From: David Thorne Date: Thursday 21 May 2009 10.16am To: Helen Bailey Subject: Pets in the building Dear Helen, Thankyou for your letter concerning pets in my apartment.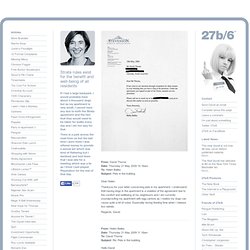 Todd Lamb Notes From Chris
Welcome to the " Notes From Chris" gallery. These are notes that I post around New York City from a mysterious man named Chris. Chris wants to do tedious things with people.
Gary: Landlord of the Flies
(I always get excited when a movie says its own title in the movie) At around 1am, I hear loud knocking at the door. I go downstairs to answer the door and see 3 police officers. They ask me if I'm Gary. If there is anything I've learned from living at that house, if the police are asking, you are NOT Gary.
No Ordinary Rollercoaster — Just Gay Enough
Chicken Maker
WE ARE COSMO
Smart Bitches, Trashy Books | Romance Novel Reviews | Come for the Dominican Bitches, Stay for the Man Titty | The Playboy Sheikh's Virgin Stable Girl by Sharon Kendrick
TheBloggess.com
Wave At The Bus
Nic Cage as Everyone
Baggage
The Lightning and the Lightning-Bug
364 Quotes in 2011